The Sage Group plc has been the driving force in delivering a unique platform for Partners, Resellers, and Business Builders to learn, network and innovate about Sage solutions every year. From summits to individual sessions, Sage has reached out the global audience showcasing out of the box solutions, optimizing your business with personalized tools, helping customers, colleagues, and partners to reimagine business. This year, Sage has introduced a Sage Enterprise Management (formerly Sage X3) specific event for business builders and partners that is scheduled from May 2nd – 4th, 2018 in Seville, Spain. Greytrix – Sage Gold Development Partner for two decades and a regular sponsor for Sage events is all set to be a part of Sage Enterprise Management Partner Summit as a Gold Sponsor.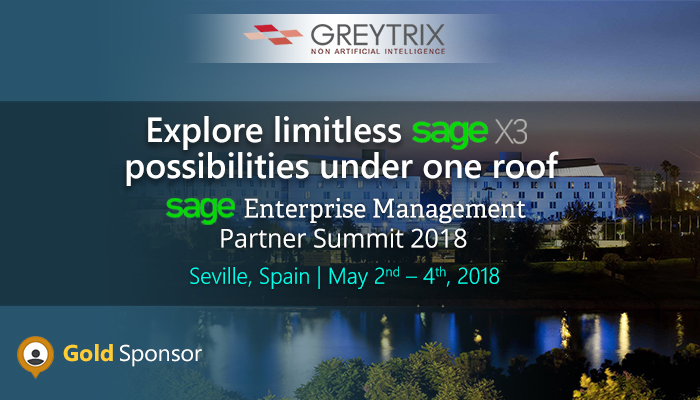 Why Attend Sage Enterprise Management Partner Summit – Spain 2018?
Sage Enterprise Management Partner Summit is the largest gathering of elite Sage X3 Partners to showcase your solutions and connect with the Sage Enterprise Management community. Businesses can discover new opportunities with the latest products using Sage Enterprise Management and the Sage ecosystem. This event is the place to meet Sage executives and experts from across the partner ecosystem who can share knowledge on how to amplify the power of Sage Enterprise Management with innovative partner solutions. You can hear firsthand information how customers are using Sage Enterprise Management solution to drive success in their business. World-renowned keynote speakers Lisa McLeod and Philip Carter sharing their experience and knowledge-driven breakout sessions will redefine your business approach towards Sage Enterprise Management.
What is Greytrix bringing to Sage Enterprise Management Partner Summit as a Gold Sponsor this year?
Greytrix has been a leading Sage Gold Development Partner for over two decades, providing a broad range of Sage Enterprise Management (Sage X3) services and solutions across Sage Partner ecosystem. Being recognized for its 5-star rated GUMU™ app on Salesforce AppExchange for Sage ERP – Salesforce and Sage ISV Rockstar Partner for Sage X3 – Sage CRM systems, Greytrix combines the unmatched experience and specialized skills of working across industries and verticals driving innovation to improve the way businesses operate. Greytrix GUMU™ integrated Sage ERP – CRM (Salesforce | Sage CRM) systems allow businesses to streamline and improve productivity, generating sustainable impact with 360° view of operations.
Greytrix Sage Enterprise Management Products & Services
Greytrix Sage Enterprise Management Professional Services
Implementation & Configuration
Bespoke Customizations
Technical Support
Migration
Integration
Onsite Resource Augmentation
Offshore Development Center
Greytrix Sage Enterprise Management Development Skillset
4GL Programming
Java Bridge Integration
Version Upgrades
SOAP Webservices
Crystal and BI Reporting
ADC Programming
Designing Dashboards
SEI Installation & Upgrades
Designing Workflows
Kumar Siddhartha, CEO – Greytrix, along with techno-functional experts will be presenting a session: Clutter to Clarity – Drive your business forward with Customer Relationship Management (CRM). Apart from exhibiting, we also look forward to meeting our Sage Partners and Sage Team at the event and to provide you with insights on how business roadblocks can be eliminated by optimal use of our Greytrix products and services and why GUMU™ utility is the best fit for your specific business environments. Meet us at Greytrix booth and experience the power of our services and solutions!
To schedule your meeting with our Executive and Techno-functional team at Sage Enterprise Management Partner Summit, write to us at na.sales@greytrix.com