Sage, a global leader and provider of accounting software hosted The Sage Summit in Atlanta this year – home to Sage North American headquarters from May 13th – 15th, 2019. So, what is it that you missed while not being at the event? With Sessions featuring the best and the brightest speakers, Sage has reached out the global audience showcasing out of the box capabilities, optimizing businesses with personalized tools, helping customers, colleagues, Partners and resellers to reimagine business with timely and engaging content. This year too Sage marked a huge success at the event. The theme for the event was 'Where Businesses Thrive'. Greytrix – Sage Gold Development Partner for over two decades and a regular sponsor for Sage events exhibited at Sage Summit as a Bronze Sponsor. The attendees also witnessed an upbeat performance from The Bourbon Brothers and Dueling Guitars that jazzed up the atmosphere at the summit.
Key Speakers | Sage Summit 2019
Some of the most sought after and finest keynote speakers in one great event!
The yearly Sage Summit is aimed to equip and support the businesses by putting them at the center of discussions to succeed and grow with informative Sage sessions and inspirational keynotes from the industry experts. The solutions offered by Sage helped business builders to manage everything from money to people which was also a sub – theme for the event. If you missed the chance to attend the event in Atlanta this year don't worry because we have a ravishing recap for you! Check out our favorite takeaways from Sage Partner Summit.
Jennifer Warawa: Sage as SAAS
Jennifer Warawa – EVP, Partners, Accountants and Alliances Sage, provided great insights on Sage as SAAS emphasizing the need for cloud based applications and the fact that are we prepared for the next generation of Business Builders. With data stored in the cloud, users can access their information from any Internet-connected computer or mobile device. Additionally, it eliminates the need of any expertise to manage the security issues inherent in mobile computing. She added that Sage is now aiming to be a great SAAS company for customers and colleagues alike.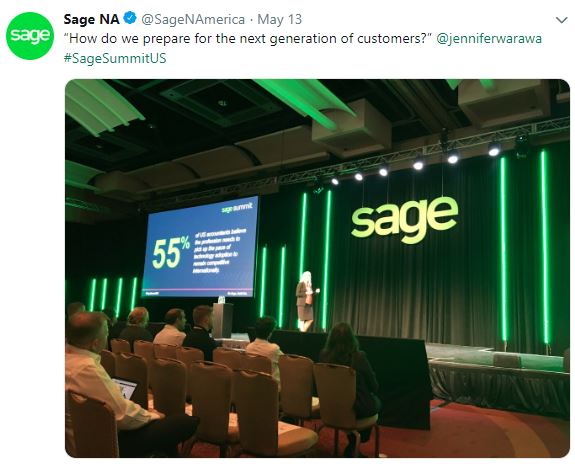 Ron Mc Murtrie: Future with Marketing
Ron McMurtrie – CMO, Sage, spoke on Future with Marketing and the importance of Customers for a successful business. He explained that how for a successful business it is necessary to follow the Customer like a North Star because the buyer behavior is changing. The keynote by Ron gave the attendees immense knowledge on the mega trends of Marketing talking about "Life as a Service" in today's world of technology.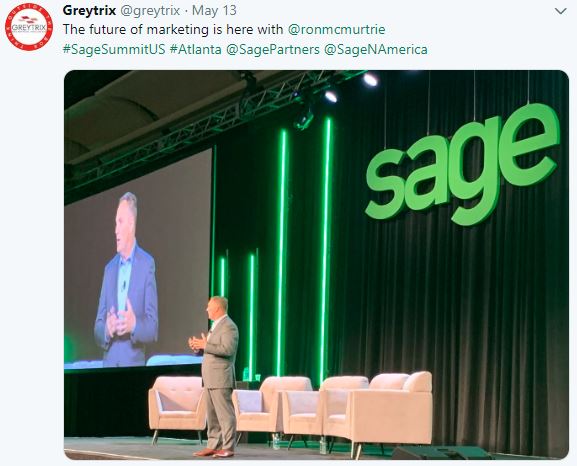 Nancy Harris: To Cloud or Not to Cloud
Nancy Harris– Executive Vice- President and Managing Director, North America, Sage, raised a very imperative question, "To Cloud or Not to Cloud?" which is the major concern among businesses for taking the big leap. She also added that the Sage Partners and Customers can have it their way and that Sage is not intended to push customers to the cloud instead its main aim is to lead a path to SaaS for all customers supporting choice and industry requirements. She shared that even though the world is moving towards cloud but the SMB's want choice.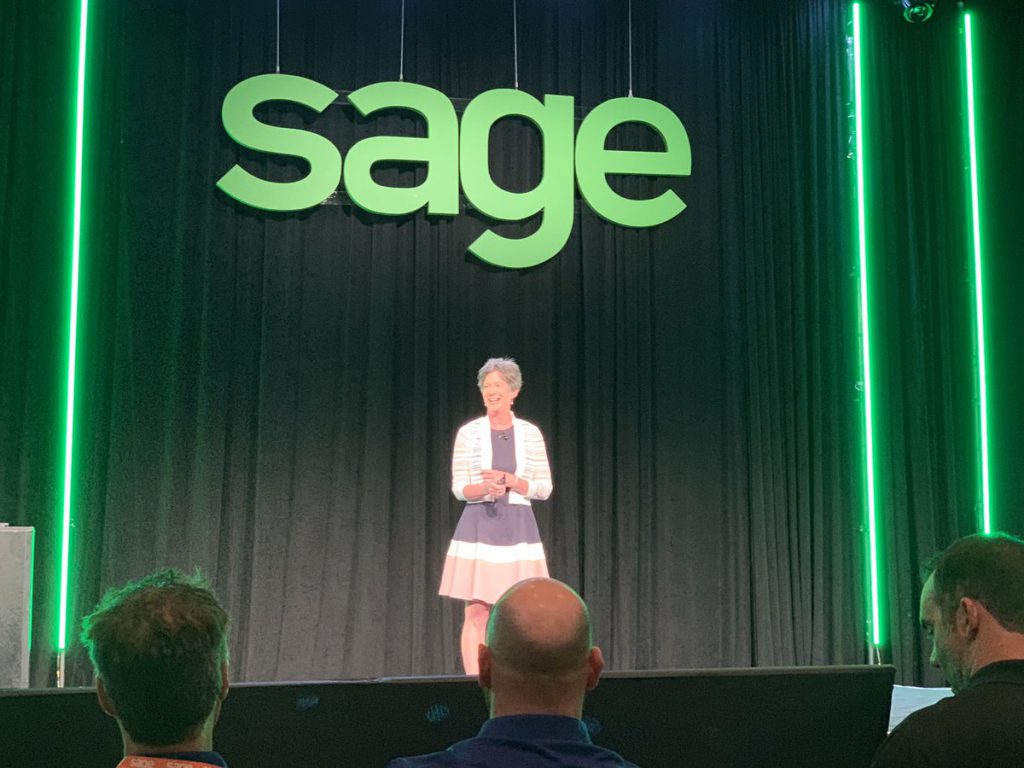 Dave Faupel: Focus is the Key to Marketing
Dave Faupel– Vice President, Marketing, North America, Sage, kicked off his keynote by talking about driving success with Sage Partners through Joint Marketing. He resonated the FOMO (Fear of Missing Out) through the Marketing perspective. He delivered his keynote on the main points that through Focus you can deliver and pick the right content to relentlessly drive your business forward.
Brian Solis: You Don't Wake Up Trying to be Mediocre
Brain Solis– Principal Analyst and Futurist, Altimeter, shared a powerful message about serving Customers. He stated that it isn't just disruption you should worry about, its mediocrity that will drive your Customers away and if you are waiting for someone to tell you what to do then you are on the wrong side of innovation. He added that in the advent of technology The Four Horsemen of the Modern Apocalypse are wi- fi, battery and the network connections which is the driving force for anyone seeking innovation.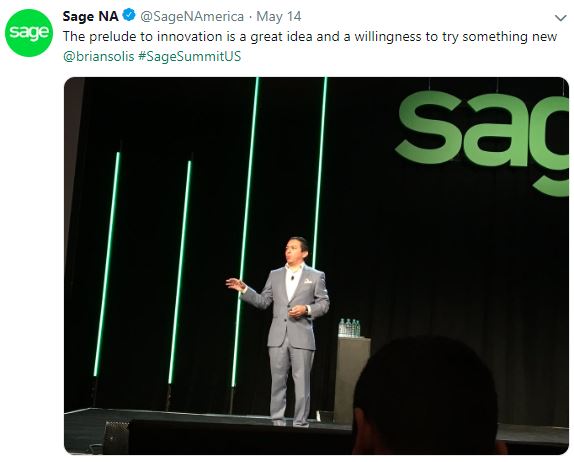 Blair Crump: Customer Led, Partner Driven
Blair Crump– President, Sage, spoke about how Sage transforms the way people think and work so they can thrive in an ecosystem of opportunity. He summarized that how your business should be Customer centric because success starts with Customers. He coined the term "New Sage" that is Customer driven and Partner led. He also discussed the US market opportunity in his keynote.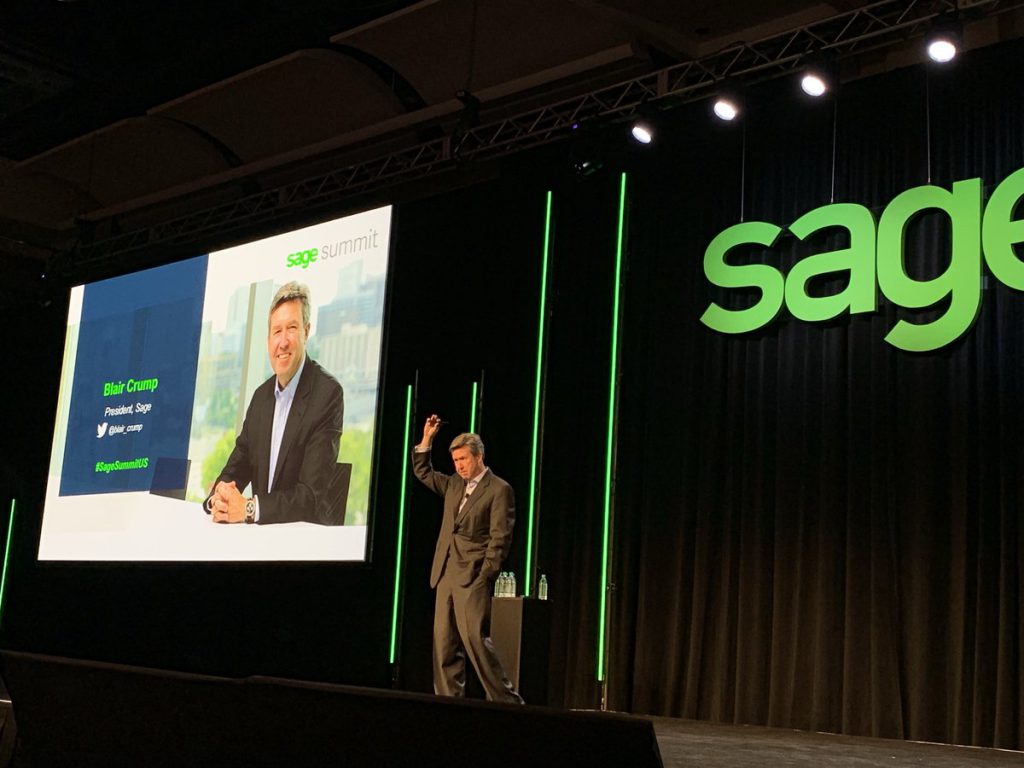 Mike Ritchie: Product Highlights
Mike Ritchie- Director, Product Management, Sage, North America, provided great Product and feature upgrades for Sage 50Cloud, 100Cloud and 300Cloud. In his keynote he mentioned that Product focus is directly proportional to customers for life.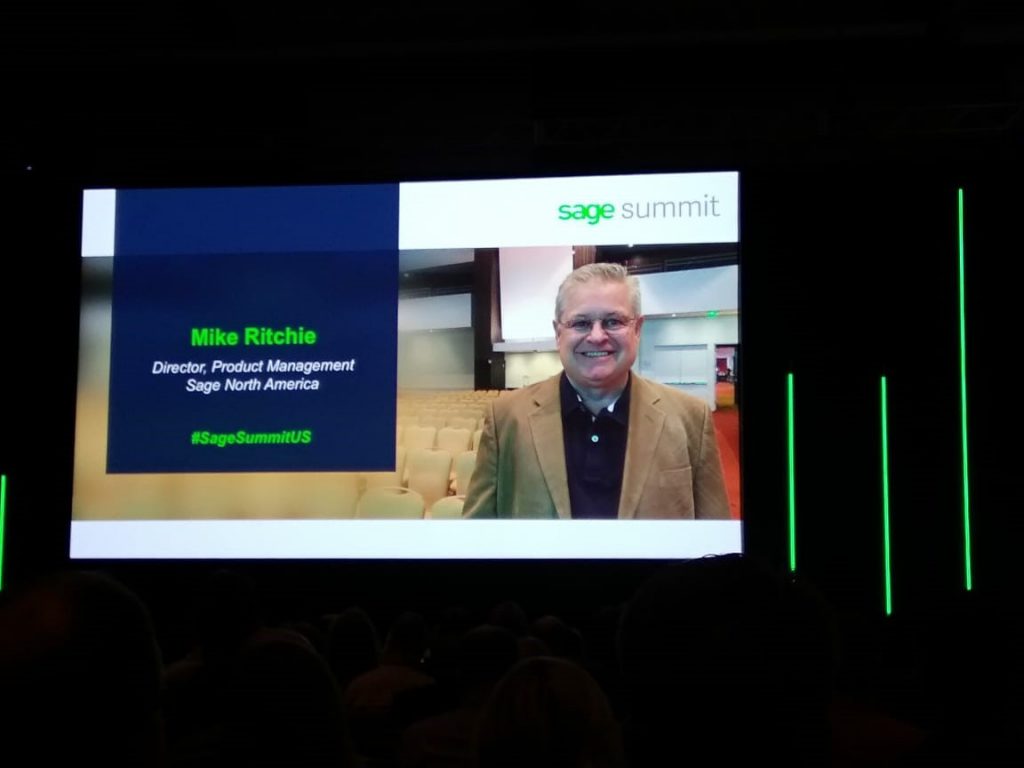 Tom Hood: Future Ready Finance
Tom Hood– CPA, CITP, CGMA, addressed the attendees of the Sage Summit with a question, "What are your biggest challenges?" While stating that 98.7% of tax preparers have a chance of being automated against 93.5% of accountants and auditors. He also added that being automated doesn't mean that your job will be automated, it means that many functions of your job will be automated. Automation will allow more room to grow your advisor role.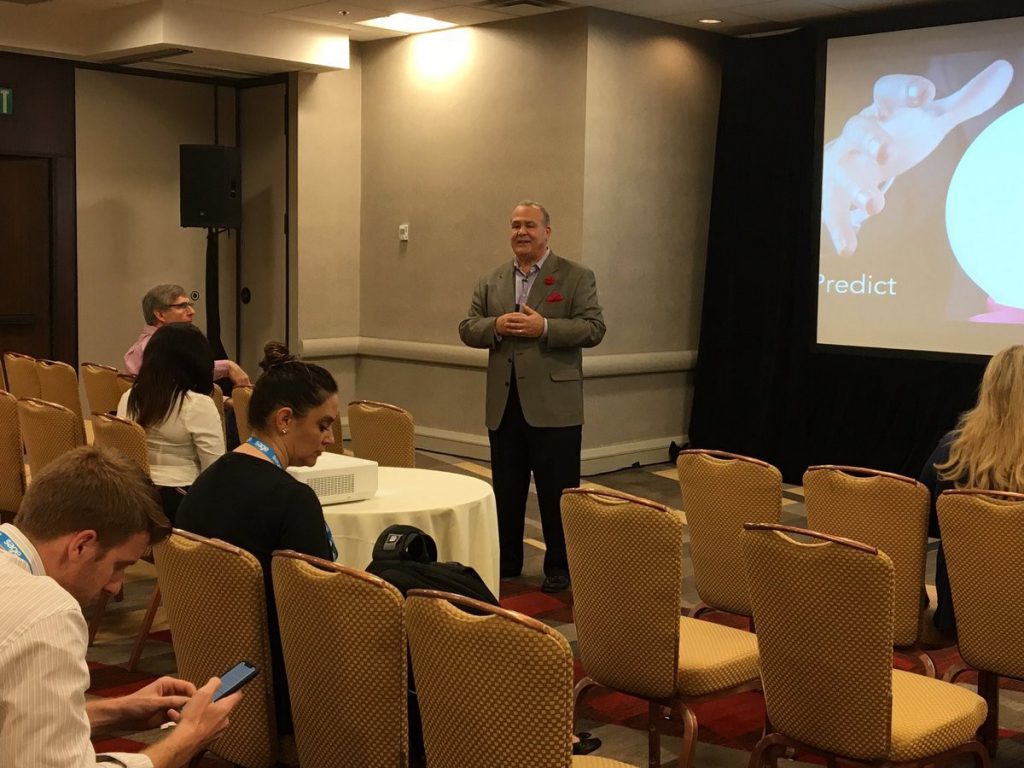 Kristen Rampe: Iteration or Innovation
Kristen Rampe– Founder, Slide Deck Improv, kicked off her keynote teaching how to weave Improv into our business lives. She quoted that," "Yes, and" is not only important for improv – it knocks down barriers for communication." She raised an intriguing question to the audience "Iteration or innovation? What are you doing that is disruptive and valuable?" She also spoke on combating your fears in public and how to overcome them.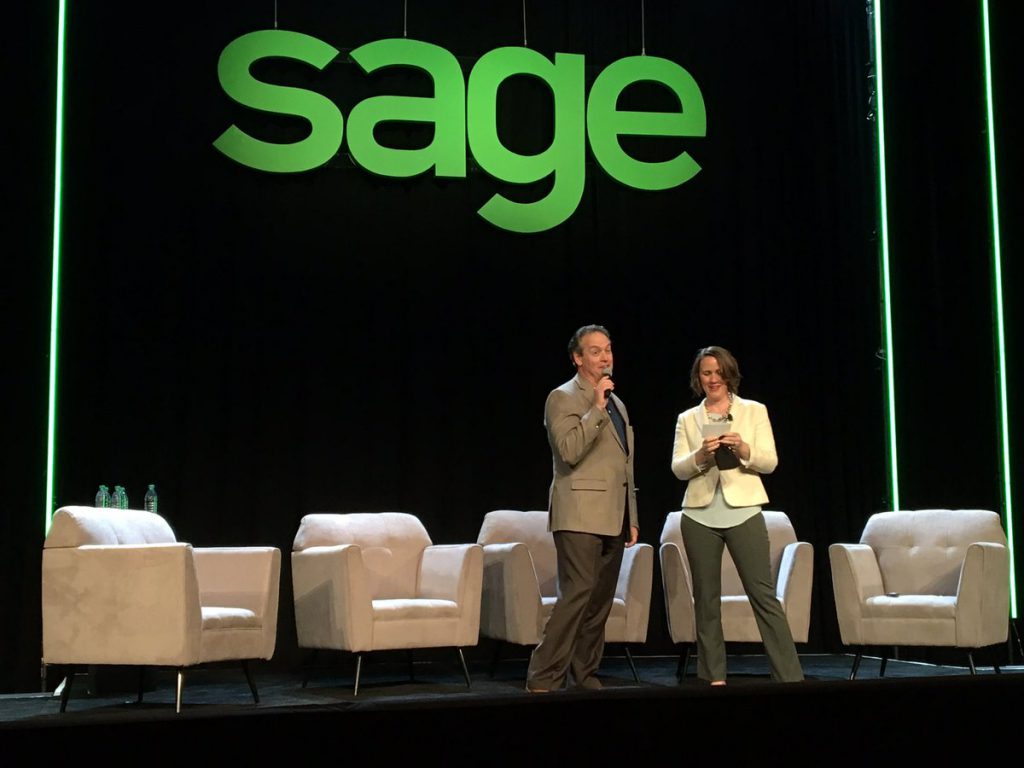 The event was a huge success like each year and made Sage Partners to rethink the way their businesses operate by making the best use of Sage technology. Well, we think that those present at the event did get a chance to explore what was new in Greytrix box this year and for those who missed it, be sure to meet us at the Greytrix booth in the next event!
Think Greytrix, Grow Big!