Food and beverage industry has always been a boon for entrepreneurs and major business tycoons, likewise, making it one of the leading industries for attractive opportunities in terms of profits. Different continents have the most diverse food and cuisine structure on the planet. The global food and beverages market is expected to grow from $5838.8 billion in 2020 to $6196.15 billion in 2021 at a compound annual growth rate of 6.1%.
Check Now: Food and Beverage ERP Software
A food and beverage industry should be well equipped to tackle the challenges of managing industry specific requirements like Orders, inventory and production while keeping the total cost of ownership low. Food companies also deal with some of the most volatile supply and demand in business because of the struggle to anticipate demand, leading to wasted stock or lost sales from understocking. Greytrix with a track record of proven success with industry leaders, addresses the challenges of food and process manufacturing industries with Sage X3- an ERP software suite that includes integrated functionality for financial management, sales, customer service, distribution, inventory, manufacturing, and business intelligence.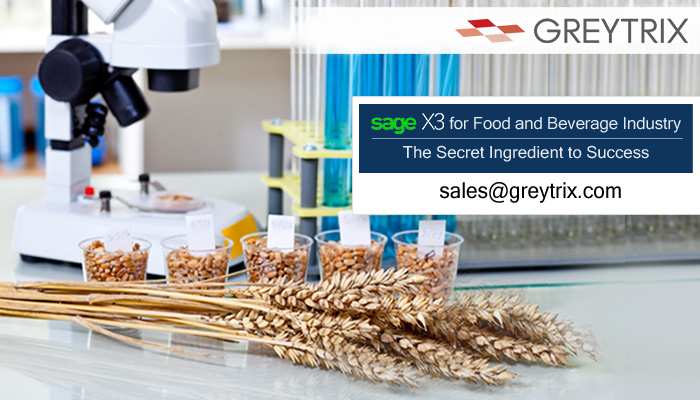 The top 8 reasons Sage X3 can be a boon for your business are:
Lot traceability and Recall Management
Real time Lot traceability and Recall management is crucial for industries dealing with food and beverage due to the high risk of perishability. Sage X3 ensures a sustained flow of information concerning the sourcing, processing, transportation and storage of food products. It allows you to allocate and capture Lot numbers at the time of receiving, associated with the vendor numbers. Auto generating Lot numbers for finished goods ensures accurate Lot traceability and Recall management. ERP food processing provides both forward and backward traceability across the supply chain with automated recall functions.
Pricing and Contract Management
Sage X3 includes enterprise specific functionalities such as pricing and contract management. A robust solution for advanced order fulfillment and inventory allocation, Sage X3 ERP beverage industry and food industry also has provisions for shipping and routing operations. This improves visibility and enhances management by standardizing the associated processes. It also increases the financial visibility through monitoring and controlling processes for tracking, forecasting, profitability and managing customer demands.
One of the most essential aspect of food and beverage industries is ensuring the quality of the final food products as it can impact the overall status of your business. Sage ERP X3 has strong quality control functionalities that allow for separation and inspection of products by providing quality rules by item or group within the system. All test results are recorded and maintained together with production history in the Sage X3 food processing
Procurement of Raw Materials
The advanced planning and control capabilities of Sage X3 food manufacturing provides real time and historical information for the procurement of raw materials to manage inventory levels, costs, reduce waste and shorten the final product development cycle. Sage X3 enables you to efficiently manage variability for continuous flow or batch process manufacturing. Sage X3 beverage industry and food industry helps you to predict anticipated yields by the comparison of planned inputs to the planned output and filling these specifications prior to initiating a production event.
Adhering to food and safety compliance is essential for running a successful food and beverage industry. Failure to comply by the rules can lead to serious financial and operational lowdown. Sage X3 equips users with a detailed overview of the enterprise operations to perform informed actions with regulatory protocols and enables automated compliance related tasks for swift supply chain processes.
Single and multi-site management
Sage X3 removes the complexity of running a business from different locations by unifying processes in one single instance. Since the food manufacturing industries cater to different locations and obtain resources from warehouses at different sites, Sage X3- is flexible with multiple entities, multiple sites, multiple legislations and currencies effectively which allows to manage intercompany site transfers, inter entity transactions and consolidated group accounting & reporting without hassles. It's multi-tiered, scalable system ensures a single deployment for all locations without the need of additional technologies.
Workflow and Automation Alerts
Sage X3 streamlines processes by automating credit holds, purchase orders, support requests, invoices, and contracts. It allows you to move data between applications and create custom integrations for resource intensive manual processes. Reports can be scheduled and automated in the requested format, configure other reports to auto run according to the business priorities.
Reporting and Business Analytics
Unlock key business insights with the simple and flexible reporting solution Sage X3. It provides businesses with meaningful key business insights by saving time and allowing control over business processes to meet the demand and supply needs of the food and beverage industries. The users obtain a detailed overview of the processes which provides them with added ability to easily drill down into the details thus, ensuring constant flow of information.
So, whether you are a business considering an upgrade to your existing ERP or planning to install your first ERP solution, your success will be highly dependent on identifying business management solutions that have a strong foundation of food and beverage processing industry and can meet your specific requirements with minimum customizations. Sage X3 ERP is a responsive, agile and flexible solution that provides critical business intelligence and management functionalities supporting transparency of processes. Greytrix addresses the challenges faced by the Food and Beverage industries with detailed reports and charts by analyzing the industry pattern and chalking out a plan with the special ingredient for success. The latest technological standards in Sage X3 readily adapt to the regulatory norms and business priorities over the years thus, growing with you as your business flourishes with ease.