A Pharmaceutical industry is constantly bestowed with responsibilities of discovering, developing, producing drugs for the welfare of mankind. Considering the present situation, it has become a challenge for Pharma giants to come up with a possible vaccine to defeat COVID-19. With high pressure to deliver results smart manufacturing is the key to success. Smart manufacturing means automation of processes which readily improves discrete, individual subprocesses. Manufacturing of drugs involve complex individual sub-processes which are difficult to optimize in the absence of an ERP.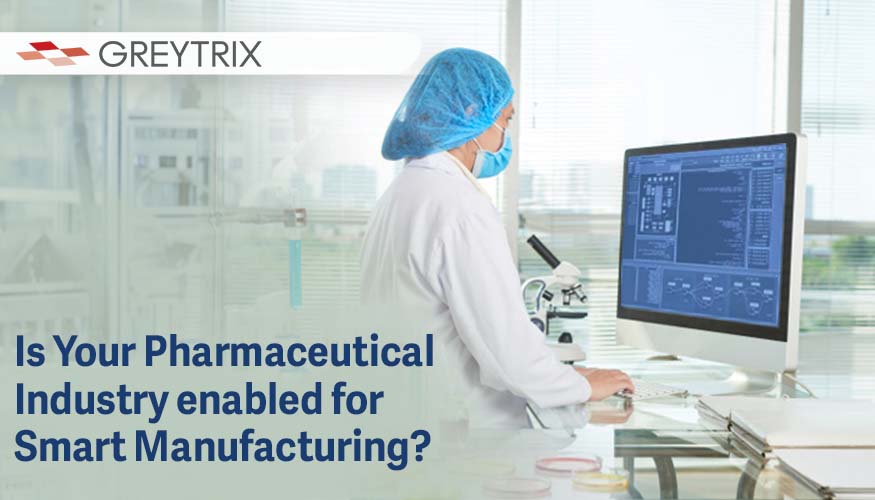 Let us discuss the four scenarios that a smart integrated manufacturing process can enable for a Pharmaceutical Industry!
The most important aspect and necessity of any industry is to stay connected. The underlying processes, materials and ingredients are required to be connected in an effort to generate the detailing of data for real-time decisions. Assets are generally equipped with smart sensors which in turn continuously pull data sets from sources. This ensures data is constantly updated and reflected in current conditions. Integrated systems from operations to business systems and supplier to Customers provides users from a holistic view of supply chain activities tracing overall efficiency. It can ensure enhanced efficiency in the wake of a pandemic when time is crucial to life.
The composition of drugs requires precise set of formulas to achieve the best medicine which is relative to a set of prioritized constraints. Smart manufacturing maximizes factors such as productivity, strength, reliability and efficiency with automated workflows, synchronization of assets, improved tracking and scheduling, and optimized energy consumption. It also reduces hazardous medical waste possibility as each step is measured accurately thus, increasing optimization.
A smart Pharma manufacturing industry has capability of real-time data visualizations. Data captured from multiple sources like finished or still-in-production stages can be converted into actionable insights to estimate cost, deliverables, production, raw materials etc. A transparent system enhances visibility across departments by providing tools such as role-based views, real-time alerts and notifications, and real-time tracking and monitoring.
Proactivity in a Pharmaceutical industry can anticipate challenges before they arise. With regards to the current COVID-19 pandemic drug manufacturing industries are pressed with the issue of producing a drug as soon as possible. Proactivity will help in identifying loopholes, restocking and replenishing inventory items, identifying, predicting and addressing quality issues, and monitoring safety and maintenance. It will improve uptime and yield of essential drugs.
How an ERP can help?
Sage X3 – a powerful cloud ERP solution, efficiently controls the quality of finished products, manages the inventory and documents every aspect of the drug formulation. The distinguishing features of Sage X3 for the Pharmaceutical industry are:
Formula management
Weight calculations
Potency management
Full lot control and traceability
Electronic signatures with transaction audit traceability
Quality assurance and control
Sophisticated pricing and contract management
Sub-contracted operations and supply chain control
Advanced order fulfillment and inventory allocation procedures
Product packaging
Last but not the least let us hope health for all because the next normal business will look unlike any in the years preceding the Coronavirus, the pandemic that changed everything.