Greymatrix is a grid inventory system that offers Apparel Retailers with a user friendly interface to maintain transact and analyze their large inventory distributed by style, colour and size. Seamlessly integrated with Sage (Accpac) 300 ERP, GreyMatrix helps the garment and shoe merchants to obtain a 360 view of their inventory, operations and finance and provide detailed retail analytics and business intelligence.
Trial 6.0 | YouTube Videos | Feature List
Overview: Below screen shot shows the GreyMatrix module in the Sage (Accpac) 300 ERP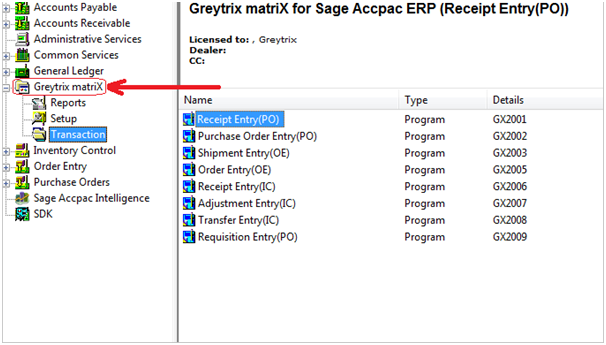 Features:
Comprehensive solution with integrated Finance, Operations and Inventory modules.
Capture unlimited Style, Color, Size and Images.
Simplified Data entry during Procurement, Sales and Distribution.
Integrated with Special Localized Taxations.
Reduce pilferages in stock at SKU level.
Exclusive Style master for item generation.
Option to generate Generic Reports along with Style images.
In our next blog we will show how the Setup and Transactions works.
— Related Posts —
1) How to Setup your GreytrixMatrix for Sage 300
2) How to generate Styles in Greymatrix for Sage 300
3) Create Orders using GreyMatrix for Sage 300