Sage (Accpac) 300 ERP has the flexibility to support the unique needs of multi-site and global organizations.  For global organizations with offices in India, we have developed a must-need Apparel Solution "Greytrix GreyMatrix for Sage 300 ERP 2012 (formerly known as Sage Accpac v6.1)".
Get ready for a First Look of our Greytrix GreyMatrix for Sage (Accpac) 300 ERP with enhanced features. In this version Greytrix GreyMatrix modules will be available in portal with all these features.
A Grid inventory system that offers the Apparel Retailers with a user friendly interface to maintain, transact and analyze their large inventory distributed by style, color and size. Seamlessly integrated with Sage (Accpac) 300 ERP, GreyMatrix helps the garment and shoe merchants to obtain a 360 view of their inventory, operations and finance and provide detailed retail analytics and business intelligence. Be ready to see over our future release to lead ahead with a seamless solution in your Apparel business.
Overview of enhancement of Greytrix GreyMatrix portal: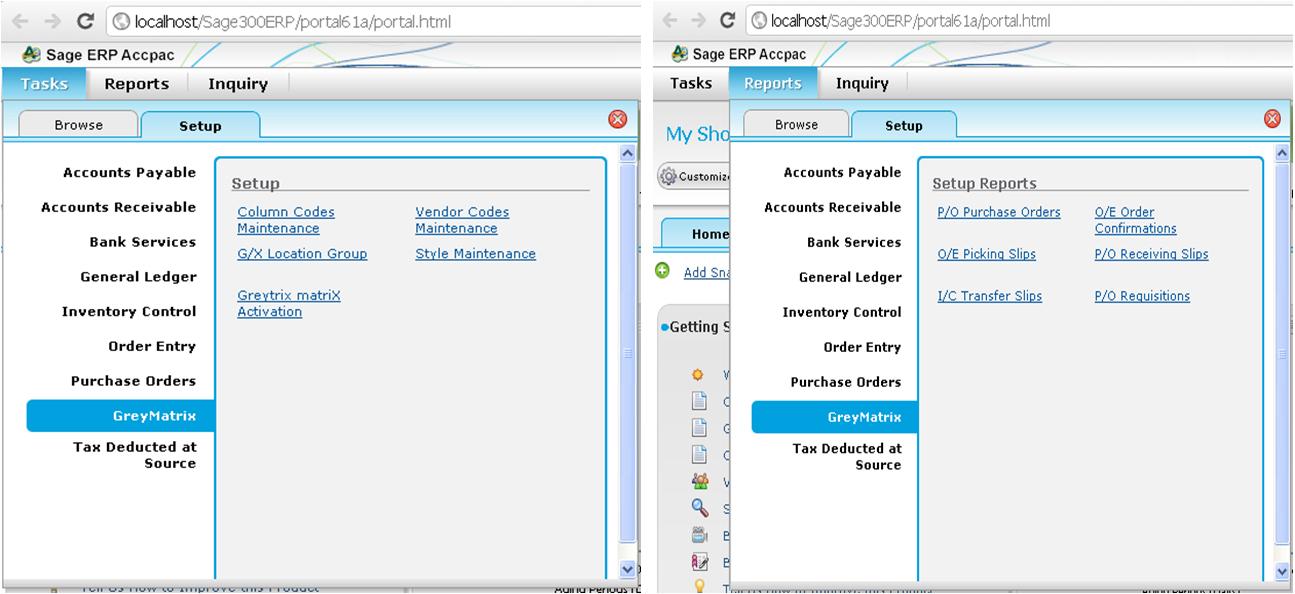 The above image shows the User Interface links of Greytrix GreyMatrix provided in the Sage (Accpac) 300 Portal
Features:
1- Comprehensive solution with integrated Finance, Operations and Inventory modules.
2- Capture unlimited Style, Color, Size and Images.
3- Simplified Data entry during Procurement, Sales and Distribution.
4- Integrated with Special Localized Taxations.
5- Reduce pilferages in stock at SKU level.
6- Exclusive Style master for item generation.
7- Option to generate Generic Reports along with Style images.

The above image shows the shortcut navigation tab of Greytrix GreyMatrix for Easy access of User Interface in Sage (Accpac) 300 ERP Portal.
Do provide us with you feedback/suggestion on sage@greytrix.com . We would be glad to make additions to our existing list.
– Related Posts –
1) Greymatrix – Apparel Solution for Sage Accpac ERP
2) How to Setup your GreytrixMatrix for Sage 300
3) How to generate Styles in Greymatrix for Sage 300
4) Create Orders using GreyMatrix for Sage 300
5) Reporting in Apparel (GreyMatrix) Solution for Sage 300 ERP