The feature which lets you drain-out the unwanted records from the system, which indeed reduces the overhead of storing an unwanted data in the system, is called as "Period End Maintenance".
Follow the path to find this feature: Open General Ledger > G/L Periodic Processing > Period End Maintenance.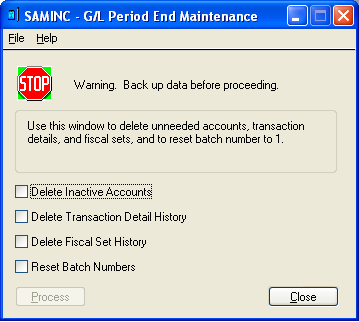 1. Delete Inactive Accounts: It may happen that we had an account configured in our system initially but now in span of time we have stop using that particular account or we no longer need that account. In this case we mark that account as inactive to restrict the users from using it.
There may be several such inactive accounts laying in the system, unnecessary consuming valuable data space.
Identifying and deleting these accounts one-by-one would be very time consuming.
To make this happen at one-click you need to just select "Delete Inactive Accounts" check-box and click on process, by running this process all accounts with Inactive status will be deleted from the system permanently.
System will restrict you for deleting an account if that account contains posted transaction though the account is inactive.
New Stuff: How to Validate Purchase Receipt and Invoice in Sage 300 ERP
2.Delete Transaction Detail History/ Delete Fiscal Set History: As per the statutory requirements of every country there are certain years for which historical transactions data needs to be maintained in system. This can be configured in Sage 300 ERP while doing company setup. In case the statutory requirements change and the size of database increases heavily then one can use this option to delete transaction details history.
We can delete these transactions just by selecting "Delete Transaction Detail History" check-box. Click "Process" button.
General Ledger deletes historical financial, quantity, and budget details that are older than the number of years you specified for the Years of Fiscal Sets.
3.Reset Batch Number. We can use this option to set the batch number back to 1.Ideally we run this process at the start of new financial/fiscal year.
Also read:
1. Drill Down to Source Transaction from GL
2. Closing Procedure Checklist for Sage 300 ERP
3. Define Budgets in Sage 300 ERP