The intent of this blog is to help you in order to solve the above mention error. Here in Sage 300 ERP we use apply document in order to knock off the prepayment (Advance payment) against the invoice which we have booked.
New Stuff: Propagate Common Settings from one company to another in Sage 300 ERP
Let's consider a case where we need to do an advance payment of 18000 INR to a vendor against whom we have booked an invoice of 18000 INR.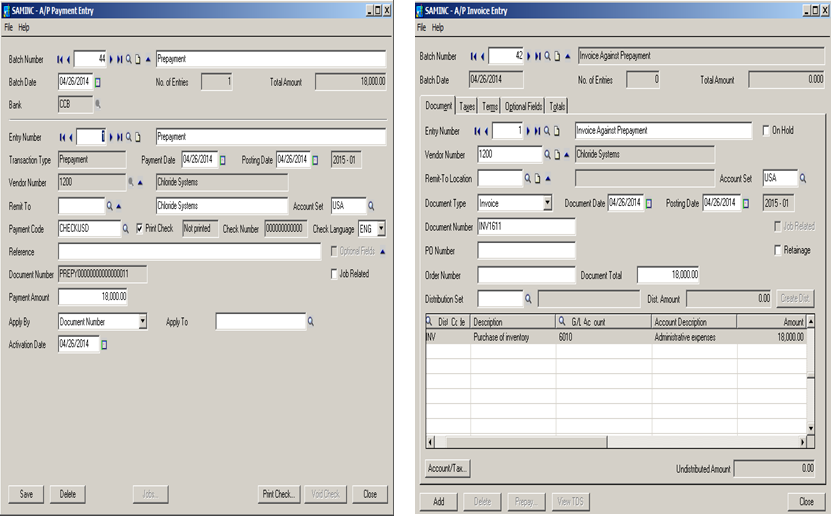 Now as mentioned above we are going to knock off the prepayment against the invoice which we do with help of Apply Document entry.
But, it may so happen that user did "ADD" the apply document Entry but forgot to post the entry. The entry keeps lying in with Open status in Payment Batch list.
Sometimes it happens that user forgets that he/she has ever done this Apply document entry and when he/she tries to do it again, system throws an error as showed in the below screen.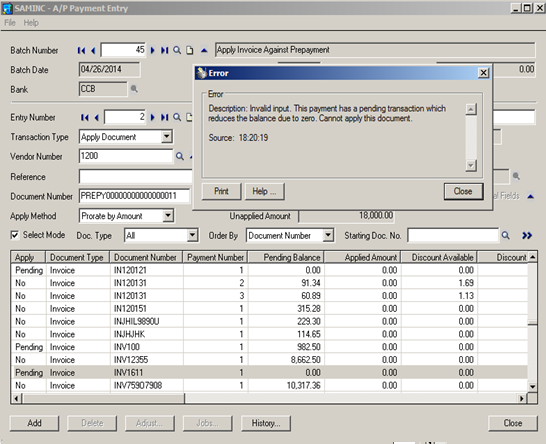 This error indicates that selected documents are already been applied but the entry lying in open status in Payment batch list.
To clear this error identify the open entry and post it. Once this is done your Vendor balance would remain the same but the list of open documents would reduce by these two documents.
Hope this helps.
Also Read:
1. Reverse Receipt and Payment in Sage 300 ERP
2. Control Payments in Sage 300 ERP
3. Default Settings for Accounts Payable Payments in Sage 300 ERP
4. Purchase Register Report
5. AP Vendor Ledger Report for Sage 300 ERP