The Accounts Payable module in Sage 300 ERP provides robust accounting features to streamline the entire cash flow process and facilitate the rapid entry of vendor invoices, payments –all in a timely manner. The Control Payment feature in Sage 300 ERP lets you change and view the status of the individual transactions or a range of transactions. The Control Payments can also be used to set and clear any Invoice payment limit for vendors or a group of vendors. Read on to find it how!
Our Other Blogs : Sage CRM | Sage ERP X3 | Salesforce.com
The Payment control form can be used to set/reset the payment limit for a vendor in the following ways:
  1. By imposing payment controls (forcing payments) for individual vendors or invoices.
  2. By placing a transaction on hold. By doing so, the payment cannot be released against such a document.
  3. Reset the previously set control status.
To set the payment limit, navigate to Accounts Payable -> AP Transactions -> Control Payments.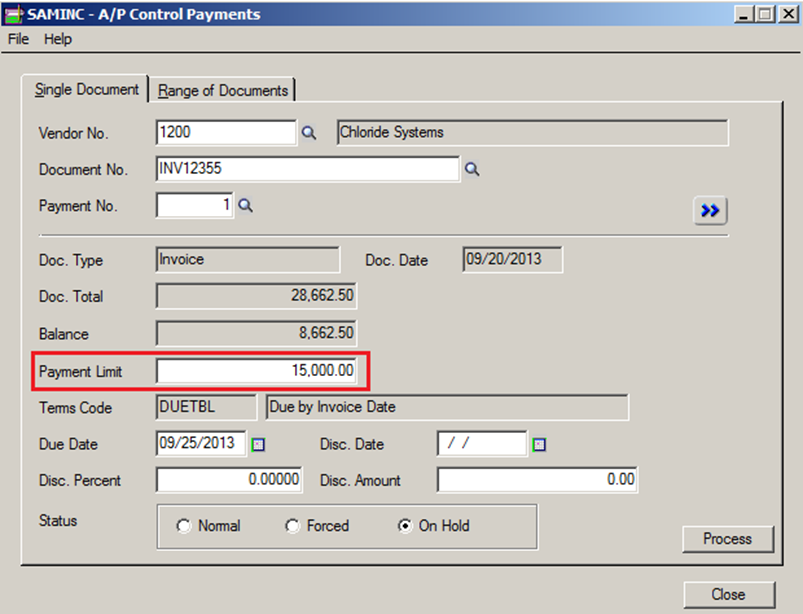 The status of the document can be changed at any point of time; it has no permanent effect on the documents. The status Normal is used to clear documents of any Forced or On Hold status that was applied previously. The documents assigned an On Hold status will provide a warning to the user when they try to make the payments against such documents. The document set with statuses Forced are paid when the next payment batch is generated. Forced status has no effect on the payments that are entered using the Payment Entry Form. Changing the Forced status has an effect only when generating batches with the Create Payment Batch form.
Accounts payable applies the payment limit in the Payment entry and creating payment batches;
For Payment and Apply document transactions; if you apply an invoice for which the payment limit exceeds, Accounts Payable displays the reduced applied amount that observes the payment limit. It also warns the user stating the payment limit exists for the invoice. A larger amount can be added by the user, if the payment limits set needs to be override.
Let's consider an example; where the payment limit of 1500 is set against the Invoice.  When the user tries to raise a payment against the Invoice, the system prompts the warning message.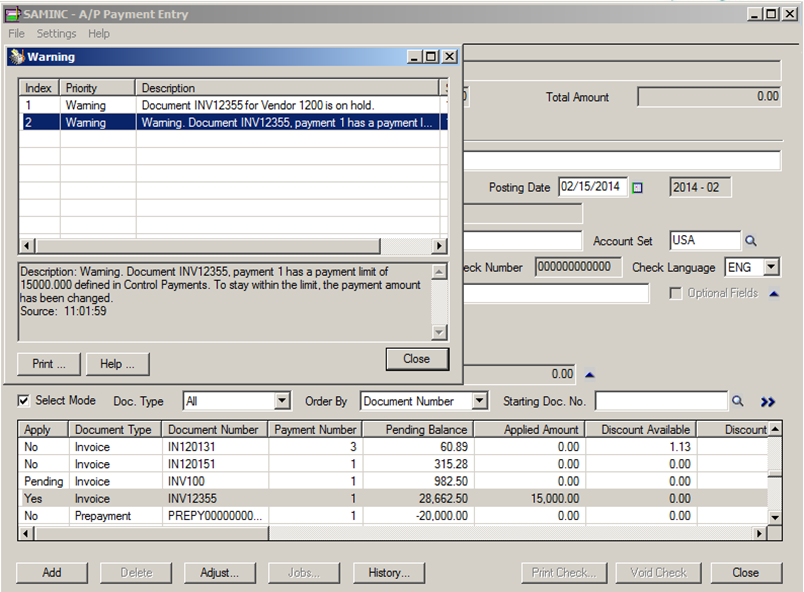 To apply the prepayments, credit, debit note against the documents with On Hold status it is required to remove the On Hold status using the Payment Control form.
The Control Payment feature forces or withhold the payment of individual transactions, controlling the maximum payment amount against the documents.
Also Read :
1. Advance Payment to a Vendor
2. Default Settings for Accounts Payable Payments in Sage 300 ERP
3. Generate Separate Payment for each Invoice
4. AP Check Stock setting in Sage 300 ERP
5. Recurring Payables in Accounts Payable module of Sage 300 ERP