CENVAT(Central Value Added tax) has its origin in the System of VAT(ValueAdded Tax).The Cenvat Credit shall be taken by the manufacturer or the provider of output service or input service distributor, as the case may be, on the basis of 'a supplementary invoice, issued by a manufacturer or importer of inputs or capital goods in terms of the provisions of Central Excise Rules or 'a supplementary invoice, bill or challan issued by a provider of output service, in terms of the provisions of Service Tax Rules.
In order to find the Cenvat Credit total amount, we have developed a customised report called Cenvat Credit register in Sage 300 ERP. The Report has been developed for one of our client with filter criteria as:-
Filter Criteria:
• From and To Vendor No.
• From and To Posting Date
New Stuff: GL Custom Report
Report UI: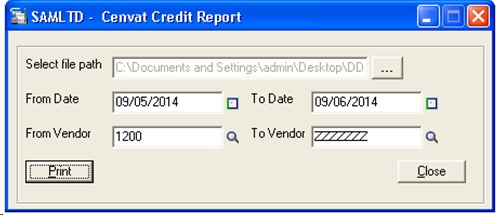 The Report will get printed in Excel format after fetching data from AP Invoice/Credit Note/Debit Note.For PO Generated Batches in AP Module, report is fetching data from PO Module.
The report gives us details like,
• Invoice Posting date
• Payee
• Invoice Date
• Account Description
• Service Tax Registration Number
• Different tax amount
• Item Wise Service tax
• Total Service tax
• Invoice amount etc…
Incase if any payment or prepayment is done against an invoice, this report shows the last payment or prepayment date, Its respective payment cheque number, payment date, and cheque amount.
The report output is as shown below.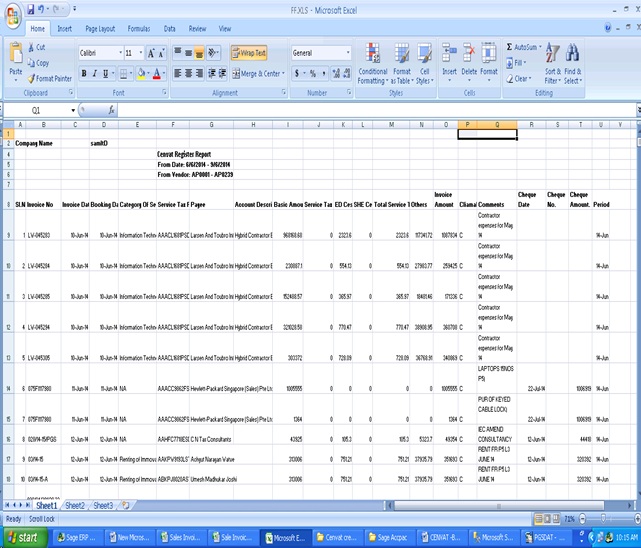 The User can define Tax Authorities in the optional fields. If Tax authorities are defined by the User, only those Tax Authorities' amount will be displayed in the report.
Also Read:
1.  AP Invoice and Payment Voucher -Greytrix extended report pack
2.  AP Vendor Ledger Report for Sage 300 ERP
3.  AP Payment Inquiry
4.  Purchase Order Year to Day Report in Sage 300 ERP
5.  Invoice Action Report