In our last posts we had discussed most of the inquiry screen in Sage 300. Similarly I/C Serial number inquiry screen is used to know the status of the serial items for different locations regardless whether it is available in inventory or not.
To run the Serial number Inquiry, navigate to,
Inventory Control –> I/C Statistics and Inquiries –>serial Number inquiry.
New Stuff: IC Item Valuation Report in Sage 300
There are different filters available on the UI as follows
•From and To Serial Number
•From and To Item Number
•From and To Location
•From and To Date
•Status- Available/Not Available/Both
The below Screen will appear: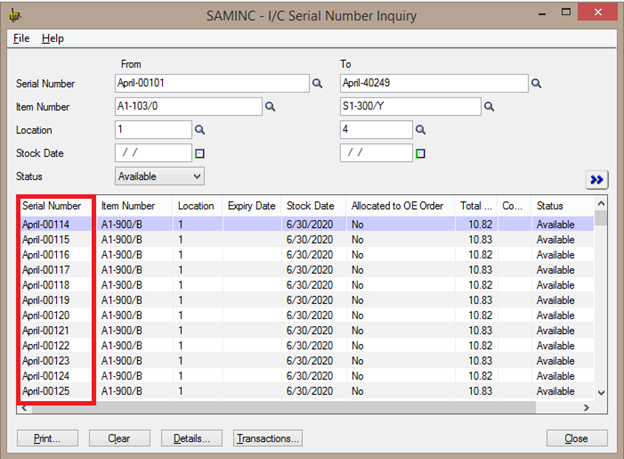 As shown in the above screen shot, the user can easily trace the information of serial items in detail grid. Also this screen lets the user get this information through the report. To get the report, users have to click on the print button. IC serial/Lot list report will be populated and using this, the user can fetch the report for serial items.
Using this screen, the user can drill down to the Serial number master screen by double clicking on the serial number column or he just has to select a row and view the following information about a serial number by clicking on the detail button. Please refer the below screen shot.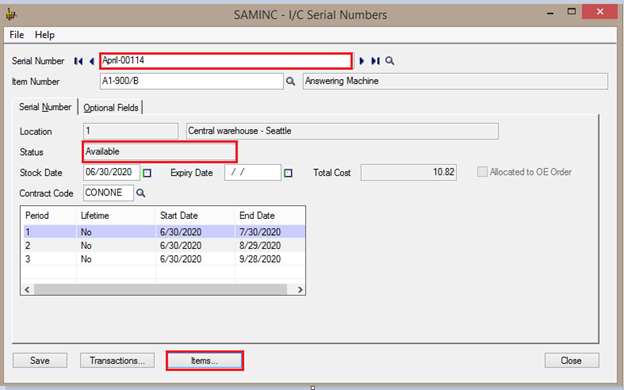 Also he can drill down to the transactions screen of the selected serial number on the screen. – he has to select serial no. row in detail grid click on "transactions "button this will open another pop up screen as serial number Transaction inquiry with list of all the transactions for selected serial number, To view transaction in details for that click on details button.
The below Screen will appear:



In this way, the IC serial number screen helps user to know the serial number for serial items with their details and transaction in Sage 300 in a single screen.
Also Read:
1.How to assign unique serial Number to Individual Items in Sage 300 ERP Versions 2014
2.Assign Unique Serial Number to Individual Items in Inventory Control Module of Sage 300 ERP
3.Serial/Lot Number Stock Report
4.How to allocate a Serial and Lot number at Order Entry screen in Sage 300 ERP