In today's world, where maintaining and managing details within a system is a must from automation point of view; documenting necessary stuff is also very important on another hand. While working in an organization, at one point there is always a need of storing company documents in a safe place. Every business has its own set of documents which are been shared between both the parties such as Customers and Vendors or also between the employees or say users of the system. Thus, storing such documents in a centralized manner is necessary so that it can be accessed easily irrespective of the location. Sage CRM has quite efficiently taken care of helping the users to not only store the documents but also manage the security of these documents with the help of Library Management.
New Stuff: Sage CRM 2021 R1: Click to Dial Links
In Sage CRM, every primary entity has its own Documents tab where we can save documents against that particular entity. For e.g. For every company record there is a Documents tab available where we can store the Company related stuff which can be accessed easily anytime. In Sage CRM, we can upload documents in 2 ways as follows:
Using the Add File button: If you click on this button, the Document upload screen will open, where you will select the file to be uploaded. Once the file is uploaded, it will redirect you to write more information about Document being uploaded. For e.g. Document Description, Type etc.
Document Drop Functionality: Here you have to select the file and Drag and Drop it to the "Drop files here to attach them" button. Once the file is uploaded, it will redirect you to write more information about Document being uploaded.
Below is the screenshot of the above 2 methods.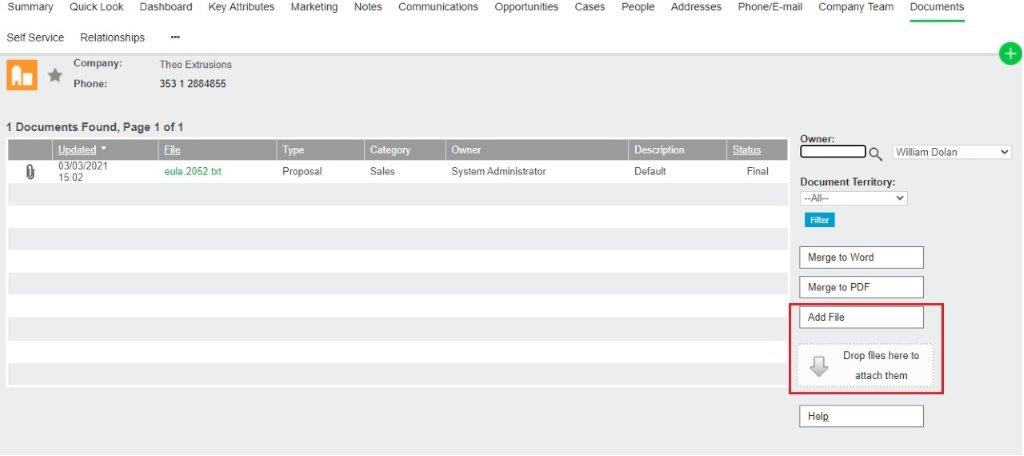 In previous versions of CRM, we could only attach a single document at a time. But in the latest versions, we can upload multiple documents in a single attempt.
As you know, the Shared Documents tab is available at MY CRM where we store the documents to be shared with all the users. From the release of Sage CRM 2018 R2 onwards, we can restrict Confidential Documents to be viewed in the Shared Documents tab. Below is the blog link for your reference:
Restrict Document View in Shared Documents tab in Sage CRM 2018 R2 onwards
With the release of Sage CRM 2019 R2 onwards, Security policies have been implemented for Library entities. So that we can apply security rights to Library entities like we apply for Primary entities. For e.g. Company, Person etc. Suppose, you want to add a document in the Shared Documents tab which needs to be shown to users of particular territory only then this can be achieved by following 2 ways.
By applying security rights to Library entity:
Refer below blog link for the same.
Security Policies applied to Library entity with release of Sage CRM 2019 R2
By setting the Document Territory field while uploading the document:
This feature is available in Sage CRM 2020 R1 onwards. Follow below steps to achieve the same.
a. Login to Sage CRM with Admin user.
b. Go to My CRM -> Shared Documents tab.
c. Either click on the Add File button and select the document or use Document Drop functionality.
d. In the Document Details screen, set the "Document Territory" field to the territory for which you want to show the document and save. Refer below screenshot for the same.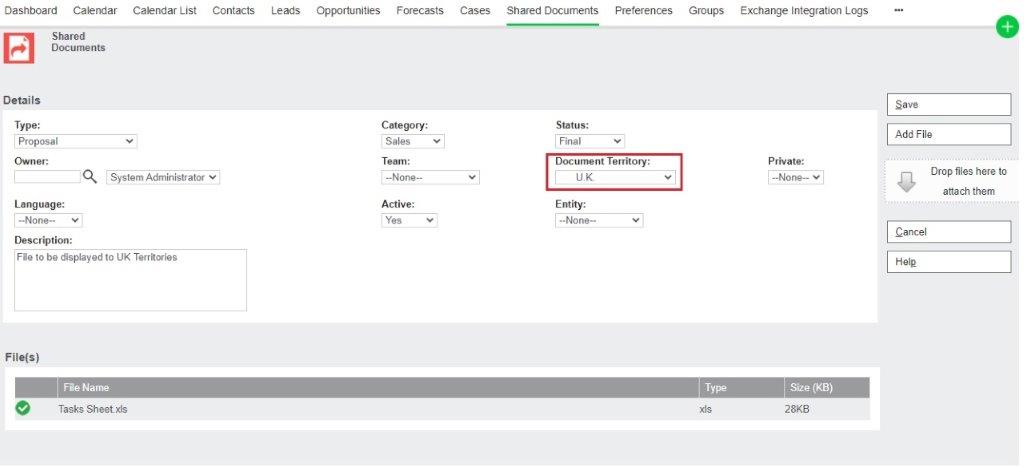 We have set the Document Territory to "U.K" territory. So, when a UK territory user will log into CRM, only he can view the document in the Shared Documents tab.
In this way, Sage CRM allows the Users to restrict user from accessing the Documents uploaded in CRM based on the territory set. By using the setting of Document Territory field, System Admin or Document Owner can define a specific territory so that users from that territory can view the documents.
About Us
Greytrix – a globally recognized and one of the oldest Sage Development Partner is a one-stop solution provider for Sage ERP and Sage CRM organizational needs. Being acknowledged and rewarded for multi-man years of experience, we bring complete end-to-end assistance for your technical consultations, product customizations, data migration, system integrations, third party add-on development and implementation competence.
Greytrix helps in upgrading Sage ERP and CRM to the latest version and provides migration for Sage Intacct from Sage 300, Sage 100, Sage 50 and QuickBooks; for Sage 100, Sage 300 (Sage Accpac), Sage X3 from Sage Pro, Sage 50 US, Sage 50 CA, Sage 50 US, Sage Business Works, Sage Business Vision and QuickBooks; for Sage CRM from Salesforce | ACT! | SalesLogix | Goldmine | Sugar CRM | Maximizer
For more information on Sage ERP – CRM migration solutions, please contact us at erpmig@greytrix.com. We will like to hear from you.