Reminiscing all the fun, innovation, and learning at Las Vegas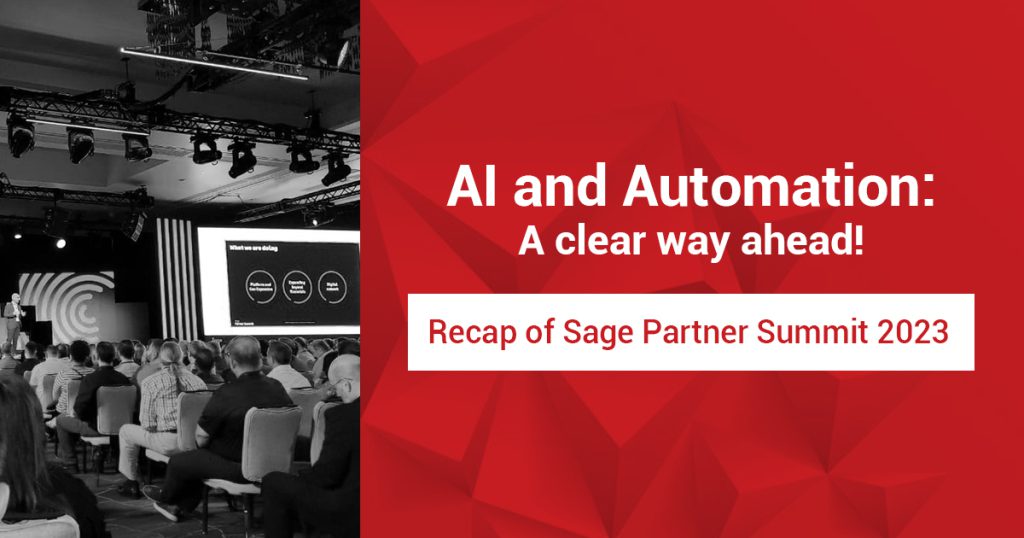 Set in the lush Aria Resort and Casino of Las Vegas, the Sage Partner Summit 2023 was witness to host 1500+ industry experts, leaders, and partners, 71 sponsors from 30 countries! In a city bigger and bolder, LV23 surpassed realms of innovation and fun!.
Take a quick visual tour here-
As Silver sponsors of the event, we brought a diverse skillset of in-app integrations, custom development, and ERP and CRM expertise to the event. 23+ years of Sage partnership has helped us build a deep knowledge base of Sage ERPs like Sage Intacct, Sage X3, Sage 300, Sage 100, and Sage CRM. With the help of our Champion Integrator GUMU™, we have 1000+ app integrations and enable seamless data migration. For details on our services, download our brochure!

The Sage Partner Summit also addressed the growing AI generative tech adoption and how Sage is accelerating in this direction to help its partners be at the forefront. With leaders and experts from around the world, the Summit was CenterStage to breakthrough technology that simplifies UX, and places customer needs as the primal focus. Sage brings in AI, ML, AI-generative applications, and Chatbots to pave the way for innovative technology in their solutions (Sage Intacct).

The Sage Partner Summit stood true to its pillars of –
Insightful Keynotes


Day 1
-The Day 1 keynote kicked off with Mark Jeffries, the emcee taking the audience in awe! Aziz Benmalek, the CTO of Sage, presented the H1 highlights. He said, "Sage delivered strong results in the first half as we continue to execute our ambition to be the trusted network for small and mid-sized businesses".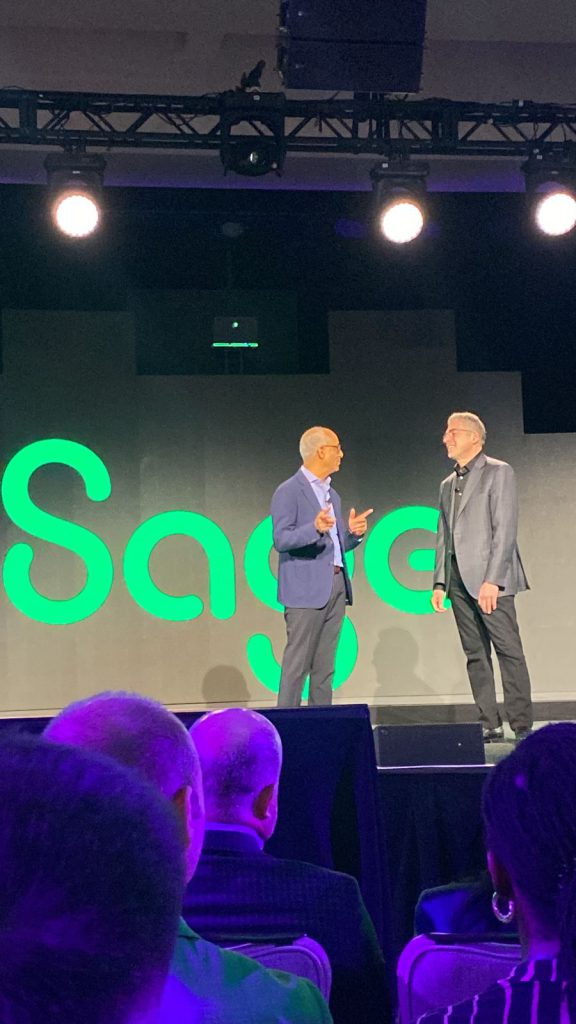 -To add to the charm, Eduardo Roisini, Sage EVP Partners and alliances, debuted on the stage as he highlighted Sage's partner strategy that will help the ecosystem sell, build and implement solutions.
–Mickey North Rizza, the Group Vice-President of Enterprise Software IDC, focused on generative AI, the power of industries and micro-verticals, and boosting the value of partnerships.
–Aravinda Gollapudi, WP of Engineering and Business Unit Leader, and Dan Miller, EVP of Sage Intacct, came forward to discuss the Sage Intacct Product Strategy.
Arvinda Gollapudi joins Dan Miller onstage to take us through the Sage Intacct product strategy.@SagePartners @SageIntacct @SageUSAmerica #SageLV23 #SagePartnerSummit #Day1 #OpeningKeyNote pic.twitter.com/srFUhMSzg8

— Greytrix (@greytrix) May 22, 2023

–Heather Gordon, General Manager: WW SMB of Microsoft, along with Eduardo Rosini, discussed the Sage and Microsoft partnership and the potential opportunities this partnership promises.
Day 2

-Walid Abu-Hadba opened the day 2 keynote by establishing the tone for the day – 'AI Innovation and product strategy.'
-Next up, Sage's CTO Aaron Harris took to the stage to introduce the Sage inbox self-service and developer's tools. He also presented the scale of opportunities within the Accounting industry facilitated by AI generative tools.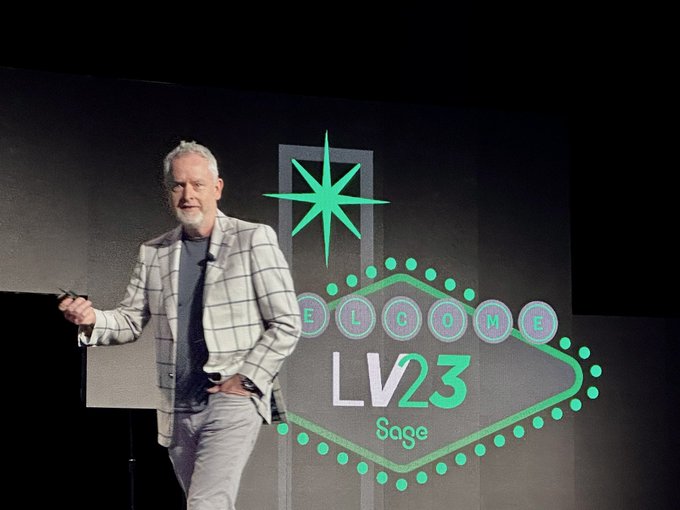 Day 3
-The final day keynote began was a hit with an ensemble of experts – Eduardo Rosini, EVP Partners & Alliances; Julie Adams, VP Product – Construction and Real Estate; John Barrington, EVP Global Performance Marketing; and Derk Bleeker, President Sage EMEA. They highlighted their efforts of Performance marketing and vertical expansion to drive partner growth.

Julie Adams and John Barrington discuss @SageIntacct's growth strategy that focuses on–
o Deep diving into verticals
o Expanding beyond financials
o International expansion
o Accelerating product growth@SagePartners @SageUSAmerica#SageLV23 #Sage #SagePartnerSummit pic.twitter.com/IaWPRQoyfl

— Greytrix (@greytrix) May 24, 2023

-Later Becky Payne was joined by Joey Jegerajan and Flemming Kongsberg on stage to discuss how human trends and their shift to smart technology are impacting SMB strategies.
Product Innovation



Sage focuses on delivering value to stand by customers' and clients' needs. From brainstorming sessions to identifying product enhancements and promising third-party applications, the event focused on bringing innovation to make their products future-ready.

Completely amazed by the capabilities of Chatbots, ChatGPT, NLP, ML, and other generative AI tools that are revolutionizing customer engagement and enabling exceptional experiences! Excited to explore more at #SagePartnerSummit @SagePartners @SageUSAmerica #SageLV23 #Sage pic.twitter.com/GyjKfgsXle

— Greytrix (@greytrix) May 23, 2023
Networking opportunities



With many partners from all verticals, the summit was a hot spot for networking and collaboration opportunities. Sage successfully fosters an environment that helps partners Collaborate, Network, and Grow! With various sessions aimed at helping the partners market the products with utmost efficiency, Sage presents multiple opportunities for its partner community to stride along.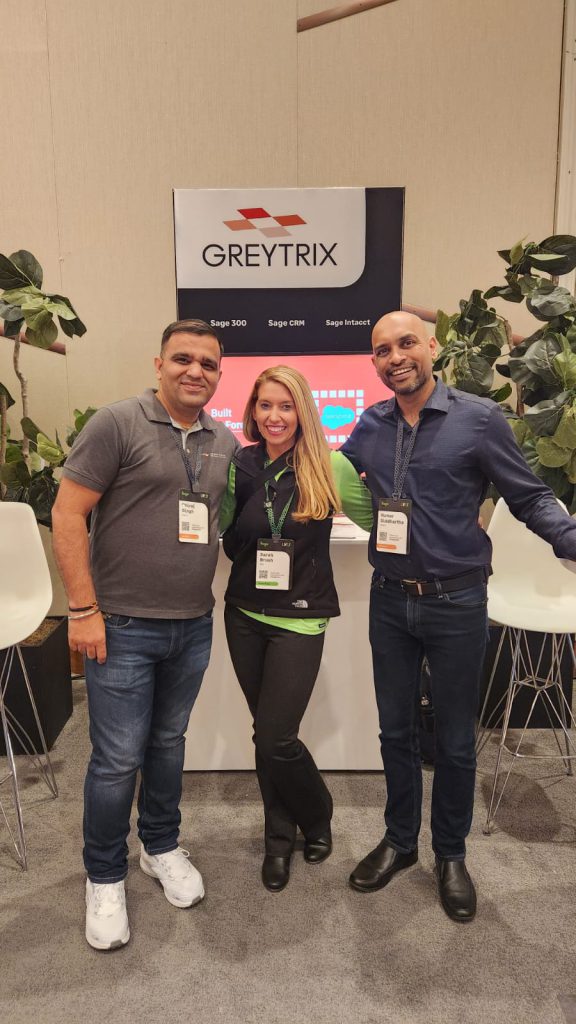 Fun


– The Summit is a package event with fun and learning neatly packed in equal proportions. From fun in the neighbourhood to the closing concert, no moment was dull at the illustrious Aria Resort over these 3 days.

Greytrix at the Summit – Booth 109

As long-term Sage Partners and all-new Sage Intacct Implementation Partners, we were present at Booth 109. We have a track record of helping more than 350 business partners achieve growth through seamless integrations and high-quality, cost-effective solutions. In addition, our strong focus on the Sage ecosystem allows us offer expertise in systems such as Sage Intacct, Sage X3, Sage 100, Sage 300, Sage 50, Acumatica, QuickBooks, Sage CRM, Salesforce, and Dynamics 365 CRM.
We provide a range of services, including development, customization, integration, implementation, and consultation, as well as ongoing support for our diverse customer base of over 1500 clients across various industries. We have a track record of helping more than 350 business partners achieve growth through seamless integrations and high-quality, cost-effective solutions.
For more information on our products and services, reach out to us at na.sales@greytrix.com or contact us at 1 888 221 6661. Download our brochure
Sage has repeatedly churned massive efforts to bring together the Partner Community and drive profits. So, this year, as promised, it was bigger and bolder! Hoping to see you in 2024!