In our last blog, 'Manipulation Of Selection List/Window-Part I', we saw how to configure the Selection List/Window and explored selection listing parameter's 'NBRCHOOSE' and 'SELRACPAS'. In this blog, we will continue with the rest 7 parameters.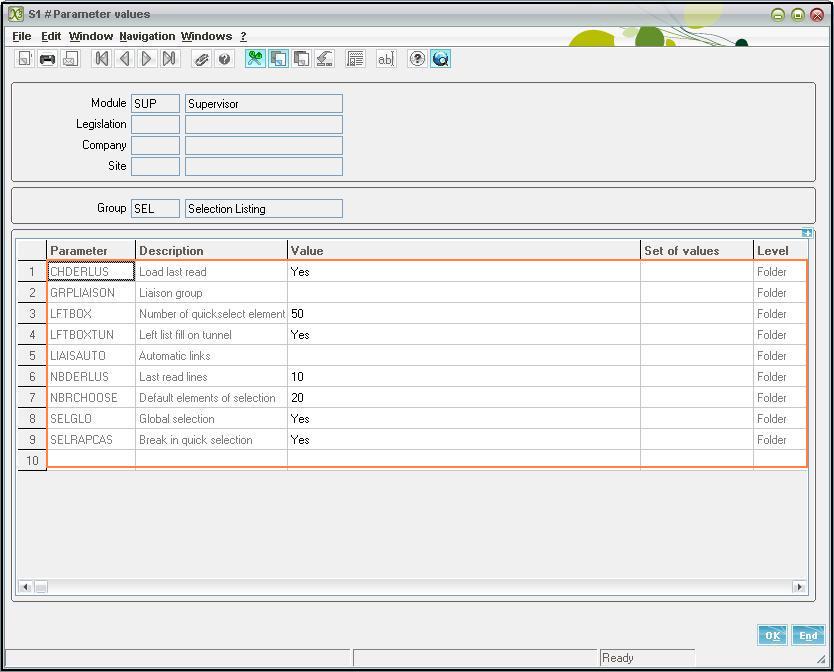 Number of QuickSelect Elements (LFTBOX)
This parameter defines the maximum number of records to be displayed in the left list. The value parameter like NBRCHOOSE needs to set after considering the record size and number of users.
Load last read (CHDERLUS)
This is a simple parameter that determines if the last read entry of the screen must be read when the screen is reopened. When set to 'Yes', the re-opening of the screen would fetch the last read record. When set to 'No', the screen would open the default record.
Last read lines (NBDERLUS)
This parameter determines the number of entries to be loaded in the 'Last Read' left list, if it is present in the Object/Screen. Just like Parameters related to the number of lines, the values for this parameter needs to be set after considering the number of users and the size of the table.
Left list fill on tunnel (LFTBOXTUN)
This parameter specifies if the left list needs to be loaded when the record/object is accessed by means of tunnel.
It is recommended that for companies/sites, that has large number of records and users, to set this parameter to 'No'. This is because the loading of records consumes lot of resources while the tunnel is already positioned to the correct entry. If required, one can always load the left list by pressing 'F5'.
Liaison Group (GRPLIASION)
In the object customization, it is possible to parameterize the presence of a left list called object explorer for each object. This parameter defines the links that the user is entitled to see in this left list when the latter is present.
By default, a STD code is proposed. If all the users use this group and if in addition the group used for automatic links is the same, all the users will see all the links.
Automatic links (LIAISAUTO)
This parameter defines the link group used when a user, in object management, automatically creates the links conforming to the parameterization defined in the object parameterization. If this group is empty, the automatic links will not be created.
If this group is different from the user's link group, the liaisons created automatically will not be seen.
Global selection (SELGLO)
This parameter is used, if it is set to Yes, to create the memo files for "global" selection. Remember that these memos, accessible to all via the selection menu, are used to create the selection filters in object management.
If this parameter is set to No, only the personal memos (i.e. not global) can be created, but nothing stops the user from making use of the global memos created by others.
That was all for the Selection Listing configuration, stay tuned as we will be exploring more such configuration parameters.
About Us
Greytrix – a globally recognized Premier Sage Gold Development Partner is a one-stop solution provider for Sage ERP and Sage CRM needs. Being recognized and rewarded for multi-man years of experience, we bring complete end-to-end assistance for your technical consultations, product customizations, data migration, system integrations, third-party add-on development and implementation expertise.
Greytrix caters to a wide range of Sage Enterprise Management (Sage X3) offerings – a Sage Business Cloud Solution. Our unique GUMU™ integrations include Sage Enterprise Management (Sage X3) for Sage CRM, Salesforce.com and Magento eCommerce along with Implementation and Technical Support worldwide for Sage Enterprise Management (Sage X3). Currently we are Sage Enterprise Management Implementation Partner in East Africa, Middles East, Australia, Asia. We also offer best-in-class Sage X3 customization and development services, integrated applications such as POS | WMS | Payment Gateway | Shipping System | Business Intelligence | eCommerce and have developed add-ons such as Catch – Weight  and Letter of Credit for Sage Enterprise Management to Sage business partners, end users and Sage PSG worldwide.
Greytrix is a recognized Sage Rockstar ISV Partner for GUMU™ Sage Enterprise Management – Sage CRM integration also listed on Sage Marketplace; GUMU™ integration for Sage Enterprise Management – Salesforce is a 5-star app listed on Salesforce AppExchange.
For more information on Sage X3 Integration and Services, please contact us at x3@greytrix.com. We will be glad to assist you.