In today's internet era; online sales is increasing. Many small and large business are turning to ecommerce as there is lot of business opportunity. Not only retailers but wholesale buyers also require online channel for doing business, managing accounts and shopping cart.
Choosing a right ecommerce platform is integral.  From the available ecommerce solutions; Magento is a proven leader. Today Magento platform is the fastest growing ecommerce platform.  It is a feature rich ecommerce platform offering merchant complete flexibility over the user experience, content and functionality of their online channel. Large business can choose Enterprise edition whereas Community Edition is open source and best fit for developers and tech-savvy merchants.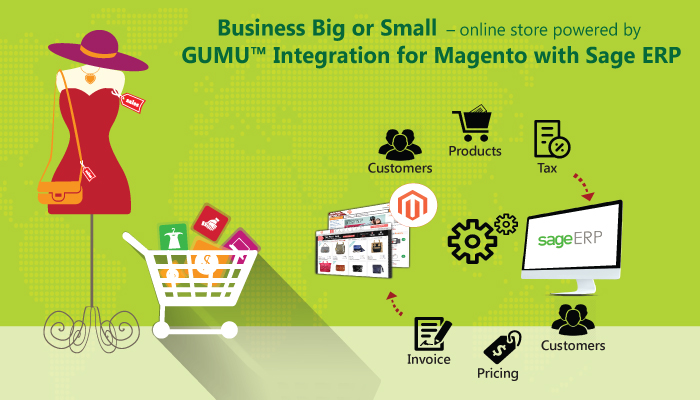 After identifying the ecommerce platform the next essential part is to integrate with your back office accounting system or ERP.  With proper integration in place; you can automate the data back and forth between the systems, avoid human intervention, real time stock availability and quick processing of orders.
Greytrix is meeting the need of integrating ecommerce and ERP applications by providing an integration between Sage ERP (Sage ERP X3 and Sage 300 ERP) and Magento eCommerce platform.  It's beneficial for existing Sage users who are looking for ecommerce application and integration tool or businesses running a Magento website but requiring an ERP and vendor for integration.
Greytrix offers a well-designed integrated solution which automates the products, pricing and stock updates from your ERP to Magento website providing accurate product information and availability.  By integrating your online orders to ERP; it simplifies order processing and accounts receivable.  It also facilitates B2B ecommerce; by linking customers from your ERP to your online website.
By integrating Magento and Sage ERP; businesses can scale their online sales, reduce operational cost and profitability.
For more information on Magento integration with Sage ERP, please contact us at us.sales@greytrix.com .We will be glad to assist you.