The growth of industrialization and manufacturing production remains an essential part of Africa's economic transformation. Manufacturing being among the top three multiplier sectors in terms of value addition, job creation and revenue generation contributes to about 15% of the GDP to the East African regions of Kenya, Tanzania, Rwanda, Ethiopia, and Uganda.
Manufacturing sector traditionally spends more on IT infrastructure because there is intense competition to deliver better quality products in less time. Competition coupled with quick responsiveness, makes it challenging for the manufacturers to meet the requirements of customers, controlling costs, compliance mandates & effective management of the suppliers with their existing enterprise software solutions. Greytrix Africa understands the underlying factors contributing to your manufacturing industry and introduces Sage X3.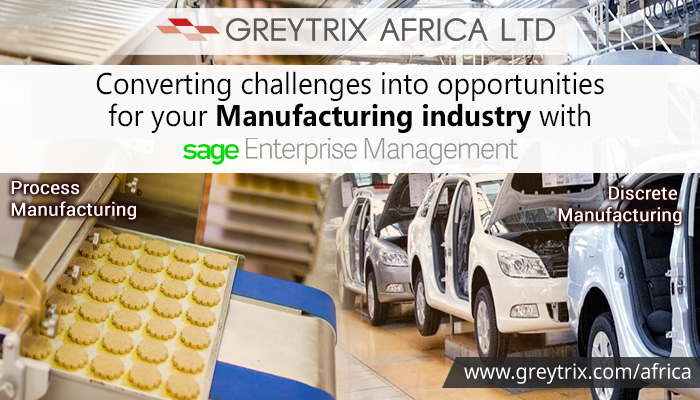 Sage Enterprise Management- Scraping out the manufacturing complexities
Sage X3 is a holistic business management solution that addresses the pressing issues faced by manufacturing industries assimilating complex workflows from inventories, products, finances, production, sales and accounting. Greytrix Africa with Sage X3 cuts down production bottlenecks by enhancing agility in make-to-stock, make-to-order, configure-to-order, engineer-to-order and just-in-time (JIT) manufacturing. The powerful solution manages your suppliers, tightly tracks capital expenditures over manufacturing processes, controls supply chain costs, shortening manufacturing throughput time, thereby delivering high – quality goods.
Features of Sage X3 (Sage Enterprise Management) for your Manufacturing industry
Formula management
Weight calculations
Potency management
Full lot control and traceability
Electronic signatures with transaction audit traceability
Quality assurance and control
Sophisticated pricing and contract management
Sub-contracted operations and supply chain control
Product packaging
Warehouse Management
Material and Capacity Planning
Supply chain management
Warranty Management
Transparent operational control
On-time delivery performance
Bill of Material Management
Product Data Management
Attribute Management
Product Configuration
Benefits of using Sage X3 in your Manufacturing industry
Greater visibility and control
Reduced lead time
Reduced manufacturing costs
Increased production
Controlling inventories
Improved product quality
Reduced defects and scrap
Reduced cycle time
Improved traceability
Reduced paperwork, data entry & manpower
Boosts effectiveness by offering 24*7 accesses to business information, offering timely decisions
Improved supplier and delivery channel relationships on the business front
Why Choose Us?
Greytrix Africa – a Sage X3 certified Partner is a global leading solution provider for your Sage X3 needs. We have a team of highly experienced and certified Sage X3 (Sage Enterprise Management) Techno-functional consultants with proficient technical and functional knowledge specializing in Sage X3 consulting, development and integration services for discrete and process manufacturing industries. At Greytrix Africa, we help customers reduce risk, operational costs, increase profitability and improve customer services through the provision of consulting and development of business management software and professional services.
To know more about Greytrix Africa Sage X3 for Manufacturing industry, write to us at sales@greytrix.com