What brings an update for Sage X3?
Sage Enterprise Management – ERP is the next generation business management system that accelerates your core business processes by integrating them and adapting to meet your enterprise requirements. It is a fully established business management system encompassing financial management, manufacturing process management, customer relationship management, project management, sales process management and inventory management. Sage X3 allows you to control the bottom line of your business with accurate and real-time visibility of enterprise data. As business needs evolve, enterprises look for systems that offer process optimization, improved efficiency, and value for IT investment in order to stay ahead of business trends for accommodating the dynamic changes. With competition intensifying the ERP software market, Sage has been persistent in offering versatile and multi-faceted tools that assist small, medium and large enterprises to effectively manage their business. This includes key areas of business such as finance, sales, CRM, stock control, manufacturing and much more. To supplement their powerful and flexible accounting enterprise solution Sage X3, Sage has recently unleashed a product version update – Sage X3 Version 11.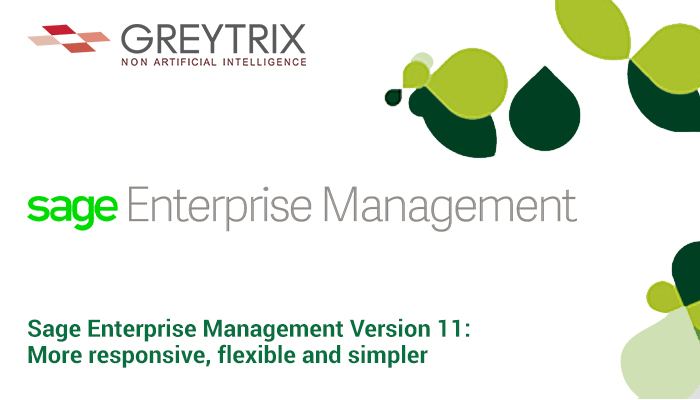 Key points of Sage Enterprise Management Version 11
Sage X3 Version 11 update incorporates new features, new integrations, functional improvements and new complementary solutions for Sage X3 in your business ecosystem. Sage X3 Version 11 continues to deliver a robust business management solution keeping its simplicity in management, flexibility and faster response for a favorable ROI.
What are specifically included in the update and how will it benefit your organization? Here's a quick look.
New Sage X3 Features and Improvements
Project Management

Sage Enterprise Management (Sage X3) Version 11 has a measurable impact on Project Management module. The new module manages the aspects of projects across financials, distribution or manufacturing processes from quoting to planning resources and materials, tracking costs and schedule, invoicing and analyzing profits.
Production Scheduler

The new feature of Sage X3 Version 11 in Production Management module optimizes production cycles and controls lead times with more flexible graphical production planning and scheduling capabilities. This is a replacement for the former option called Manufacturing Scheduler or Gantt module.
Automated Bank Statements

Sage X3 Version 11 improves the efficiency of the financial process by automatically generating the transactions matching open items or unbalanced operations when importing bank statements in Production Management, Financial processes.
New Sage X3 Integrations
CRM:
Sage X3 Version 11 synchronizes customer records between Salesforce | Sage CRM with Sage X3, and displays Customer Orders in Salesforce | Sage CRM. With this new version update, Greytrix has made its robust GUMU™ connector compatible for Sage CRM and Salesforce integrations with Sage X3 version 11.
Also offering GUMU™ Integration for Sage CRM with Sage X3 Version 11 and GUMU™ Integration for Salesforce with Sage X3 Version 11.
Financial Reporting:
With Sage X3 Version 11, reports can be easily designed with intuitive enhanced excel-based reporting capabilities integrated with Sage X3 financial management.
New Functional Improvements:
Sage X3 Version 11 for Supply Chain Management:
Optimize container capacity for shipments.
Attach & monitor documents associated with receiving goods.
Customize steps to track during the receiving process.
Update costs associated with purchasing on shipment and enhance the visibility of total shipment costs.
Quick creation of complementary invoice from shipments.
Sage X3 Version 11 for Production Management:
Enable shop floor tracking by the team, available in ADC.
Sage X3 Version 11 for Financial Management:
Accelerate closing with real-time inter-company consolidation process at the right level of aggregation.
Accelerate currency conversions in one run, at the balance sheet level.
Quick entry booking: accelerating journal and AP/AR entries.
Automating reminder campaigns at intervals
Enabling blocking sales transactions based on credit rating.
Compliance updates for AU, DE, PL, PT, ZA, ES, FR, CH.
New Complimentary Solutions
Sage X3 Version 11 for Supply Chain Management: Sage Geode Version 11
Businesses can extend Sage X3 with enhanced warehouse management capabilities from Sage Geode to optimize all physical workflows from receipts to shipments in the warehouse.
Sage X3 Version 11 for Data Management and Analytics
Business data can be managed, integrated and migrated across different platforms for accurate and consistent insights from multiple sources. Sage X3 Data Management offers inbuilt data models to simplify data migration and reporting. Thus providing users with a powerful data warehouse managing information from any sources effectively.
Sage X3 Version 11 for Construction
The core capabilities of Sage Enterprise Management can be extended across construction verticals for financial and supply chain management with Sage X3 Version 11. With a cohesive solution, real-estate business processes including project management, contract management, estimation, timesheet transactions, sub-contracting, project financial tracking and cash flow can be managed with this cohesive Version 11 of Sage X3.
What's the value to your organization?
Faster process cycle time
Faster inventory turnover
Faster customer response time
Faster insights into costs & business performance
Simpler management of distributed operations
Flexible customization of business management systems
Easy configuration of business management systems to your business ecosystem
Quick deployment of Sage X3 in cloud or on premises
To learn more about Sage Enterprise Management (Sage X3) Version 11 please contact us on x3@greytrix.com

About Us
Greytrix – a globally recognized Premier Sage Gold Development Partner is a one-stop solution provider for Sage ERP and Sage CRM needs. Being recognized and rewarded for multi-man years of experience, we bring complete end-to-end assistance for your technical consultations, product customizations, data migration, system integrations, third-party add-on development and implementation expertise.
Greytrix caters to a wide range of Sage Enterprise Management (Sage X3) offerings – a Sage Business Cloud Solution. Our unique GUMU™ integrations include Sage Enterprise Management (Sage X3) for Sage CRM, Salesforce.com and Magento eCommerce along with Implementation and Technical Support worldwide for Sage Enterprise Management (Sage X3). Currently we are Sage Enterprise Management Implementation Partner in East Africa, Middles East, Australia, Asia. We also offer best-in-class Sage X3 customization and development services, integrated applications such as POS | WMS | Payment Gateway | Shipping System | Business Intelligence | eCommerce and have developed add-ons such as Catch – Weight and Letter of Credit for Sage Enterprise Management to Sage business partners, end users and Sage PSG worldwide.
Greytrix is a recognized Sage Rockstar ISV Partner for GUMU™ Sage Enterprise Management – Sage CRM integration also listed on Sage Marketplace; GUMU™ integration for Sage Enterprise Management – Salesforce is a 5-star app listed on Salesforce AppExchange.
For more information on Sage X3 Integration and Services, please contact us at x3@greytrix.com. We will be glad to assist you.