Scenario of business with management systems
Do your business representatives still manually enter processed Orders from the CRM system to ERP? Are they tied to their office desktops to access any vital customer data? Are sales forecasting and generating reports becoming a tedious task and creating a roadblock for seamless business operations?
It's time – to rethink and strategize your business and commit to a data-driven business system that brings agility to your enterprises.
Check Now: Greytrix enables companies to manage core business operations with its powerful and robust integration engine – GUMU™
Increasing dependency on business management systems
Today, businesses desire agility to address customer needs. To capitalize on the speed to fulfill customer's growing needs, enterprises are moving beyond traditional business models and look forward to engraining integration intelligence into their IT systems. Businesses use various management systems such as ERP, CRM, HCM, Sales, HRMS and email for smooth business operations. However, due to their distinctive architecture, they are widely used as independent systems which lead to the biggest blockade to an agile business – Storage and Data flow.
Scope of ERP & CRM
Enterprise Resource Planning (ERP) and Customer Relationship Management (CRM) are the business systems that ease back office and front office operations. ERP systems streamline back office processes, automates business data, stores and manage them for operations such as managing customer information, purchase history, billing, shipping details, accounting and financial data, along with inventory information. Customer Relationship Management (CRM) assists in lead management, maintain customer details such as order information and communication history. ERP and CRM systems bring together business data that can be analyzed for accurate decisions and improve business performance.
However, ERP and CRM systems remain siloed with contrasting architectures that make it impossible to track all the customer interactions. Sales representatives switch between both the systems to attain 360° customer view, indirectly affecting customer wait time. In order to drive business efficiencies across the organization, it is important to get more value from the customer data that is locked in ERP and CRM systems. It's imperative to know how integration can become the catalyst to your business growth.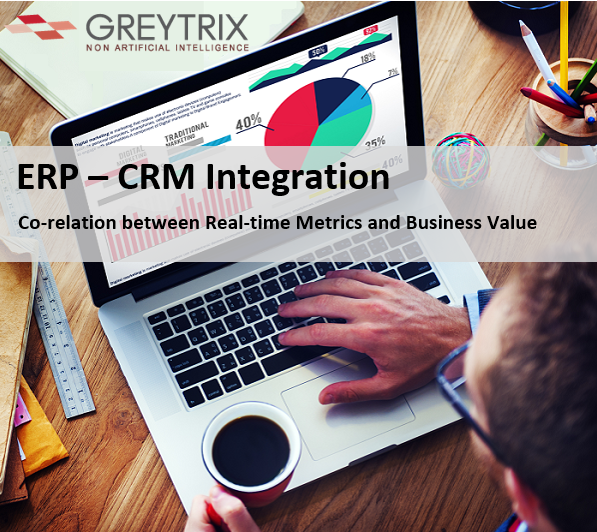 Benefits of an integrated ERP – CRM business system
Integration of ERP and CRM can impact an organization's core business processes by streamlining routine tasks, reducing operating expenses, and eliminating manual errors. The benefits of an integrated business system include:
360° Customer View and Real-time data visibility
Integration of ERP and CRM systems gives business a single view of data to both the systems which means updates in either of the systems are visible instantaneously that delivers real-time data visibility of Customer Orders and Quote transactions. The integrated ERP – CRM systems offer a clear visibility into all the stages of your customer in your business process. This improves the speed of customer response, creating the potential of the sales reps to upsell and cross-sell.
The value of having real-time data access drives an accurate and responsive decision making for any business. Businesses can ensure stronger business insights with real-time data. What drives the design of an integrated ERP – CRM system is every department working with the same set of data such as information on shipment, orders, payments, pricing in real time. When uniform data is accessed across departments, it enhances decision making, thus accelerating business growth.
Better Inter-departmental Communication
An integrated ERP – CRM system brings with itself easy access to comprehensive Customer Orders, Invoices and inventory data. The integration allows easy sharing of information between different departments, thereby saving operational costs. This leads to seamless communication at different levels of business operations.
Minimize Data Redundancy and Maximize Productivity
With integrated ERP – CRM systems, data duplication is reduced drastically leading to minimal data entry errors. This gives resources increased transparency and agility in business operations, shifting their focus to growing business by maximizing productivity.
Streamlined Business Processes
Manual processes such as re-keying ERP and CRM data and validating them can be automated with the help of powerful tools in the integrated ERP – CRM system. This allows organizations to embed best practices for frontend and backend operations addressing end to end business processes like a quote to cash, creating Quotes and Orders along with the financials.
For more intelligent business decisions that will drive your business to be more competitive and to increase ROI, businesses need to take the next step. Greytrix renowned for its unparalleled data exchange and integration GUMU™ framework is a one-stop solution provider offering Sage ERP – CRM integration, migration and development services with the strategy and guidance to meet your unique business requirements and maximize the potential of your IT investments.
For more on our offerings, visit, Greytrix or write to us at sage@greytrix.com