After months of anticipation, the world's largest conference – Sage Partner Summit 2018 organized by Sage Group PLC was indeed remarkable. Three days packed with keynotes, breakout sessions, and inspirational discussions with industry leaders, experts, influencers, from Sage Partner ecosystem sharing their ideas on various dimensions of business. The conference hailed 300+ Sage Partners across 19+ countries who marked their presence in Seville, Spain from May 2nd to May 4th, 2018. The conference focused on how adapting to cloud-based solutions could bring opportunities to businesses worldwide. The theme of Sage Partner Summit this year was Winning Tomorrow Together.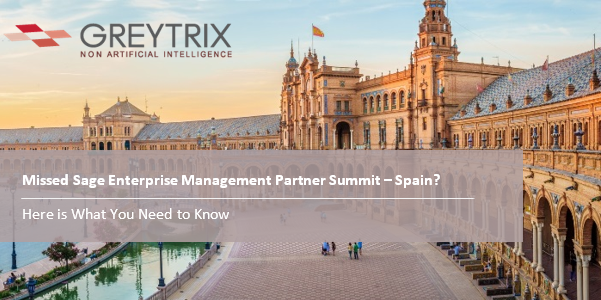 Key Speakers | Sage Partner Summit 2018
If you missed the chance to attend Sage Enterprise Management Partner Summit this year, don't worry. We bring to you the key highlights, strategies and keynote sessions from Sage Enterprise Management Partner Summit. In three days of networking, we interacted with Sage executives – Jennifer Warawa, Nick Goode, Luis Pardo, Gemma Telford, and Pascal Gaudé who checked in at our booth to discuss the opportunities of expanding businesses across the Partner community with Sage Business Cloud solutions.
We learned many valuable lessons from this year's featured speakers and events. Check out our favorite takeaways from Sage Partner Summit.
Blair Crump: Enterprise Growth with Partner Growth
Blair Crump, President at Sage, summarized Sage's H1 2018 trade and how they have initiated the implementation of robust plans to address trade issues. Mr. Crump reinvigorated partners by multiplying the long-term growth of Sage relying on Enterprise Management and working alongside Sage Partners.
– We want enterprise growth, market growth, driven by partners."
– Enterprise Management is our priority! Partners first!"
Jennifer Warawa: Sage Spotlight & Boot Camps
Jennifer Warawa – Sage Executive Vice President, gave the opening keynote on the product strategy and the extended roadmap of Sage to the partner community. Jennifer stated a New Partner Enablement Framework on how services could help partners boost business. Sage has launched boot camps to master the enterprise management to new consultants and partners. To accelerate delivery, Sage has voiced the concerns of the partners, with its new customer-reference and sales accelerator program named Sage Spotlight. Sage Spotlight focuses on a large pool of customer references such as case studies, success stories, and video testimonials designed to help business close deals faster.
– "Services can help you boost your business"
– "We know you can close deals faster with customer references"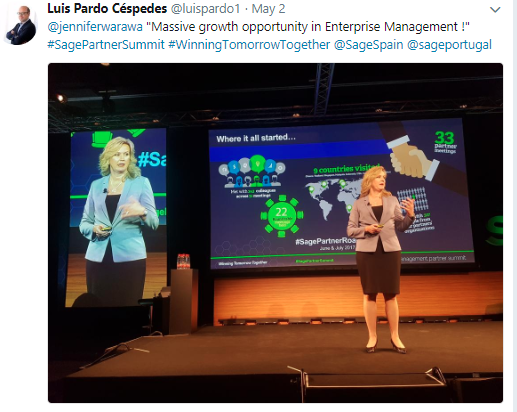 Luis Pardo: Channel to be close to the customer  
Luis Pardo – CEO of Sage Spain highlighted how there is a potential for business growth in Spain by adopting to the innovative technology advancements. He added how collaboration and specialization will be the key for growth. Spain has become an important hub of Europe and America. Mr. Pardo facilitated business partners for expanding their international business by working with Spain.
– "The main duty of the channel is to be close to the customer"
– "The business partner of Sage Spain must be closest to the customers helping them generate business"
Lisa McLeod: What is Your Noble Purpose?
Lisa Earle McLeod – Sales Leadership Expert and the author of the bestseller – Selling with Noble Purpose discussed how businesses can win tomorrow with today's insights. The global thought leader introduced the concept of how selling with a noble purpose can outsell salespeople focused on target and money. Lisa explained how a slight change in business approach could keep your business a step ahead of the competitive curve. Her questions of change were,
– "How do you make a difference?"
– "How do you do it differently?"
– "On your best day what do you love about your job?"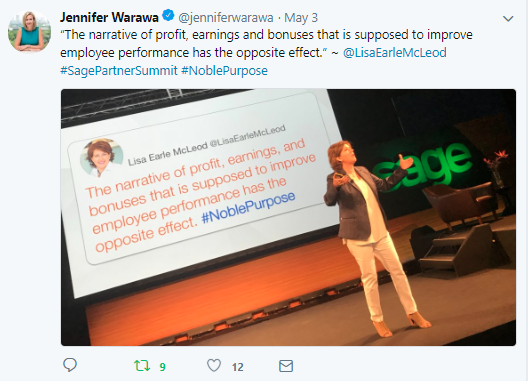 Philip Carter | Delivering Cloud Driven Digital Transformation
Philip Carter – Chief Analyst at IDC, expressed his notion of how important it has become for businesses to move to cloud. Mr. Carter gave examples of how companies are transforming to a 100% digital enterprise. How basic human needs has shifted from food and water to battery and Wi-Fi. Enterprise technology is going to be the core to transform digitally. By 2021, 90% of enterprise applications will have an embedded intelligent decision architecture. He gave a better perspective of how cloud enterprise solutions are growing at 20% rate than on-premise systems and the changing behaviors of marketing and sales.
– "Treat your customers as prospects always"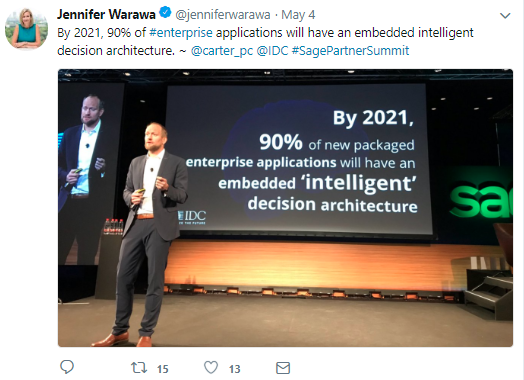 ---
About Greytrix
Greytrix – Gold Sponsor for Sage Partner Summit – Spain, Seville – 2018, has been a leading Sage Gold Development Partner for over two decades, providing a broad range of Sage Business Cloud Enterprise Management (Sage X3) services and solutions across Sage Partner ecosystem. Being recognized for its 5-star rated GUMU™ app on Salesforce AppExchange for Sage ERP – Salesforce and Sage ISV Rockstar Partner for Sage X3 – Sage CRM systems, Greytrix combines the unmatched experience and specialized skills of working across industries and verticals driving innovation to improve the way businesses operate. Greytrix GUMU™ integrated Sage ERP – CRM (Salesforce | Sage CRM) systems allow businesses to streamline and improve productivity, generating sustainable impact with 360° view of operations.