Sage X3 ERP – is the choice of next-generation enterprise's to stay ahead of the competition. Sage X3 is a comprehensive suite that integrates and streamlines your business information and processes. It is a flexible and adaptable solution offering the safest development platform designed to take control of processes like finance, sales, CRM, purchasing, inventory, and manufacturing. There is no doubt that Sage X3 adds value to various verticals of businesses. However, going beyond ERP and looking at the broader perspective of any business, understanding the reason and objective of an ERP for unique requirements of your business and aligning the best infrastructure of ERP application becomes the necessity.
The growth of business may demand you to accommodate certain crucial processes that may not be covered in the standard ERP offerings. Greytrix has always been a step ahead in enhancing the functionalities of enterprise systems to deliver simplified business workflow. Taking into the consideration the growing requirements of enterprises with Sage X3 ERP, Greytrix – a global provider of Rockstar certified and integrated Sage ERP – CRM solutions bring the newly developed Sage X3 add-ons (Catch Weight and Letter of Credit). Explore our new additions in the Sage X3 segment, and get insights on the benefits of using these add-ons to address specific business challenges with extended functionalities.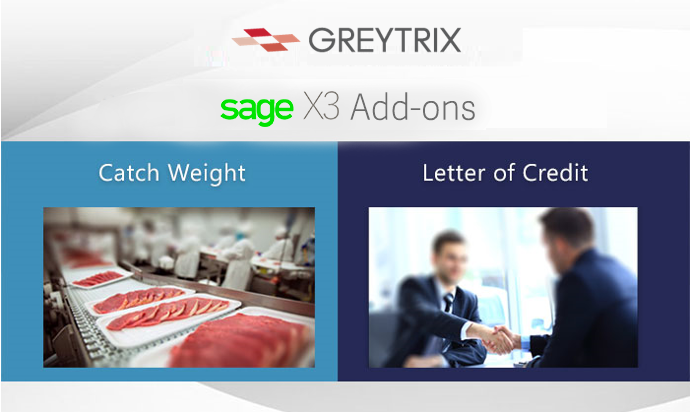 Catch Weight Add-on for Sage X3
Enhance the value chain of food and beverage processing industry with Catch weight add-on for Sage X3. This add-on lets you bill the customer based on its catch weight unit, rather than the original estimate derived from the Sales unit.
Benefits of Catch Weight add-on for Sage X3
Support products that vary in weight from piece to piece. E.g. meat items, fish items, fruit items etc.
Accurate pricing of items by weight or by piece
Accurate invoicing with catch weight and unit of measure details
Multiple packaging variations for each product
Flexible and scalable pricing by catchweight
Integrated quality control processes from receipt through production and shipping
Product lot tracking
Product Demo: Catch Weight Add-on for Sage X3
Letter of Credit Add-on for Sage X3
Letter of Credit add-on for Sage X3 safeguards and guarantees your business transactions with local or international businesses. The add-on manages procedures required to create and maintain a letter of credits given to the suppliers or obtained from buyers, for local or international business transactions.
Benefits of Letter of Credit add-on for Sage X3
Recording imported budget of items & follow-up of execution
Accurate data mapping and reducing data redundancy
Monitoring key events, i.e. latest shipment and expiration dates
Calculating, distributing LC expenditure on items and recalculating cost prices by posting it with inventory receipt transactions
Automated Purchase Invoices & backend accounting integration
Visualize real-time transactions
Various status on document processing to identify document condition
User access controlled functions
Product Demo: Letter of Credit Add-on for Sage X3
Sage X3 Catch Weight add-on | Sage X3 Letter of Credit add-on | Sage X3 Development Services | Sage X3 Integration Services
For a live demo/trial or any queries/ feedback/suggestions please email x3@greytrix.com