The Purpose of the Financial Data Extraction is representing Financial Data of an Organization/Company in form of Financial Reporting to their concerned stakeholders.
This will help evaluate the Company's performance over specific period (Half-yearly/Yearly), eventually helping the management to take effective decisions based on the financial reports generated.
Financial reports, Balance Sheet and Profit and Loss statements can be articulated as desired by the company.
The user needs to define the Reporting Code in Accounts as described below:
Navigation Steps– Common data> G/L Accounting> General > Accounts> Reporting tab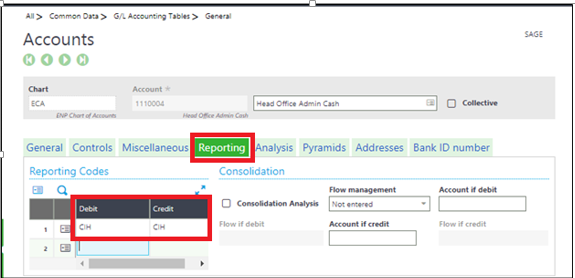 Accounts-Reporting Tab
Enter the Reporting codes in Debit and Credit sections.
Now while defining the same in the Financial data extraction using the "Type of Extraction" as Reporting Code, follow these below steps:
Navigation Steps– Setup >Financials > Accounting Forms> Financial Data Extraction> NOLIMIT 99 columns maximum.
Now the account roots fields are not editable.
Select the respective Financial Data Extraction from the left list and Click on Line tab.
Click on action button on the desired row and click on Add.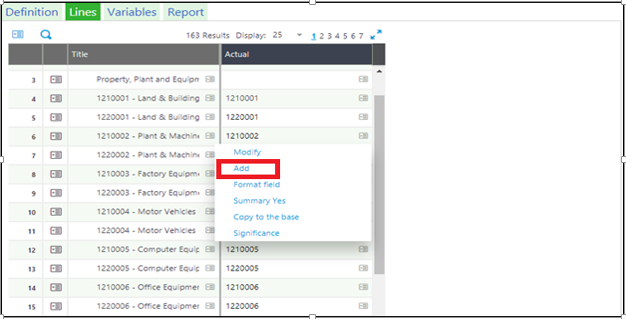 Financial Data Extraction Line Tab
Below pop up screen opens.
Financial Data Extraction-Reporting Code
Select the "Type of Extraction" as Reporting Code, this will enable the No/code reporting fields.
In these fields enter the Line number and the reporting code respectively that was entered in the Accounts.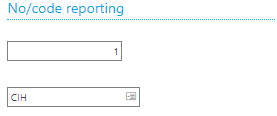 Reporting Code
These fields will fetch data automatically while doing report extraction activity from all the accounts which are tagged with CIH reporting code.
There are two scenarios which would require Summation:
Taking sum of accounts
Taking sum of groups and subgroups
For taking sum of accounts go to the action button on the totals row, click on Add.
Now select "Sum of cells" option from Formula type.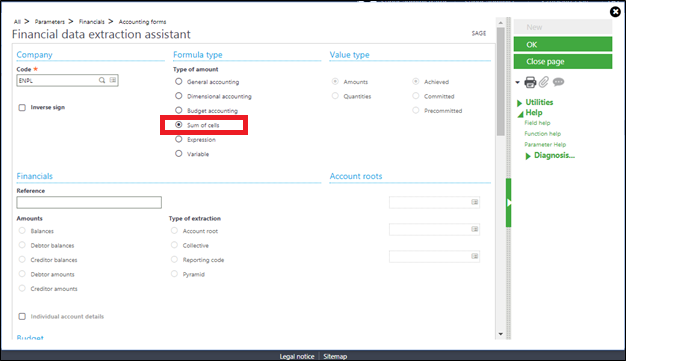 Financial Data Extraction assistant
Once it is selected the sum section fields will be editable, rendering all other sections non-editable.

Financial Data Extraction-Sum Of Cells
Select the Extraction Name, the Start line and the End line from the Account Line tab and Press OK.
This would sum all the accounts present in the selected Line range.
Note- For summation of individual rows. Enter the line numbers with a space between each line number as: – L10 L16 L25 which will give the sum of the individual rows.