"Miscellaneous Receipts" is the business process that is used to carry out the receipt of products into the warehouse without a corresponding transaction such as a purchase order or works order to receive the product against. Datalinx Warehouse Manager for Sage X3 allows the receipt of product to be recorded.
Whilst completing the receipt, the application checks and validates to ensure that the product code exists and if relevant, captures additional information such as serial and batch numbers together with date related details such as best before or use by dates. The resulting transaction is used to update Sage X3 with the receipt as if the transaction had been completed within Sage X3. The history record will also attribute the transaction details complete with date and time to the individual logged on at the hand held terminal.
Some companies would like to create their Miscellaneous receipts with a Lot Number that is the same as the Miscellaneous receipts transaction Number that created the product. This is useful for general quality assurance and for product recalls. Some lot numbers are generated with the use of date and time stamps to help identify a specific lot.
Why we make the Lot number same as Miscellaneous receipts number because this can make the tracing of the Lot easier. In Sage X3, there is a standard functionality of doing this.
Follow the below steps for the setup:
Steps:
First make sure that Lot Management setting of product is checked as a 'Mandatory lot' and under the Lot Sequence field this MUST be blank as shown in below figure.
Also, product category set up should be same as product setup, as shown in below figure.
In short product and that respective product category set up should be set as defined above.
Navigate To: Common Data> Product category > Receipts Tab > Management Rules Grid
1. Select Movement type as 'Miscellaneous Receipt'
2. Change the value of Lot entry as a 'Free'
3. Change the value of Lot by default as a 'Document number'.
4. Click on Save or OK button.
Please refer the below figure for the same.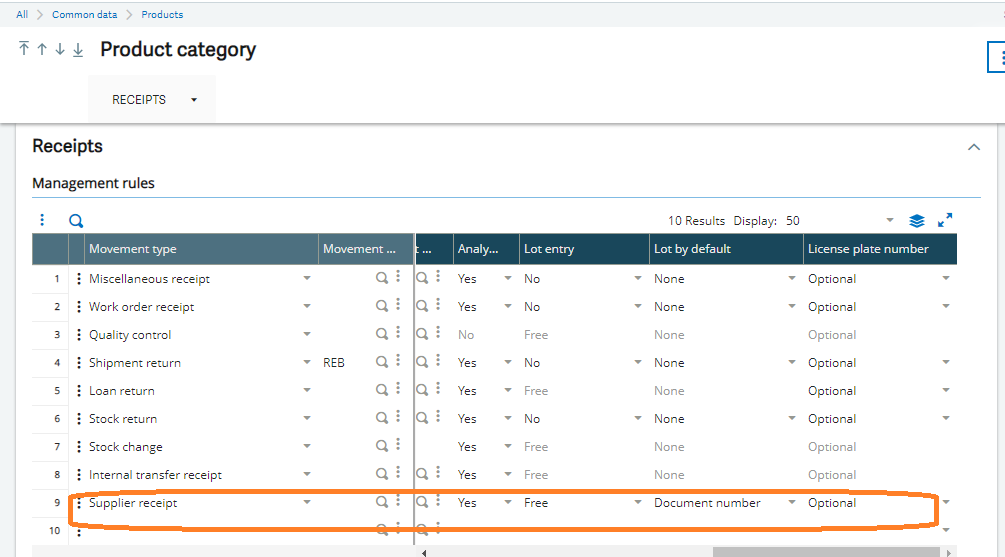 We have completed the setup for product master and product category.
Now follow the below path for Miscellaneous Receipts creation,
Navigate To > Stock > Receipt/issue transaction > Miscellaneous Receipts
While creating the Miscellaneous receipts transaction, keep LOT no. as blank on line level and after creation you can see LOT no. is coming same as a Miscellaneous receipts transaction number. Refer below figure for the same.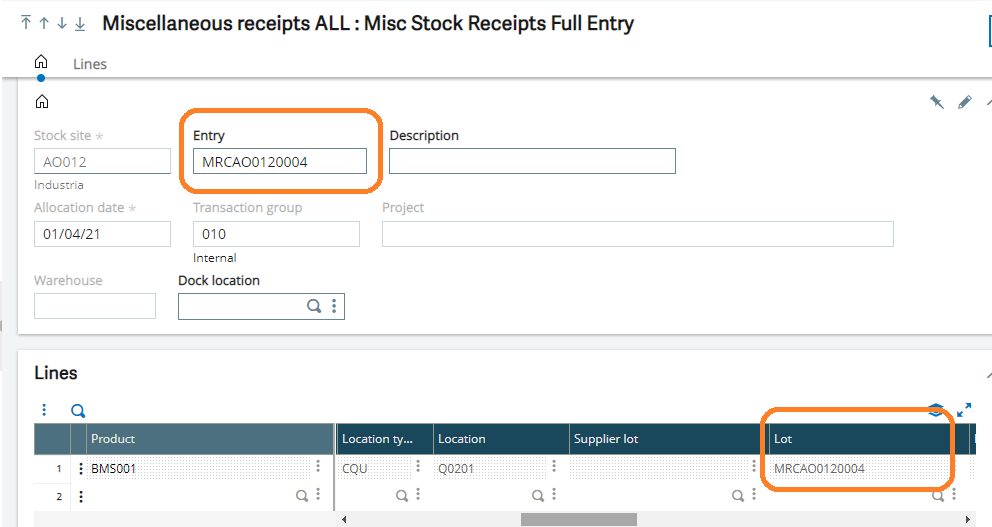 With the help of this setup you can align the Lot numbers with the Miscellaneous receipts transaction number and it will also help to make the tracing of the Lot easier.
Hence after doing all the above steps we can able to align the same lot number with Miscellaneous receipts transaction number.