A critical part of managing risk within an organization is managing the credit available to customers. If you give a customer who may not be in the best financial position credit terms, or too much credit, you may have a hard time collecting what they owe. In addition, you do not want to provide a customer with more or less credit than they have been approved for, as this could trigger similar problems. You can monitor this process and prevent these situations with sage X3 credit limit and credit review capabilities.
To ensure that Customer Credit Control Management is configured correctly and that the authorized limits do yield the correct results, the following setups are important to understand how Sage X3 checks the specified authorized credit limits and prevents possible anomalies or negative balances showing up in Customer Situation inquiries, etc.
In Sage X3 the credit limit is applied at two levels- folder level and company level.
This two-credit limit level works in the following way:
Folder Level: If the credit limit is on folder level then the credit authorized to a customer will belong to all the companies present in the folder.
Company Level: If the credit limit is on company level then the credit authorized to the customer will be separate for all the companies present in that particular folder.
Example: Suppose authorized credit of customer is 1000USD then
If credit limit is on folder level then authorized credit 1000USD will belongs to all the companies present in folder.
If credit limit is on company level then authorized credit 1000USD will be allocated to each company separately.
Sage X3 can designate whether users are able to allocate or process a delivery for an order if the credit limit has been exceeded.
This can be set by navigating to Setup, Users, Users.

2. Click the user in question.
3. Click on the Parameter definition tab.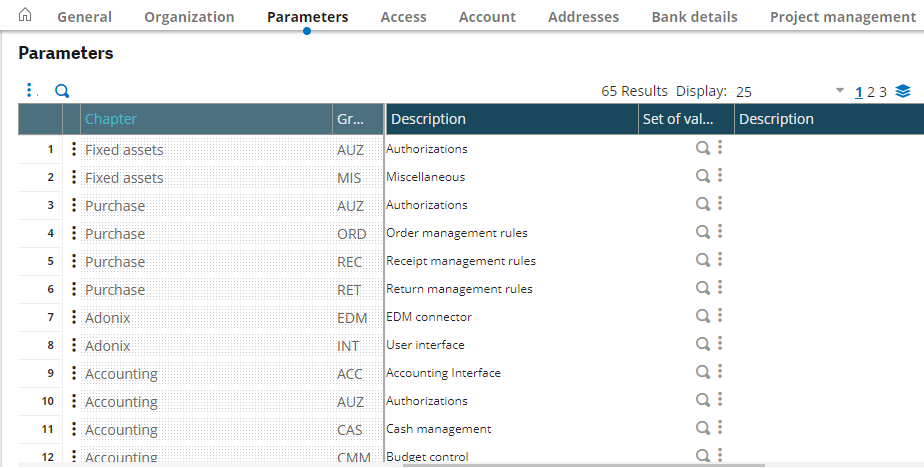 4. Identify the Chapter = VEN (Sales), Group = AUZ (Authorizations), Parameter = SCDTUNL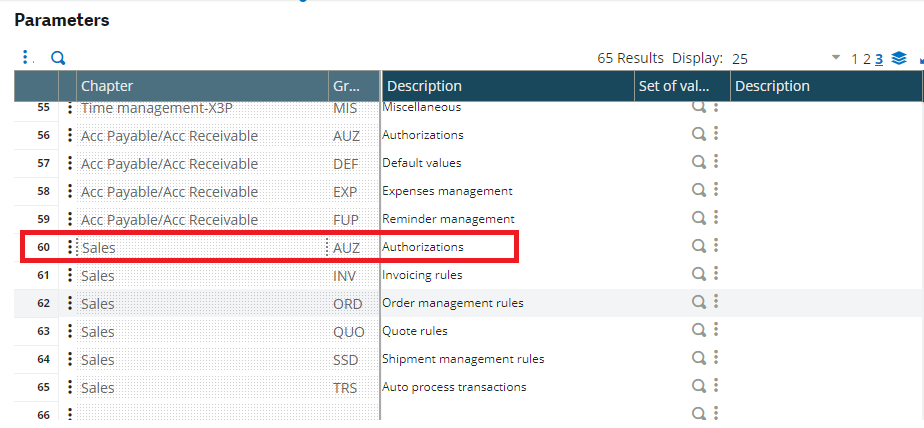 5. Click the Action box and select Detail.
6. Find the SCDTUNL parameter and change the setting as needed.

The SCDTUNL parameter is used to set the authorization level for users. It determines if a credit hold can be unlocked on an order and authorizes the allocation, delivery, and the invoicing of an order.

The options for setting up this parameter are as follows:
No – The user cannot unlock the credit hold and cannot allocate, delivery, or invoice the order when the bill-to customer has exceeded their authorized credit level
Yes – The user can unlock the credit hold and can allocate, deliver, or invoice the order when the bill-to customer has exceeded their authorized credit level.
About Us
Greytrix – a globally recognized and one of the oldest Sage Development Partners is a one-stop solution provider for Sage ERP and Sage CRM organizational needs. Being acknowledged and rewarded for multi-man years of experience, we bring complete end-to-end assistance for your technical consultations, product customizations, data migration, system integrations, third-party add-on development, and implementation competence.
Greytrix caters to a wide range of Sage X3, a Sage Business Cloud Solution, offerings. Our unique GUMU™ integrations include Sage X3 for Sage CRM, Salesforce.com, Dynamics 365 CRM, and Magento eCommerce along with Implementation and Technical Support worldwide for Sage X3. Currently we are Sage X3 Implementation Partner in East Africa, Middle East, Australia, Asia, US, UK. We also offer best-in-class Sage X3 customization and development services, integrated applications such as POS | WMS | Payment Gateway | Shipping System | Business Intelligence | eCommerce and have developed add-ons such as Catch – Weight and Letter of Credit and India Legislation for Sage X3 to Sage business partners, end users and Sage PSG worldwide. Greytrix Sales Commission App for Sage X3 simplifies commission calculations and postings on sales transactions.
The GUMU™ Cloud framework by Greytrix forms the backbone of cloud integrations that are managed in real-time for the processing and execution of application programs at the click of a button.
Greytrix is a recognized Sage champion ISV Partner for GUMU™ Sage X3 – Sage CRM integration also listed on Sage Marketplace; GUMU™ integration for Sage X3 – Salesforce is a 5-star rated app listed on Salesforce AppExchange and GUMU™ integration for Dynamics 365 CRM – Sage ERP listed on Microsoft AppSource.
For more information on Sage X3 Integration and Services, please contact us at x3@greytrix.com, We would like to hear from you.