In sage x3, we have a budget envelopes which is used to plan operating or investment expenses that can extend to one or multiple fiscal years defined by the entry of the envelope's start and end dates.
It also includes the concept of budget type, budget code and project.
Budget type: The budget type determines whether the envelope we are using is annual or multi-annual.
Project: A project can be defined for a site, a company or be transverse, i.e. defined for a group of companies or sites.
Budget code: This budget code define if the tracking level is the site or the company. Depending on this rule, the envelope is attached either to a company or a site.
In some envelope we can attach project. The parameter named as GDDPRJENV is used to determine whether the attachment of an envelope to a project is mandatory or optional. In this case, some envelopes can be attached to a project while others are not.
Project and envelope definition levels:
The project, budget and budget line definition level follows the following management rules:
If a project is attached to a site, the linked envelopes are attached to the same site.
If a project is attached to a company, the linked envelopes are attached to the same company.
If a project is attached to a group of companies, the linked envelopes are attached to one of the companies belonging to this group or to a site of one of the companies from this group, depending on the budget code characteristics.
If a project is attached to a group of sites, the envelopes are necessarily attached to one of the sites from this group. The budget code must be consistent.
Budgets by fiscal year are distributed throughout budget lines, by budget account and by recipient entity.
Once the budget creation is complete, the approval process of envelopes, budgets and budget lines makes it possible to set the validated amount of determined forecasts. The commitment entry (Purchase requests, orders and invoices) can only be carried out after budget line approval.
Steps:
Navigate to: > Operating Budgets > Budget Management > Budget Envelopes
Create a new budget envelope. Select the budget type, budget code, project, company and also enter the envelope amount and budget amount. Refer the below screenshot.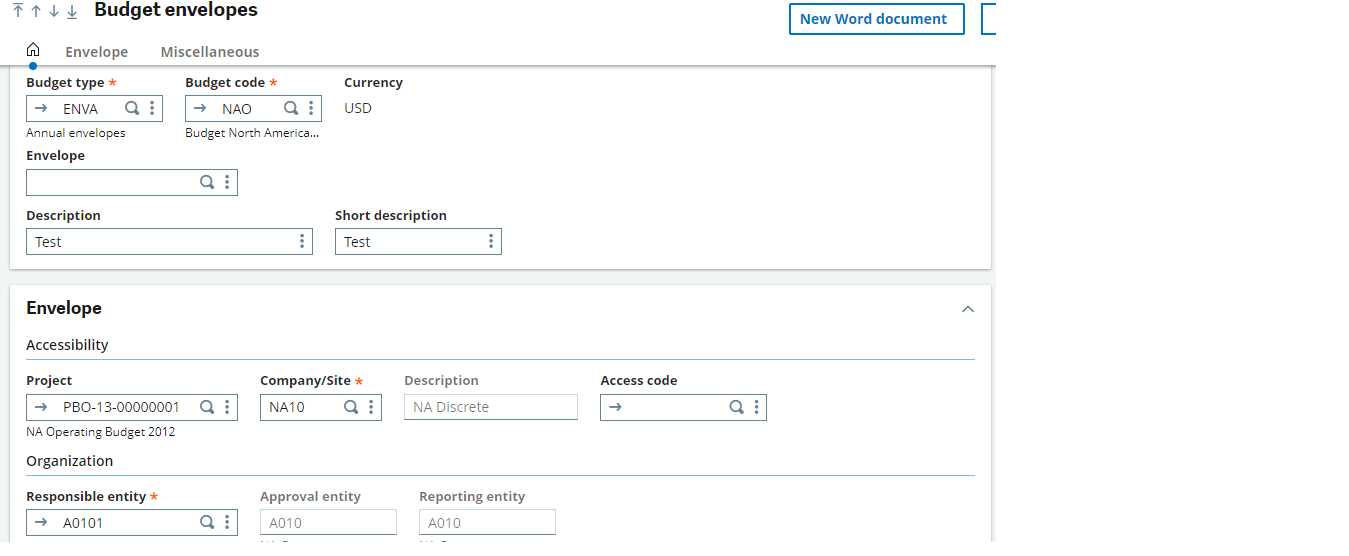 Once the budget envelope is created , it is sent for approval, so click on submit for approval button. Refer below screenshot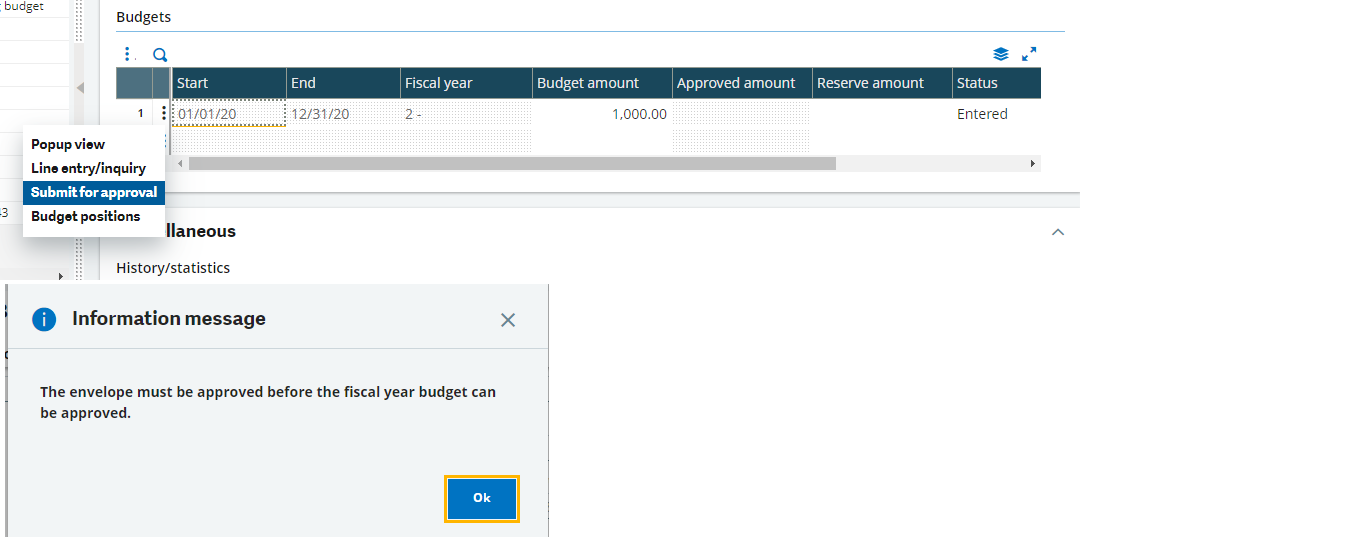 On click of submit for approval button we will get the above message and it wont go for approval. We can see the status as Entered.
To Solve that:
Navigate to : Set up > Parameter values
Go to chapter GDD( i.e Operating budget) and group GDD
Set the value of parameter GDDAPPENV to No.
Now click on submit for approval button.
Here, we can see the status has changed to "to be approved" which means the budget has been sent for approval.
After approval, any modification of budgeted amounts is submitted to budget reviews in order to track all the modifications applied after approval.
This blog helps to solve the blocking message The envelope must be approved before the fiscal year budget can be approved, while submitting the budget for approval.
About Us
Greytrix – a globally recognized and one of the oldest Sage Development Partners is a one-stop solution provider for Sage ERP and Sage CRM organizational needs. Being acknowledged and rewarded for multi-man years of experience, we bring complete end-to-end assistance for your technical consultations, product customizations, data migration, system integrations, third-party add-on development, and implementation competence.
Greytrix caters to a wide range of Sage X3, a Sage Business Cloud Solution, offerings. Our unique GUMU™ integrations include Sage X3 for Sage CRM, Salesforce.com, Dynamics 365 CRM, and Magento eCommerce along with Implementation and Technical Support worldwide for Sage X3. Currently we are Sage X3 Implementation Partner in East Africa, Middle East, Australia, Asia, US, UK. We also offer best-in-class Sage X3 customization and development services, integrated applications such as POS | WMS | Payment Gateway | Shipping System | Business Intelligence | eCommerce and have developed add-ons such as Catch – Weight and Letter of Credit and India Legislation for Sage X3 to Sage business partners, end users and Sage PSG worldwide. Greytrix Sales Commission App for Sage X3 simplifies commission calculations and postings on sales transactions.
The GUMU™ Cloud framework by Greytrix forms the backbone of cloud integrations that are managed in real-time for the processing and execution of application programs at the click of a button.
Greytrix is a recognized Sage champion ISV Partner for GUMU™ Sage X3 – Sage CRM integration also listed on Sage Marketplace; GUMU™ integration for Sage X3 – Salesforce is a 5-star rated app listed on Salesforce AppExchange and GUMU™ integration for Dynamics 365 CRM – Sage ERP listed on Microsoft AppSource.
For more information on Sage X3 Integration and Services, please contact us at x3@greytrix.com, We would like to hear from you.