In Sage X3, version 12, we have so many new features as well as few modules. Project module is one of them. This Projects function is used to manage the elements used with different terms like Business, Projects, Opportunities The basic objective of these projects is to manage the characteristics and stages in a sales cycle.
We can say this is the extension to "Projects" from Customer relation module in older versions of X3. This new module involves new elements along with older ones in "Project Management". There is a particular structure of each project which includes financial status, revenues, assigned employees details etc.
In V12, we have a separate functionality to copy the structure of one project to another one.
For this, Navigate to: Projects > Projects > Project copy
Below is the screenshot of Project copy screen.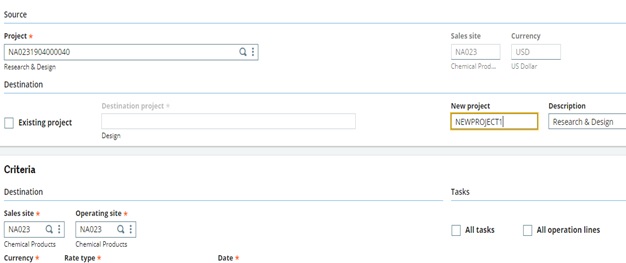 Criteria: The basic fields to work with this functionality are:
Source project: The project whose structure is to be copied for new project
Destination project: If you want to update existing project with the source project then check "Existing project" checkbox and it will allow you to select destination project with existing projects selection list.
New project: If you want to create new project with particular name then you can define it here. It will create new project with next sequence number by default.
Key elements of the source project are used as the basis for the destination project. These include the sales and operational sites, and the currency. You can change the sales and operating sites after you create the new project, however you cannot change the currency. You must ensure, that the default values are correct for the new project before you confirm the project copy.
After selection of source and destination projects, you have a choice to modify the structure of source project in order to create new project. Below are the elements, you can edit while creating new project. Here, you can carry the data of source project if required like storage site, dimensions etc.
Tasks and Budgets: These sections allow to select (or deselect) individual task and budget lines to copy to the destination project code. The tables in these sections are populated from the structure of the source project.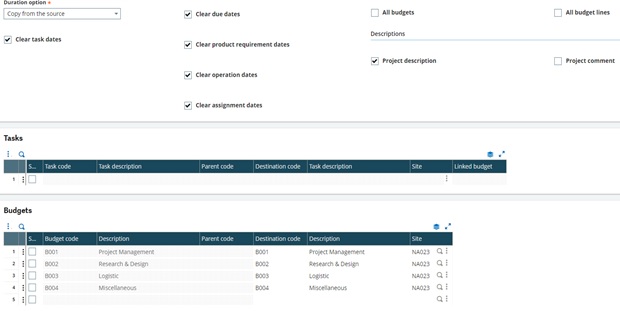 After defining all elements, when you click on 'OK', new project gets created with the name defined in "New project" field. Refer below screenshot of the log.
Additional criteria: This section displays specific options that you can use to control data and can be copied to the destination project code.

If you check in Project management function, both the projects are similar and newly created project has source project name in screen.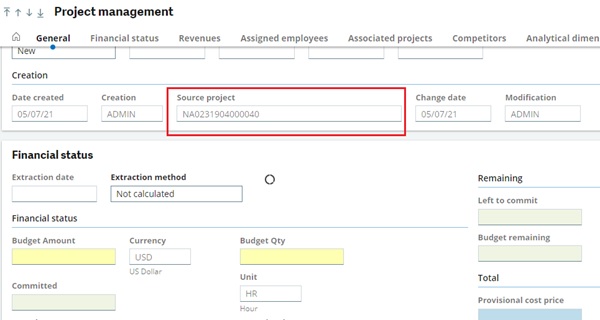 Thus, by exactly copying or modifying the existing project structure, you can create replica of that project with your desired naming convention.