When there are several companies, there may be an inter-company flow of goods It then becomes essential that these flows can be identified in order that the corresponding invoicing can take place. These flows can be defined by way of reciprocal orders or reciprocal open orders. But in this case, it is useful to have available automatic mechanisms that originate in a source document in one of the companies (for example a purchase order in company X to company Y), to automatically create a destination document in another company (Company Y sales order to company X).
It is useful to know how to define this type of automatic exchange site by site; in effect where a company has multiple sites, the rules can depend on the individual site.
The objective of this function is to set up the automatic functioning of reciprocal document generation in the case of inter-company exchanges. The automatic functioning of the generation can also be set up for inter-site exchanges. In this type of exchange, the invoicing is inhibited.
In the following blog I have discussed the setup and use of an intercompany price list what-is-an-inter-company-price-list.
Steps:
The steps to setup an intercompany price list to have different prices for the same product are given below,
A scenario, where site NA021 is buying from site NA023 for USD 1,000, and the same item is bought by site NA022 from site NA023 for USD 1,500.
1. Setup the Intercompany parameters where NA021 and NA022 as source site and NA023 as target site.

2. Copy the existing T40 sales intercompany price list setup and generate a new intercompany sales price list setup.
– On top of the ITMMASTER table line we need to add the table BPARTNER and field 'FCY' site.
– This will enable us to use a different price for each site.

3. For the purchase price list setup, use the PPRICLINK Purchase price list search table and 'PRHFCY' receiving site field.

4. Enter the price for each site under sales price list entry.
– NA021 price 1000
– NA022 price 1500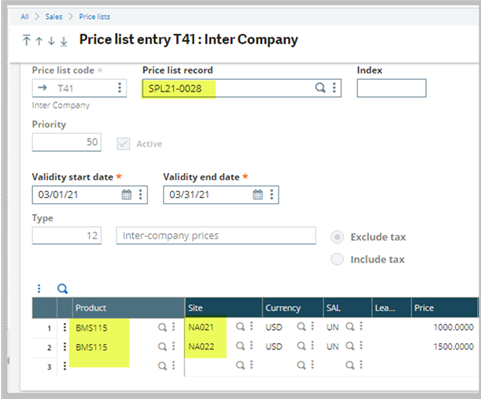 5. Lookup the price for each site set above in purchase price search function for product BMS115.
– When the order site is NA021 the price is 1000 and it is using the same price list record.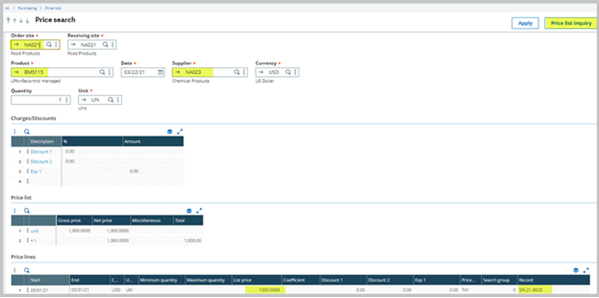 6. Enter an inter-site purchase order for NA021 and check the price on the PO and the SO.
– Both will have the price of 1000.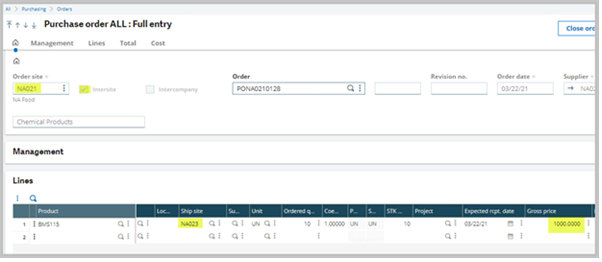 7. Similarly, enter a PO for site NA022, PO price and SO price = 1500.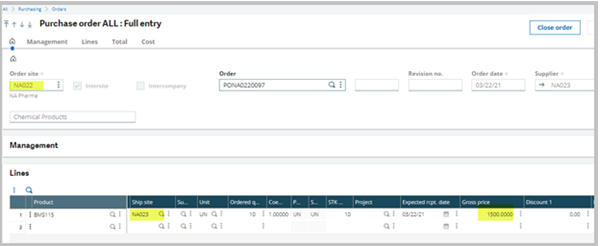 With the help of this we can set Inter-company price list setup to have different prices for the same product.
About Us
Greytrix – a globally recognized and one of the oldest Sage Development Partner is a one-stop solution provider for Sage ERP and Sage CRM organizational needs. Being acknowledged and rewarded for multi-man years of experience, we bring complete end-to-end assistance for your technical consultations, product customizations, data migration, system integrations, third-party add-on development and implementation competence.
Greytrix caters to a wide range of Sage X3, a Sage Business Cloud Solution, offerings. Our unique GUMU™ integrations include Sage X3 for Sage CRM, Salesforce.com, Dynamics 365 CRM and Magento eCommerce along with Implementation and Technical Support worldwide for Sage X3. Currently we are Sage X3 Implementation Partner in East Africa, Middle East, Australia, Asia, US, UK. We also offer best-in-class Sage X3 customization and development services, integrated applications such as POS | WMS | Payment Gateway | Shipping System | Business Intelligence | eCommerce and have developed add-ons such as Catch – Weight and Letter of Credit and India Legislation for Sage X3 to Sage business partners, end users and Sage PSG worldwide. Greytrix Sales Commission App for Sage X3 simplifies commission calculations and postings on sales transactions.
The GUMU™ Cloud framework by Greytrix forms the backbone of cloud integrations that are managed in real-time for processing and execution of application programs at the click of a button.
Greytrix is a recognized Sage champion ISV Partner for GUMU™ Sage X3 – Sage CRM integration also listed on Sage Marketplace; GUMU™ integration for Sage X3 – Salesforce is a 5-star rated app listed on Salesforce AppExchange and GUMU™ integration for Dynamics 365 CRM – Sage ERP listed on Microsoft AppSource.
For more information on Sage X3 Integration and Services, please contact us at x3@greytrix.com, We would like to hear from you.