In Sage 300 ERP to analyze the purchase history of your company there are many useful reports through which you can track the same, wherein by using Purchase History report you would get the complete history of the purchase which you have made from your vendors.
In order to view the Purchase History in Sage 300 ERP you need to check the check box of Accumulate Purchase History option under P/O Options as shown in the below screenshot.
You can find this option in Purchase Order -> P/O Setup -> Options -> under Processing Tab
New Stuff: Restrict Posting on A/R batches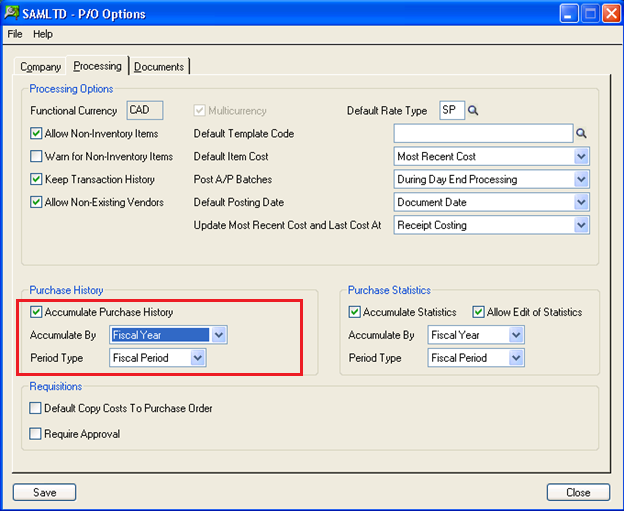 Use the Accumulate Purchase History option to keep information about the items you have purchased and the vendors who have supplied them. The option also keeps information about invoices, credit notes, debit notes, and items you returned.
Purchase Orders keeps purchase history by the type of year (fiscal or calendar) and period you select to accumulate By and Period Type options on the Processing tab of the Options form.
If you choose to accumulate by calendar year, the starting date for the year will be January 1. If you accumulate by fiscal year, the starting date will be the first day of your fiscal year.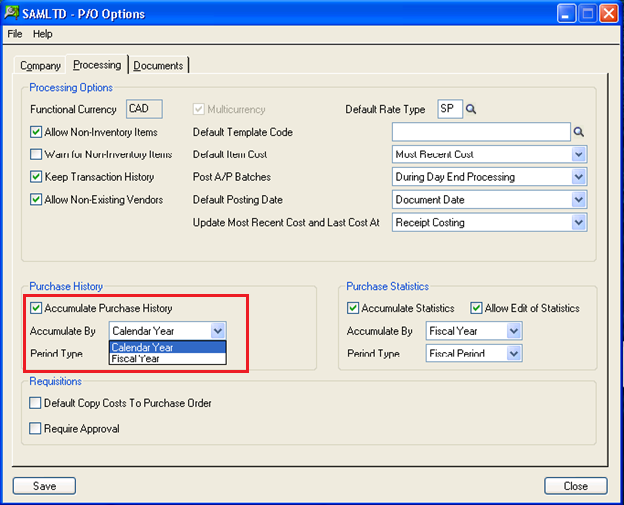 You can turn on or turn off the Accumulate Purchase History option at any time. By just un checking the check box it can be turn off. If you turn off the option after you have used it, Purchase Orders keeps the figures already accumulated until you clear them.
If you turn on the option again before clearing the history you accumulated previously, the data will still be available, but there will be no figures for the period during which the option was off.
Also read:
1.  Copy Cost To Purchase Order
2.  How to Short Close Purchase order in Sage 300 ERP
3.  Creating Purchase Orders from Order Entry screen in Sage 300 ERP
4.  CHECK DUPLICATE CUSTOMER PURCHASE ORDER NUMBER IN SAGE 300 ERP
5.  Purchase Order Year to Day Report in Sage 300 ERP