General Ledger is the foundation of your accounting system that meets the current and future finance management requirements of organizations of all types and sizes. General Ledger fully integrates with all modules and is the key to maximizing the efficiency and accuracy of the financial data.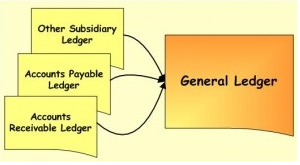 New Stuff: GL Batch Creation in two databases simultaneously
Many a times it happens that the entries that are posted from the Sub-Ledgers are not created in the General Ledger. In such scenarios, Sage 300 ERP has a provision screen from where you can select and process the transactions for which the journal entries are not created. This option is available in all the sub-ledgers available in the application i.e. Accounts Payable, Accounts Receivable, Inventory Control, Purchase Order, Order Entry, etc. To access the same, navigate to the following path: Respective Module -> Periodic Processing Option -> Create GL Batch.

This UI lets you create the General Ledger transactions from the outstanding posted invoice, receipt, payments, and adjustment batches. If you use Multicurrency accounting, you create general ledger transactions when you revalue accounts at new exchange rate.
Once you select the transaction type and click on process, a message UI pops up "GL transaction creation completed" and the entry batch gets created in the General ledger module.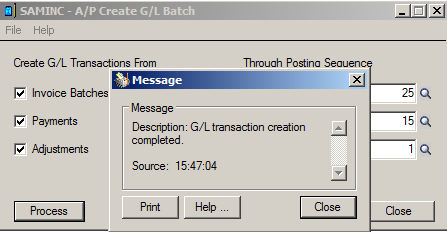 If there are no pending GL transaction to be created then a message UI pops up "GL transaction process completed. No transactions to create." This indicates that all the pending transaction has already been created.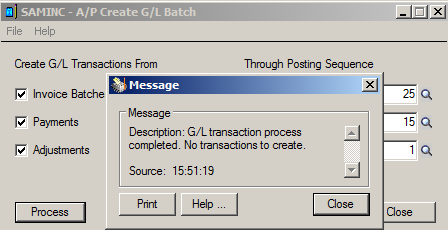 This form is used to create general ledger batches if you did not select the Create G/L Transactions During Posting option on the Integration tab of the G/L Integration form.
Also Read:
1. Ready to post option in Sage 300 ERP
2. Allow edit of System generated batches
3. Allow edit of System generated batches
4. GL Batch Creation in two databases simultaneously
5. General Ledger (GL) Accounts Distribution in Sage 300 ERP