Now a days we have good number of implementation in Sage 300 ERP in the Auto Mobile Industries. While implementing Sage 300 ERP many auto mobile customers have questions about the stock maintenance, because even after the shipment & invoice, the purchased vehicle is still present in the work shop or stock yard or show room for further processing like insurance, fixing of accessories etc.
In this case it is very difficult to identify the actual stock of items from the stock reports. For these kind of challenges in Sage 300 ERP we have developed a custom solution for it & that is "Customized Stock Maintenance".
Once we will create the shipment & invoice, stock from the Sage 300 ERP will go out. But at the same time we will maintain the customized stock into the custom table with the help of triggers or schedulers. In that we will have the item code, location code (from which location the item is actually shipped), quantity. In short, if the item A is shipped from location L0001 with quantity 1 from Sage 300 ERP, at the same time item A of quantity 1 will available into the location L0001. Like that all the shipped items will be automatically maintained into the custom stock until & unless user will not create the gate pass entry for that item. Refer the below picture for more clarification.
New Stuff: Migrate Open Sales Order From Sage Business Vision to Sage 300 ERP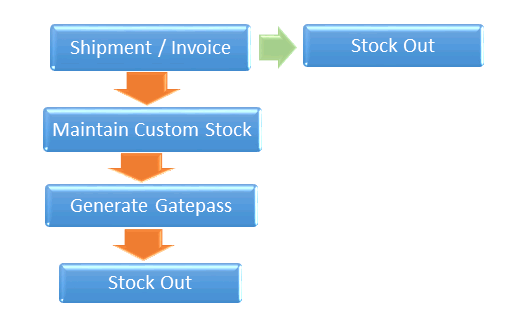 In the auto mobile industry once the invoice is done, only then will the item move from one location to another location for various processes, to track these kind of item we will provide you the customized user interface. Kindly refer the below screen shot of user interface.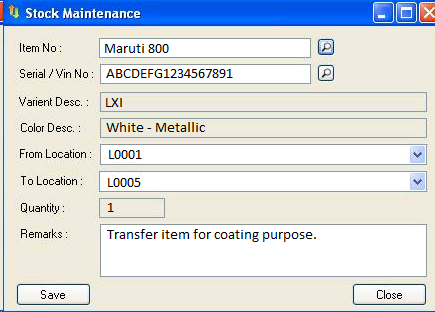 If you see the above screen, user has transferred item Maruti 800 from location L0001 to L0005 for Coating Purpose. In this way user can transfer single item from one to another location multiple times & we can track the item with the help of customized stock maintenance.
With the help of this we can generate the various types of stock reports for identifying the stock at particular location.
The main purpose of this customized stock is to trace the item after the invoiced.
Also Read:
1.Customized Stock Transfer
2.How to restrict use of Expired Stock in SAGE 300 ERP
3.Stock Aging Report in Sage 300
4.Serial/Lot Number Stock Report
5.Stock Transactions Inquiry in Sage 300 ERP