Sometimes we often come across a scenario where an organization requires a type of a master or a report which displays say product master, that is, which item and serial number is sold to which customer and also from which sales location. This kind of data helps to maintain customer relationship and also to maintain or track warranty applied on that particular item which we will discuss in next blog.
Hence, Sage 300 offers us an exceptional feature to maintain the product info master it is named Serial Registration
New Stuff: Transit Transfer Entry in Sage 300
You will have to navigate Inventory control—> I/C Periodic Processing—>Serial Registration .

After selecting the required parameter, click on Register Button and the records gets saved. The saved data can be viewed anytime with the help of report named as Serial / Lot Stock Listing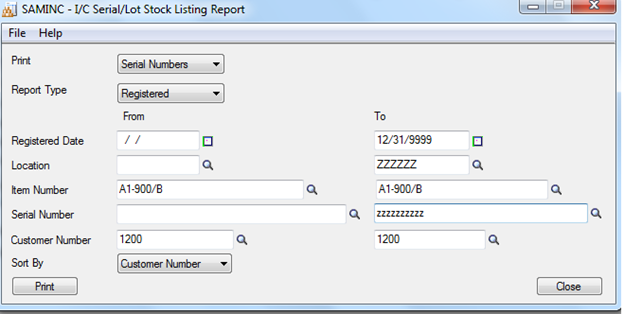 Below is the report output

This feature can be used more efficiently used in Automobile industries where they require to track item wise vehicle wise customer record so that vehicle services , warranty on parts can be tracked. Hence, maintaining smooth customer relation.
Also Read:
1. I/C Serial number Inquiry in Sage 300 ERP
2. How to assign unique serial Number to Individual Items in Sage 300 ERP Versions 2014
3. How to allocate a Serial and Lot number at Order Entry screen in Sage 300 ERP
4. Serial/Lot Number Stock Report
5. I/C Transfer Slips Report