You may come across a situation where you would like to know the abbreviations for open tables.  Sage ERP X3 has a function called "fileabre" which contains the abbreviations for all open tables.
fileabre is an Adonix system variable of the character string type that contains the abbreviations for all tables opened via the File or Local File instruction.
It is sized to 101, and (0) is initialized with the empty string.
The [S]adxmto variable sets the maximum number of tables that can be open simultaneously (100).
Syntax:    [S]ffileabre (5) (101) Char
Example:
If we want to know the abbreviation of the open tables then kindly refer to the below snippet of code for better understanding.

Output: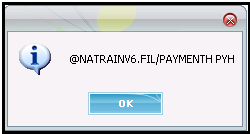 Hope this helps!
About Us
Greytrix is one stop solution provider for Sage ERP and Sage CRM needs. We provide complete end-to-end assistance for your technical consultations, product customizations, data migration, system integrations, third party add-on development and implementation expertise.
Greytrix have some unique solutions of Sage X3's integration with Sage CRM, Salesforce.com and Magento eCommerce. It also offers best-in-class Sage X3 customization and development services to Sage business partners, end users, and Sage PSG worldwide.
For more information on Sage X3 Integration and Services, please contact us at x3@greytrix.com .We will be glad to assist you.
Also read:
– How to Concatenate Two Strings
– How to give space between string by coding in Sage X3?
– How to extract a substring from the leftmost end in Sage X3?
– How to add a string in a new Line in Sage X3?