You may come across the situation, where you want to concatenate a char or CLOB value to a char or CLOB variable. Sage X3 has a special Keyword named APPEND to perform the concatenation of two or more string values.
From a functional point of view, Append Field1, Field2 is equivalent to Field1+= Field2.  if 'Field1' and 'Field2' are strings or CLOBs. Execution is fast using Append keyword especially if you build long strings stored in CLOBs.

The output of the above code is following: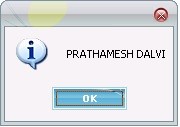 Also Read:
– Determine Record Size of Tables in X3
– How to get Row count in Sage X3?
– How to get the number of records which is deleted by Delete Command
– How to get the number of records modified by Update Command
– How to determine if a mask variable can be entered or is displayed..?