Food and Beverages Industry essentially produces products with short shelf life. This gets particularly challenging for the manufacturers, as it is mandatory for them to comply with stringent regulatory policies, maintain product consistency and quality assurance. In addition to these bottlenecks, manufacturers also have to combat recipe management, traceability with recall management, inventory management, packaging and brand integrity.
Greytrix Africa identifies these industry challenges and offers Sage X3 – ERP a versatile business management solution that eliminates the gaps in Food and Beverages industry. Greytrix – as one of the leading Sage certified X3 Partner, have strong sales and implementation industry presence in African regions of Kenya, Tanzania, Rwanda, Ethiopia, and Uganda. We offer scalable software development resource for customizations and enhancements within Sage X3 especially required for Food and Beverages Industry. Greytrix has 16+ years of association with Sage. With a team of highly experienced and certified Sage X3 Techno-functional consultants, we ensure that customer requirements are always met.
With Sage X3, your industry can balance other important factors, minimizing maintenance costs, ease in auditing trials for inspection quality thus managing your bottom-line.
Sage X3 for Food and Beverage Industry in East Africa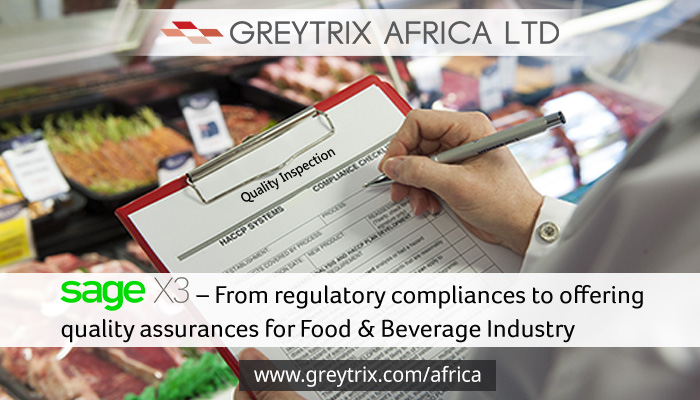 Features of Sage X3 for your Food & Beverage industry
Accurate procurement of raw materials
Packaging of products
Precise pricing and contract management
Expiry and shelf life management
Quality control of products from production, processing to finished products
Risk assessment of food products for its compliance under stringent food safety regulations
Fully integrated quality control
Specific gravity and weight calculations
Import Tracking
Finite Capacity Scheduling to avoid cross-contamination
Benefits of using Sage X3 (Sage Enterprise Management) in your Food and Beverage industry
Gives a holistic view of integrated aspects of your food and beverages business
Efficiently manages your recipes and formulation
Improves operational performance and bottom line costs
Optimum utilization of your inventories and offers streamlined operations within the organization
Manages packaging requirements
Introduces data consistency
Frees employees from routine tasks
Superior quality with compliance of regulations
To know more about Greytrix Africa Sage Enterprise Management for Food and Beverage industry, write to us at sales@greytrix.com
About Us
Greytrix Africa is a leading Implementation, Reselling and Consulting partner for Sage X3 (Sage Enterprise Management), Sage 300, Sage Enterprise Management HR (Sage X3 People) & Sage CRM based out of Nairobi, Kenya in East Africa region catering to Tanzania, Ethopia, Middle East, Australia and Asia businesses.
Greytrix Africa offers professional services such as Implementation & configuration, Business Process Analysis, Project Management, Customization, Integrations & Migrations, Technical support and Onsite resource augmentation along with enhancements within Sage X3 (Sage Enterprise Management), Sage Enterprise Management HR (Sage X3 People), Sage CRM and Sage 300 (Accpac) across various industry verticals like Process Manufacturing (Food & Beverages, Chemical), Discrete manufacturing (Automotive, Textile & Apparel), Non Profit, Health-care Industry and Services Industry (Financial , Software & Engineering).
For more information on Sage X3 Consulting Services, please contact us at sales@greytrix.com.We will be glad to assist you.