Sage, a global leader and provider of accounting software, brings Popular Enterprise Management Partner Summit to Dubai, hear the latest product news and roadmaps, as well as discover new business opportunities from across the Sage ecosystem. With Summits, individual Sessions, to Webinars, Sage has reached out the global audience showcasing out of the box capabilities, optimizing your business with personalized tools, helping customers, colleagues, Partners and resellers to reimagine business. This year, Sage is hosting the Sage Enterprise Management specific event for Business Builders and Partners that is scheduled from April 2nd – 4th, 2019 in Dubai, United Arab Emirates. Greytrix– Sage Gold Development Partner for over a decade and a regular sponsor for Sage events is all set to be a part of Sage Enterprise Management Partner Summit as a Gold Sponsor. The majestic Dubai which is an example of exemplary business and development scenarios is the location for the event with the luxurious JW Marriott Marquis, Dubai as the venue.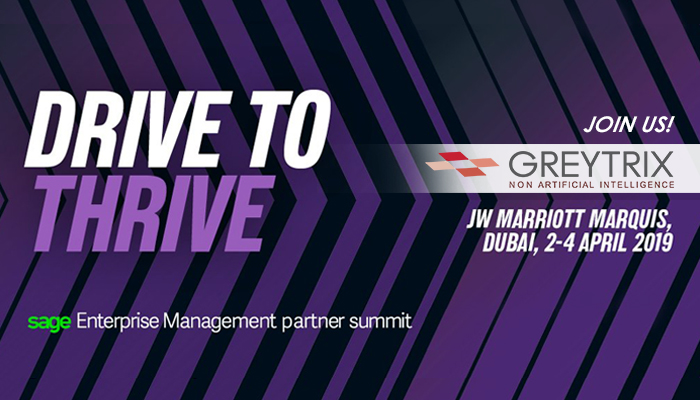 Benefits of attending Sage Enterprise Management Partner Summit- Dubai 2019
Sage, the leader in cloud business management solutions brings together ISV's, VARs and alliances from around the globe, with Sage executives, product experts and inspirational speakers in the yearly Sage Enterprise Management Partner Summit. The summit is aimed to equip and support Sage Enterprise Management Partners to succeed and grow with informative Sage sessions and keynotes from the industry experts. This year Sage has also introduced webinar series with EVP of Partners, Accountants and Alliances to understand the perks event offers, the powerful takeaways Sage experts will deliver and the latest future thinking technology from Sage and Sage ecosystem which can help take your business to the next level. It also includes the sponsor webinar series to learn about their value add offerings and the latest technology trends that are bringing forth a revolution in individual areas of expertise.
Sage Enterprise Management Partner Summit, the largest worldwide gathering of Sage Business Cloud Enterprise Management Partners will also witness the featured keynote by John Barrows, Professional Sales Trainer and Consultant. Delegates will also have the opportunity to hear from other standard keynote speakers like Blair Crump (President Sage), Ron McMurtrie (CMO Sage), Jennifer Warawa (EVP Partners Accountants and Alliances Sage), Nick Goode (EVP Product Marketing Sage), Mark Fairbrother (EVP Product Engineering Enterprise Management Suite Sage), Robert Sinfield (VP Product Enterprise Management Suite Sage) and Fabrice Alonso (Product Management Director Enterprise Management Sage). Be among the first to see the V12 updates in action on the keynote stage. The meaningful conversations are sure to spark imagination and leave you with an a-ha moment.
The Sage Enterprise Management Partner Summit combines inspiration, insights, technology, and networking for a fantastic experience that powers future business success. The Sage Sessions deliver exactly the same objectives. The Sage Sessions is an opportunity for Partners to discover the scope to grow their business and gain insights from various showcased products.
The delegates can also interact in the Sage Genius bar and the Sage meeting center which is an opportunity for the attendees to discover how to best utilize the Sage technology to increase product performance and accelerate business.
What is Greytrix bringing to Sage Enterprise Management Partner Summit as a Gold Sponsor this year?
Greytrix has been a leading Sage Gold Development Partner for over two decades, providing a broad range of Sage Enterprise Management Services and Solutions across Sage Partner ecosystem. Being recognized for its 5-star rated GUMU™ app on Salesforce AppExchange for Sage ERP – Salesforce and Sage Enterprise – Sage CRM systems, Greytrix combines the unmatched experience and specialized skills of working across industries & verticals driving innovation to improve the way businesses operate. Wondering what's special or new with Greytrix this year? This year Greytrix is bringing the GreyPortal for Sage Enterprise Management which automates the power of personalizing and delivering business information through self-service web portals and mobile applications to their customers keeping your business on an "always-on" mode.
Visit Booth No: G2 to know about the unparalleled benefits Greytrix can offer for your business!
Greytrix Sage Enterprise Management Products & Services
Greytrix Sage Enterprise Management Professional Services
Implementation & Configuration
Bespoke Customizations
Technical Support
Migration
Integration
Onsite Resource Augmentation
Offshore Development Center
Greytrix Sage Enterprise Management Development Skillset
4GL Programming
Java Bridge Integration
Version Upgrades
SOAP Webservices
Crystal and BI Reporting
ADC Programming
Designing Dashboards
SEI Installation & Upgrades
Designing Workflows
Kumar Siddhartha, CEO – Greytrix, along with techno-functional experts will be presenting a session: "Take a customer centric approach and win deals with an integrated CRM (Salesforce.com) & Customer Portal for Sage Enterprise Management". Apart from exhibiting, we also look forward to meeting our Sage Partners and Sage Team at the event and to provide you with insights on how business roadblocks can be eliminated by optimal use of Greytrix products & services, also why GUMU™ utility is the best fit for your specific business environments. Meet us at Greytrix booth and experience the power of our services and solutions!
To schedule your meeting with our Executive and Techno-functional team at Sage Enterprise Management Partner Summit, write to us at na.sales@greytrix.com.
Let's Connect and Grow together. See you soon at the event!