Sage, a leading provider of cloud business management solutions is all set to host Sage Sessions X3 in Scottsdale from September 4-5, 2019. It is a must attend event for Sage X3 (Sage Enterprise Management) Customers and Partners as the agenda is power packed with learning opportunities, networking and transformation. Sage has been in the forefront of businesses providing out of the box solutions to address the specific business requirements with their engaging content tracks and deeper product insights. The Sage ecosystem can learn about the latest product updates and the roadmap ahead in the event. This year the five content tracks are designed to satisfy the needs of C- level executives and end users to transform their business through impressive technology.
Greytrix – Sage Gold Development Partner for over two decades and a regular sponsor for Sage events is excited to be a part of Sage Sessions X3 as a Sponsor. Scottsdale which is the most affluent and the largest city in Arizona is premiering for the event with Hyatt Regency, Scottsdale as the venue. The slogan for the event is, "Where Businesses Thrive- Manage Everything from Money to People" which encourages enterprises to bring forth a revolution in individual areas of expertise.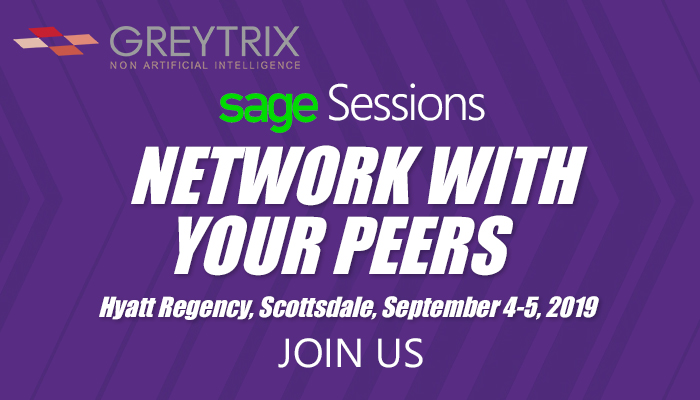 What is Sage bringing to Sage Sessions X3 this year?
Year on year Sage organizes events which has helped businesses thrive. This year too with keynote speakers, breakout sessions and real life examples attendees will gain a vast learning experience of managing business with next generation business management solution Sage X3, while climbing the growth curve. Sage Sessions X3 will witness the keynotes by some of the industry experts like Blair Crump (President Sage), Ron McMurtrie (CMO Sage), Nick Goode (EVP Product Marketing Sage), Mark Fairbrother (EVP Product Engineering Enterprise Management Suite Sage), Robert Sinfield (VP Product Enterprise Management Suite Sage), Nancy Harris (Executive Vice President and Managing Director, North America Sage), Mickey North Rizza (IDC), Star Bobatoon (Attorney, Trainer and Speaker), Robyn Bebincasa (Adventure Racer, Firefighter, Author and CNN Hero).
The event will also welcome great musical performance by The Sahnas Brothers Trio Mediterranean Fusion instrumentals playing flamenco, classical and bass guitars, and percussion. What is different and exciting to look forward in this year's Sage Sessions X3? It is the Golf Tournament and the Yoga Bootcamp organized by Sage along with an exclusive 'Women in Leadership Seminar' headed by the accomplished attorney, dynamic trainer and award-winning speaker Star Bobatoon.
Sage combines inspiration, insights, technology, and networking for a fantastic experience that powers future business growth. Sage Sessions deliver exactly the same objectives. The Sage Sessions is an opportunity for Partners to discover the scope to grow their business and gain insights from various showcased products.
What is Greytrix bringing to Sage Sessions X3 this year as a regular Sage Sponsor?
Greytrix is one of the oldest and largest Gold Development Partner of Sage worldwide, providing a broad range of Sage X3 Services and Solutions across Sage Partner ecosystem. Greytrix integrates Sage X3 solutions with leading CRM solutions like Sage CRM (Sage certified solution), Salesforce (5-star rated GUMU™ app on Salesforce AppExchange), Dynamics 365 CRM (New release), combining the unmatched experience and specialized skills of working across industries & verticals driving innovation to improve the way businesses operate. Wondering what's special or new with Greytrix this year? This year Greytrix is bringing the GreyPortal for Sage X3 which automates the power of personalizing and delivering business information through self-service web portals and mobile applications to their customers keeping your business on an "always-on" mode.
Visit our Booth: 18 to know more about the unparalleled benefits Greytrix can offer for your business!
Greytrix Sage X3 Products & Services
Greytrix Sage X3 Professional Services
Implementation & Configuration
Bespoke Customizations
Technical Support
Migration
Integration
Onsite Resource Augmentation
Offshore Development Center
Greytrix Sage X3 Development Skillset
4GL Programming
Java Bridge Integration
Version Upgrades
SOAP Webservices
Crystal and BI Reporting
ADC Programming
Designing Dashboards
SEI Installation & Upgrades
Designing Workflows
Apart from exhibiting, we also look forward to meeting our Sage Partners and Sage Team at the event and to provide you with insights on how business roadblocks can be eliminated by optimal use of Greytrix products & services, also why GUMU™ utility is the best fit for your specific business environments. Meet us at Greytrix booth no. 18 and experience the power of our personalized services and solutions!
To schedule your meeting with our Techno-functional team at Sage X3 Sessions, write to us at na.sales@greytrix.com.
Let's Connect, Innovate and Grow together. See you soon!