There may be situation that a user needs to change the due date or pay approval on a posted sales invoice or purchase invoices . Sage x3 provides a functionality called the Open item edit function to make the changes to the due date , pay approval as well as other characteristics for open items.
An open item is an entry characterized by a group of data related to the operation that it represents: the original document number, the document due date, it's payment method, the currency, the amount etc.
The management of open items makes it possible to facilitate the tracking of operations recorded for a BP (via the Purchasing, Sales, Sales/Purchase ledger or Accounting modules) under a document type parameterised according to this function:
By clicking on an item header, it is possible to modify:
the due date
the Payment Approval value
the dispute code
the payment method
the reminder management
the pay-by/pay-to BP
the early discount/late charge code
the pay-by/pay-to address code
Pay approval field can have the following values:
Authorized to Pay: This option allows payments to be made for that invoice.
Not Approved: This option only allows payments on or beyond the due date. When running a payment proposal, if in the invoices the pay approval value is selected as not approved, you will not see those invoices – they do not display in the left lists.
Conflict: This option allows you to hold payment of this invoice. A dispute code can also be entered.
Delayed: This option is used when you do not want to make a payment.
Here we can see the purchase invoice 'PIN2109AU01100040' has been created and posted with the pay approval status as 'Pending'. We have to change the value of this field to 'Approved to pay'. Refer the below screenshot.
Once an invoice is posted, you can use the Open Items task to edit, view, and manage the open items and their payment stages. Some of the changes that can be made are:
Pay-by/Pay-to by
Due Date
Payment method
The steps below will allow you to modify the pay approval as well as some other characteristics of a posted purchase invoice:
Navigate to > A/P A/R Accounting > Open Items > open item edit
1) Select the type. Here we will select 'AUPIV' for purchase invoice.
2) Select the open item's document number i.e. purchase invoice number
3) Edit the pay approval field as needed. Here we will change it to "Authorized to pay" status.
4) Click on save.
Now navigate to purchase invoice to check the reflected changes.
Select the invoice for which you have updated the pay approval status.
Here we can see the value of approval status is changed to Authorized to pay.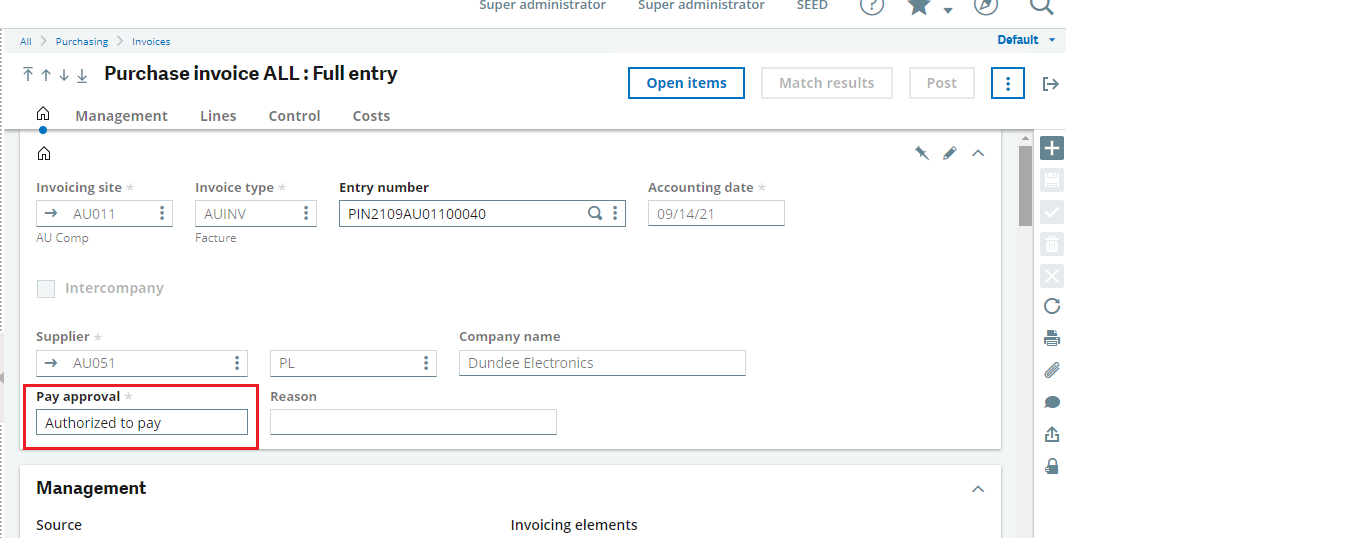 In this way we can update the value of pay approval field for posted purchase invoice.