A purchase request is a document detailing required items, the number required and when they will be required. Once approved it becomes a purchase order. A purchase request is an unapproved purchase order. The purchase request details what items and services are required, the quantity, supplier, and associated costs.
A purchase order is used by a buyer to place an order and is issued before delivery. An invoice is issued by a seller using invoicing software after an order is delivered. It defines the amount the buyer owes for the purchased goods and the date by which the buyer needs to pay.
In Sage X3, We can manage purchase requirements of different departments, or sites of a company in purchasing, purchase requests, purchase requests. Here you can create, modify, delete, copy, view, and print purchase requests.
Follow the below steps:
Navigate To : Purchasing > Requests > Requests
1. Create Purchase request
Navigate To : Purchasing > Orders > orders
1. Create Purchase order
We have entered three purchase requests and we can view them in Enterprise Planning workbench under Purchasing, Supply. Select the site and the product to view the requirements.
As you can see three purchase requests (POPs) selected in green (PRQNA0230009 to PRQNA0230011) and one POF in orange for the item RAW066.
Next in Purchasing Orders select the ALL Full entry transaction, note "requirements considered" flag is selected for this entry transaction.
Now, select the firm POs listed above and, on the lines, enter the product reference, and tab out of the product field. You will be prompted with a "requirements to consider" screen.
In the requirements to consider screen you can leave the default selections and click on the grid where the start date end date section is, and it will list all the requirements for that product and supplier selection. Refer the below screenshot for the same.
Now, use the "Quantity selected" field to enter the quantity and click 'OK'.

Once the PO line is complete, click the save button to save the purchase order.Now use the "View consumed purchase requests" menu on the line to view the selected purchase requests.
Once the purchase requests are ordered, the status of those purchase requests are set to "Closed" and "Ordered".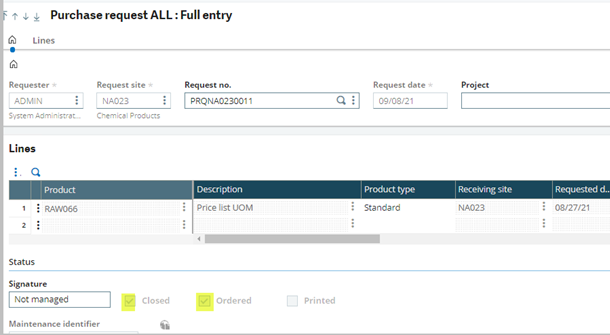 With the help of above steps user can add the existing Purchase request to an existing purchase order.