Order Entry in SAGE 300 ERP has one of the important feature i. e. "On Hold". While generating an order, the end user can put the particular orders on hold if need to. Kindly refer the below screen shot which includes order entry screen with On Hold function in red mark.
New Stuff:Link General Ledger Entry to the Original Transaction

Consider the case where you are the user and are allowed to generate order entry only. You are creating the orders & put some orders on hold because of lack of stock. So while some other user makes the shipment entry from a single order or from multiple orders including on hold orders that time SAGE 300 ERP will give you error message.
Once the order goes into on hold after that, at the time of shipment entry SAGE 300 ERP will restrict you to select those orders which are on hold. Kindly refer the below screen shot which will give you clear idea.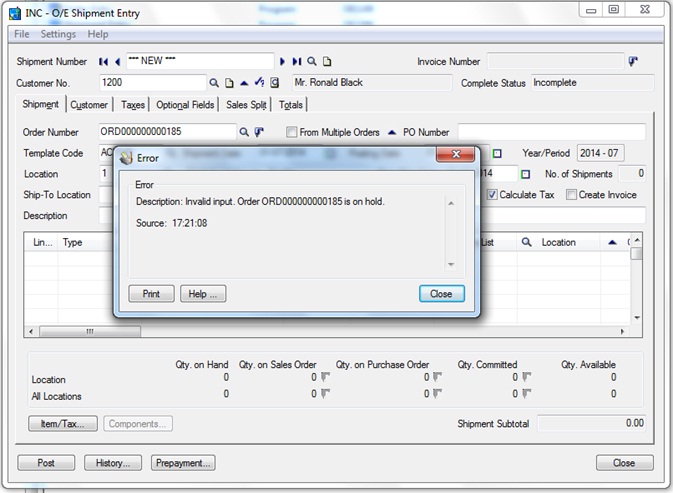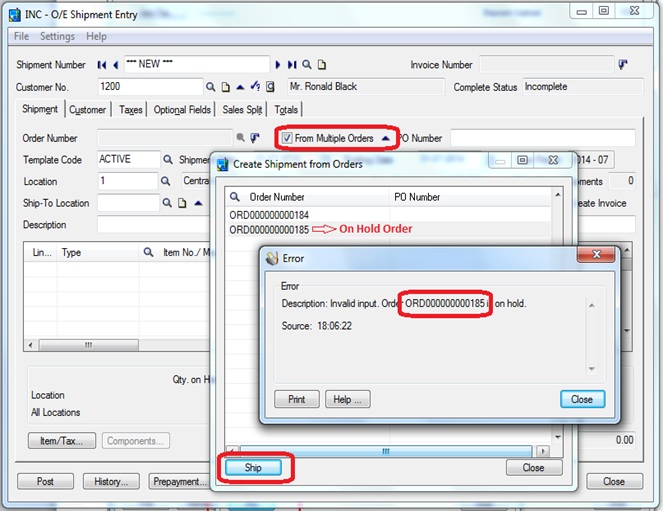 If the customer account is on hold in Accounts Receivable, the order is automatically placed on hold.
You can enter the order and post it, but you cannot ship items or produce an invoice for the order unless you remove the on hold restriction for the customer in Accounts Receivable, or remove the hold for the order on the Order Entry form, and post the order.
To view a list or the orders currently on hold,you can print the Order Action report with Order Type "Orders On Hold".
Also Read:
1.   O/E Current Order Inquiry in Sage 300 ERP
2.   Hide Completed Lines in Order Entry
3.   Copy optional fields value on the Order Entry detail line
4.   Sage 300 ERP Order Entry – All in One
5.   Update Bill-To-Address and Ship-To Address on OE Order Entry Screen