In SAGE 300 a very useful feature is available called as the "A/P Control Payment". Through which any organization can control over due date and payment limit for specific Invoice of specific Vendor.
Suppose, we booked a purchase invoice of a vendor and its due date is 29-May-2015 and its Invoice value is Rs.13483.20 as shown in below report.
New Stuff: G/L Integration in A/P module with options for creating G/L transaction by (Creating and Posting a New Batch)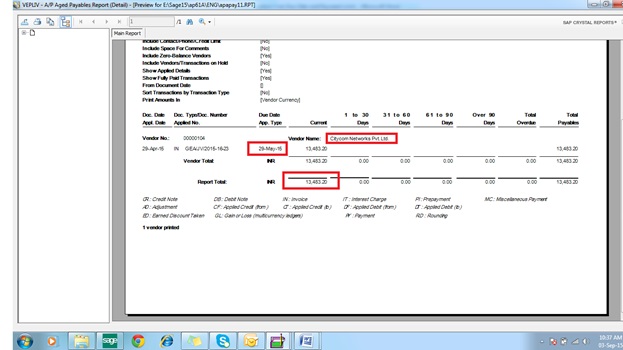 After booking invoice of vendor later it is decided by management or any responsible / concern person / department of an Organization that due date must have to change and also put payment limit over specific invoice of specific vendor. Then it can be done very easily in SAGE 300 through A/P Payment Control option. This option is available in Account PayableèA/P TransactionsèControl Payments. Select the Control Payments option, then select a specific vendor from finder, then select a specific document number and finally press GO button. System will populate all the information in the screen such as Doc. Type, Doc. Date, Doc. Total, Balance, Term Code and due date. In the same screen, the user can set payment limit and can change its due date, parallel user can also put discount percent, system will auto calculate its discount amount. Please refer below screen shot.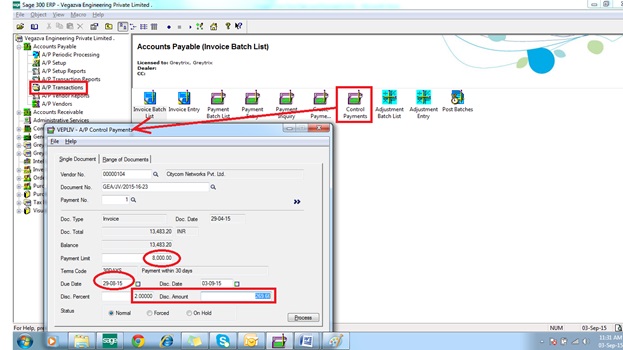 After completing this form, when the user will try to release the payment against this specific invoice then system will send a warning message to the user that the payment limit has been set for this invoice number and applied amount will auto populate by system as set in "control payment" form. Parallel due date will also get updated as changed in the payment control form and discount available will also get updated. Please refer below screen for the ready reference.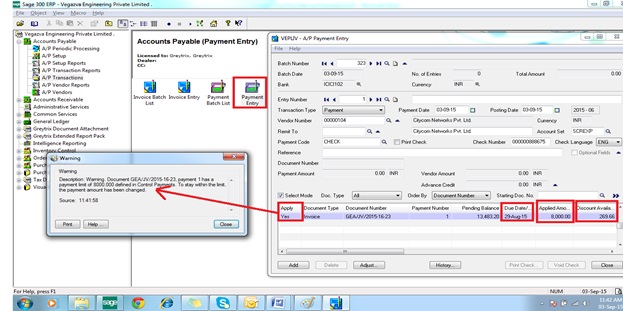 We can view the reports of that specific vendor, in the report we can see that due date has been updated as per the changes done in "control payment" form. Please refer below screen.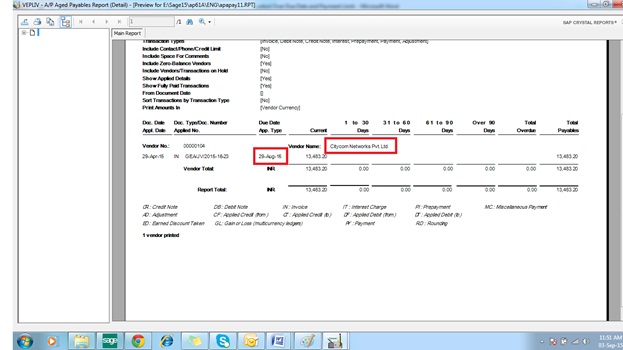 This way any organization can change and set due date and payment limit respectively for the specific invoice of specific vendor.
Also Read:
1. Single Invoice of Vendor with multiple payment schedule.
2. Advance Payment to a Vendor
3. Manage AP Vendor and Vendor group Statistics in Sage 300 ERP
4. Migrate A/P Payment Terms from Sage BusinessWorks to Sage 300 ERP
5. Migrate A/R Payment Terms from Business Vision to Sage 300 ERP