The global pharmaceutical industry has witnessed a rapid change in the past decade driven by a growing middle-income group and rise in the private healthcare institutions in emerging markets. The future of this industry seems to be stellar with global pharmacy appetite crossing $600 billion marks.
Read more: Sage X3 for Pharmaceuticals Industry
However, the global reach and growth have brought with itself, increasing complexities in processes may it be country wise legislations or business processes. Moreover, the FDA-registered manufacturers are under increasing pressure to maintain their competitiveness while simultaneously complying with an increasing array of regulatory requirements. Along with thinning pipeline and skyrocketing operating costs and regulatory burden, the pharmaceutical companies are facing unprecedented challenges.
Sage ERP X3's Pharmaceutical vertical addresses these unique and specialized needs of Pharmaceutical Manufacturers. Sage ERP X3 is a global solution that dramatically simplifies the management of businesses and supports all operations across finance, distribution, and manufacturing within one singular software design, and is affordable, effective and simple to manage.
Sage X3: Extensive Functional Coverage
Sage ERP X3 combines advanced manufacturing, customer relationship management (CRM), distribution, warehousing, and accounting functionality with application features that address the complex business process needs of your company.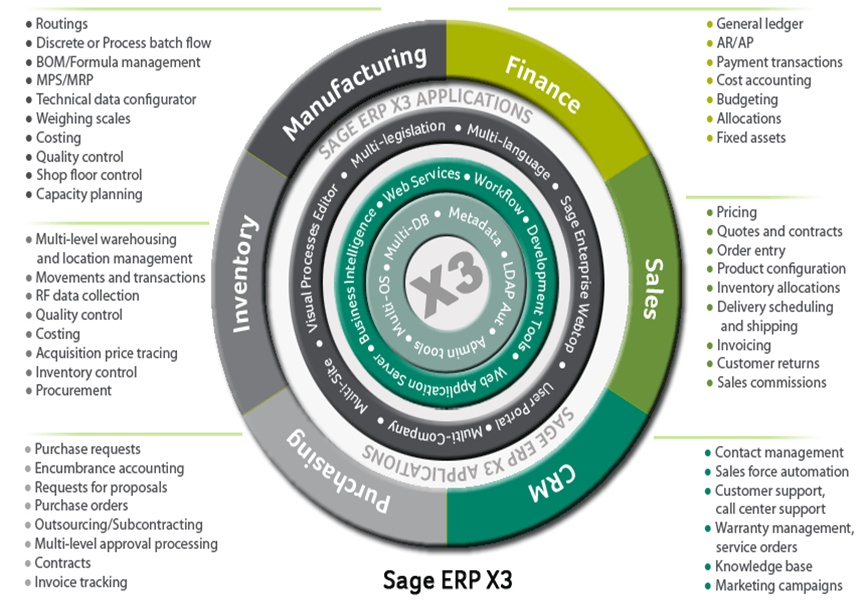 Noteworthy features of Sage X3
Sage X3 supports multi-currency, multi-location, multi-enterprise, multi-units, multi-country and country-specific legislation.
It provides business intelligence, e-business, and automated RF data collection. The integrated Business Intelligence tools to promote effective management reporting and decision-making. With e-business expand your business online while keeping one single coherent management system.
In addition to accounting functions, Sage ERP X3 offers a set of core enterprise-wide workflow management software features that help you transform your business into a real-time, on-demand organization, responsive to the needs of your customers.
About Us
Greytrix Africa is a leading Implementation, Reselling and Consulting partner for Sage Enterprise Management (Sage X3), Sage 300, Sage Enterprise Management HR (Sage X3 People) & Sage CRM based out of Nairobi, Kenya in East Africa region catering to Tanzania, Ethopia, Middle East, Australia and Asia businesses.
Greytrix Africa offers professional services such as Implementation & configuration, Business Process Analysis, Project Management, Customization, Integrations & Migrations, Technical support and Onsite resource augmentation along with enhancements within Sage Enterprise Management (Sage X3), Sage Enterprise Management HR (Sage X3 People), Sage CRM and Sage 300 (Accpac) across various industry verticals like Process Manufacturing (Food & Beverages, Chemical), Discrete manufacturing (Automotive, Textile & Apparel), Non Profit, Health-care Industry and Services Industry (Financial , Software & Engineering).
For more information on Sage Enterprise Management Consulting Services, please contact us at sales@greytrix.com.We will be glad to assist you.