When you think of business systems to handle your front office and back office operations, you might think of a number of pitfalls such as data redundancy, manual data entry, investing time, struggling to have a complete view of your customer information, lack of data visibility, inflexibility to access real-time data. This new year 2018, Greytrix promises to take care of all the pitfalls in your business solutions. With its unique bi-directional data integration framework GUMU™, Greytrix brings seamless connectivity by integrating your ERP and CRM systems.
Greytrix, a Global ISV and a multi-award winner for Sage ERP and Sage CRM has reaffirmed its close relationship with Sage by receiving the Rockstar ISV Status for its flagship product – GUMU™ for Sage CRM – Sage Enterprise Management Integration. Greytrix receives this highest accolade from Sage that authorizes GUMU™ for Sage CRM – Sage Enterprise Management of the stringent quality standards, testing and guidelines to demonstrate the accuracy of the product under various real-time business scenarios.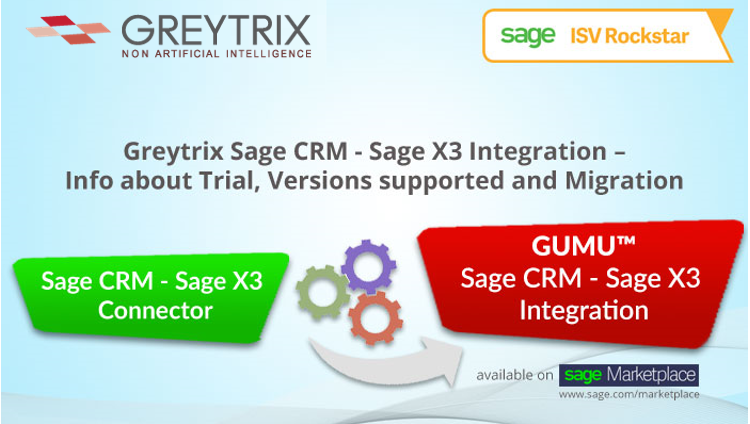 GUMU™ for Sage CRM – Sage Enterprise Management Integration is a complete end-to-end solution, specially designed to satisfy all your business priorities. It delivers seamless, real-time bi-directional, multi-company, multi-language integration that plays an important role in unlocking the potential of enterprise data to make smarter and faster business decisions.
Product Demo Videos: Watch the overview video of our GUMU™ for Sage CRM – Sage Enterprise Management integration as well as the detailed video explaining the functionality at the granular level.
Product Download Link: Get quick access to the product listed on Sage Marketplace. You can also download a 30-day trial version of our GUMU™ Integration from Greytrix website. Simply follow the Installation and User Guide (that comes along with GUMU™ Integration setup copy) to set your own GUMU™ integrated environment. We can install 30 days trial version of GUMU™ Integration on your demo system. Please note that there are few Pre-Requisites required to be done on the system before GUMU™ installation. Kindly make sure that all the Pre -Requisites mentioned in the above link are present on the Demo system. Once done, we will install and configure GUMU™ Integration on your system.
Versions Supported: Our GUMU™ for Sage CRM – Sage Enterprise Management Integration is currently compatible with below versions of Sage applications –
Sage CRM v7.2, 7.3 and latest Sage CRM 2017 R1/R2/R3.
Sage X3 v6.5, v7, v8, v9 and latest Sage X3 v11.
You can ALWAYS mix and match Sage CRM and Sage X3 versions as per your choice. To explain with an example, you can integrate Sage X3 v11 with Sage CRM v7.2 or Sage CRM 2017 R2 with Sage X3 v6.5.
GUMU™ gives you the flexibility to plan upgrades for Sage CRM and Sage X3 individually or both at once, providing better performance in any situation.
Migration from existing Sage CRM X3 Connector to Greytrix GUMU™ for Salesforce – Sage Enterprise Management Integration

Enterprises who have the earlier Sage CRM X3 Connector installed in their business environment need not worry about the compatibility of Greytrix Sage CRM X3 integration in their integrated environment. Greytrix techno-functional team of engineers can easily tackle such situations and assist the integration to be upgraded to the latest patch of GUMU™ integration.
The process is pretty simple as client need not put themselves into any technical hassle to switch their Integration. Greytrix takes care of it and as a client you just need to provide the existing Sage Integrated environment to Greytrix, once you have purchased Greytrix Sage CRM – Sage Enterprise Management integration. Our technical team will take care of removing the existing Sage Integration and installing GUMU integration over it. We also make the existing integrated Sage CRM and Sage X3 data compatible with GUMU™ Integration. Also, if there are any existing integration customizations in place that will be handled by the development team at minimal charges.
To know more about the GUMU™ for Sage CRM – Sage Enterprise Management Integration, kindly contact us sage@greytrix.com