Sage X3 ERP – is the choice of next-generation enterprises to stay ahead of the competition. It is a comprehensive suite that integrates and streamlines your business information and processes. Sage X3 offers flexible and adaptable solutions offering the safest development platform designed to take control of processes like finance, sales, CRM, purchasing, inventory, and manufacturing. However, going beyond the aspects of ERP and looking at the broader perspective of any business requirement, understanding the reason and objective of an ERP for unique requirements of your business and aligning the best infrastructure of ERP application is the need of the hour.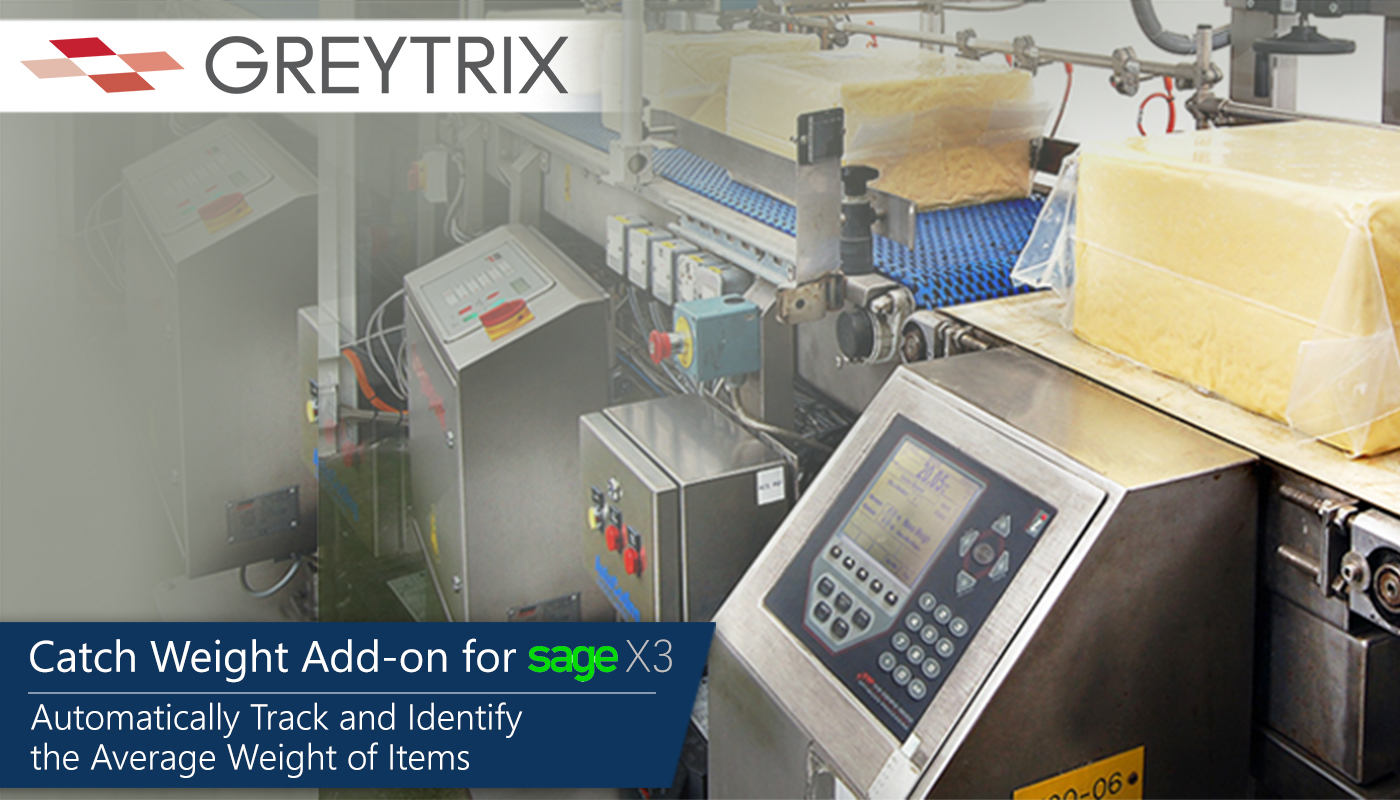 An expanding business may demand you to accommodate certain crucial processes that may not be covered in the initial standard ERP offerings. Greytrix has always been a step ahead in enhancing the functionalities of enterprise solutions to deliver simplified business workflow. Keeping in the loop, the growing requirements of enterprises with Sage X3 ERP, Greytrix – a global provider of integrated Sage ERP – CRM solutions brings the developed Sage X3 add-on Catch Weight. Explore Catch Weight for Sage X3 segment and get insights on the benefits of using this add-on to address specific business challenges with extended functionalities through our webinar on Catch Weight.
Catch Weight Add-on for Sage X3
Enhance the value chain of food and beverage processing industry with Catch Weight add-on for Sage X3. The add-on lets you bill the customer based on its Catch Weight unit, rather than the original estimate derived from the Sales unit.
Benefits of Catch Weight add-on for Sage X3
Support products that vary in weight from piece to piece. E.g. meat items, fish items, fruit items etc.
Accurate pricing of items by weight or by piece
Accurate invoicing with Catch Weight and unit of measure details
Multiple packaging variations for each product
Flexible and scalable pricing by Catch Weight
Integrated quality control processes from receipt through production and shipping
Product lot tracking
For a live demo/trial or any queries/ feedback/suggestions please email x3@greytrix.com.