In Sage X3 V12, as we know the Change request function is used for managing the delivery of 'change' for issues or enhancements that will benefit your organization or your customers. Sage X3 also provides 'Impact Analysis' function to study possible impacts on current as well as future sales and profits. To guide and schedule the implementation and execution of a design or a production 'change', Sage X3 provides special function called 'Plan'. This function can be used as:
a planning tool that facilitates in the consideration and identification of the components required to deliver a specific 'change'.

a communications tool to consider the components proposed by the project manager, and for confirming or developing the scope of the requirements.
It categorizes the sequencing of activities, and simplifies time estimations to avoid delays and potential cost overruns.An action plan directly impacts the progress of a change request through the remaining stages of the processing cycle. A change request, therefore, can only progress to status 'Completed' once all individual tasks (actions) on the plans have been accomplished. This empowers the change manager to hold a change request at status 'Implement' until the requirements have been delivered in full and have been approved. Once the delivered requirements have been approved the change request can then be advanced to the final status of 'Closed'.
It is not mandatory to define an Action plan.
All plans are automatically deleted if the status of a change request is reverted from status 'Plan' to status 'In review'.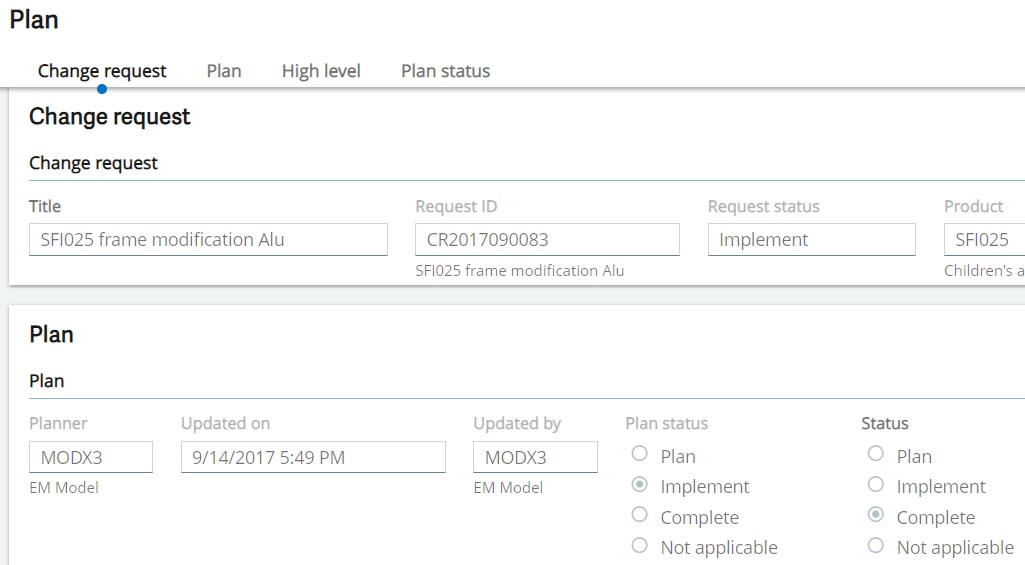 The main persons involved in action plan are as follows:
Project Manager(Planner): Creates or add tasks to a high level Work Breakdown Structure and sets your high level Work Breakdown Structure as 'Planning complete'. This informs the 'actioners' and stakeholders that the plan is complete and ready to implement.
Actioner: Updates the status of the tasks to which you have been assigned.
Stake holder: As a stakeholder or member of your company's 'change board', at any time, you access an action plan. An action plan shows you how the objectives for the design or production 'change' will be met. You can use it as a mechanism for referencing and managing business risk, and potentially costs.
High Level Block
This is the high level Work Breakdown Structure. This plan defines the approach to be taken to deliver the requirements for the change request.
The summary grid displays the current status of the individual Implementation plans. The entities listed are aligned with the associated Impact analysis.
A plan status can be one of the following: 'Plan', 'Implement' or 'Complete'. 'Not applicable' is displayed if either of the following conditions apply:
The associated Impact analysis did not generate any transaction lines, or
The project manager has confirmed that the plan is not required.
As soon as an actioner sets the status of one of their actions to 'In progress' your high level Work Breakdown Structure will be fixed. You will not be able to append to or delete any of the lines on the plan.
Plan Status
This grid displays a summary of the status of the individual Implementation plans. Each plan provides a breakdown of all the work to be completed for the individual transaction types to deliver the approved requirements. Each plan can be accessed by simply clicking the appropriate action in the Action panel.Once you flag your implementation plan as 'Planning complete' your plan is validated. All transaction lines for which an action has been defined must have been assigned a completion date and an actioner responsible for delivering the task.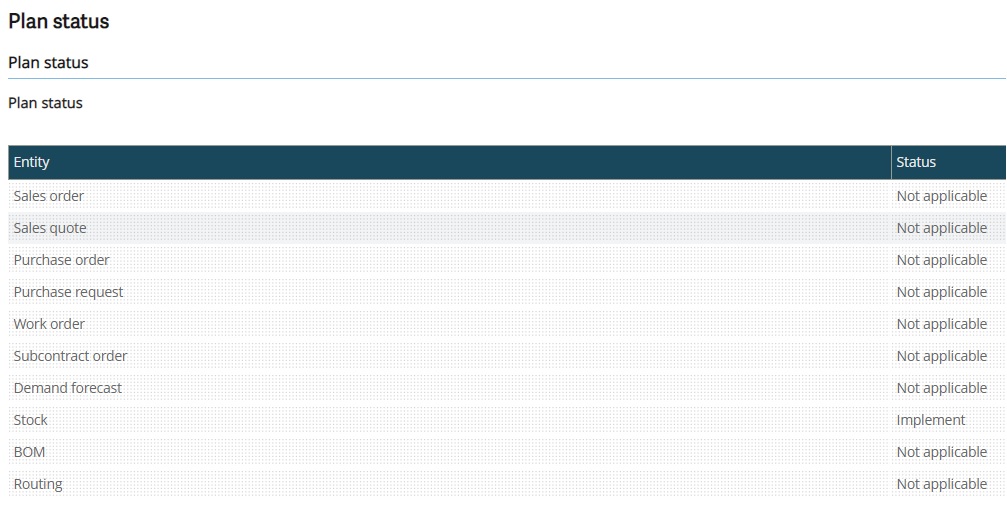 This function gives you total flexibility over which plans you need and which ones you decide are not required. The timeframes, milestones and dates you define will provide you with an effective control mechanism in the successful delivery of the 'change'.
About Us
Greytrix – a globally recognized and one of the oldest Sage Development Partner is a one-stop solution provider for Sage ERP and Sage CRM organizational needs. Being acknowledged and rewarded for multi-man years of experience, we bring complete end-to-end assistance for your technical consultations, product customizations, data migration, system integrations, third-party add-on development and implementation competence.
Greytrix caters to a wide range of Sage X3, a Sage Business Cloud Solution, offerings. Our unique GUMU™ integrations include Sage X3 for Sage CRM, Salesforce.com, Dynamics 365 CRM and Magento eCommerce along with Implementation and Technical Support worldwide for Sage X3. Currently we are Sage X3 Implementation Partner in East Africa, Middle East, Australia, Asia, US, UK. We also offer best-in-class Sage X3 customization and development services, integrated applications such as POS | WMS | Payment Gateway | Shipping System | Business Intelligence | eCommerce and have developed add-ons such as Catch – Weight and Letter of Credit and India Legislation for Sage X3 to Sage business partners, end users and Sage PSG worldwide. Greytrix Sales Commission App for Sage X3 simplifies commission calculations and postings on sales transactions.
The GUMU™ Cloud framework by Greytrix forms the backbone of cloud integrations that are managed in real-time for processing and execution of application programs at the click of a button.
Greytrix is a recognized Sage champion ISV Partner for GUMU™ Sage X3 – Sage CRM integration also listed on Sage Marketplace; GUMU™ integration for Sage X3 – Salesforce is a 5-star rated app listed on Salesforce AppExchange and GUMU™ integration for Dynamics 365 CRM – Sage ERP listed on Microsoft AppSource.
For more information on Sage X3 Integration and Services, please contact us at x3@greytrix.com, We would like to hear from you.