Sage X3 has provided us a function which is named as 'Customer extension' (function PROROGC). Sometimes there can be a situation where we need to extend the due date of payments which is pending from a customer. Here by using customer extension function we can update the new date of the payments for specific customers. Use this function to extend the due date of customer notes payable/receivable entered for a payment. The due date specified on the corresponding entries (e.g. entry generated on notes P/R posting) is also updated. Below we will check how this function works.
We need to make sure that only the payments posted for a type of payment set by Due date in entry transaction mode are subject to extension. If it is not managed sage X3 will not allow extending the due date of those payment entry types. To check the setup navigate to
ALL -> SETUP -> A/P – A/R ACCOUNTING -> PAYMENT ENTRY TRANSACTIONS
We need to check the 'due date management' checkbox as shown in the below image.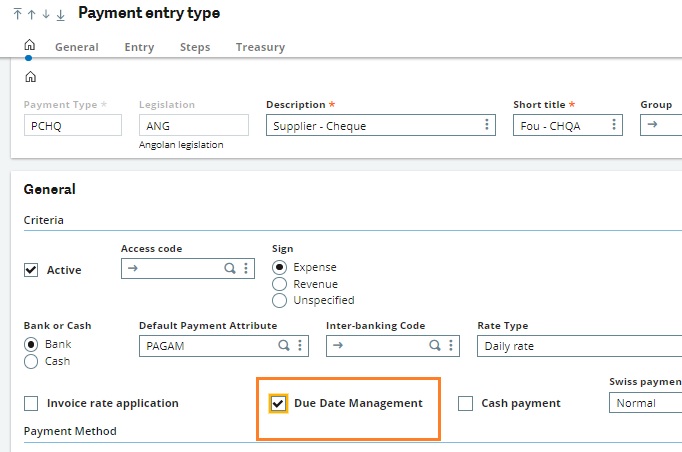 Also we need to note is if the payment has completed the notes payable/receivable posting stage, it can no longer be processed in this function. Therefore, all payments posted to a paying bank notice can no longer be processed.An authorization can be granted for this function to limit the processes to a company or a site.
To reach this function navigate to
ALL -> A/P – A/R ACCOUNTING -> PAYMENTS -> CUSTOMER EXTENSION
The customer open item due date extension is carried out in a grid where each line represents a payment.
Only the first column (payment number) has to be assigned. To search for a payment number, a Selection context menu opens a selection window for payments by type of payment, BP, etc.
Once the payment number has been entered, the information relating to this payment is displayed. The cursor is directly positioned on the Open item column where the new due date needs to be entered for this payment.
Once all the payments to be processed and the new extended due dates are displayed, you use the Save action to validate your change and apply it to the payment and journals generated for this payment.
Below are the errors a user can face while processing this function.
Function not authorized: This message appears if the user does not have the correct access rights
Journal pending validation: This message appears if the batch processing for journal validation has not generated an entry referring to the payment yet.
Unsettled payment: Impossible to extend a payment that has not been settled.
Payment deposited in bank: Impossible to extend a payment that has been deposited in the bank.
Payment number already entered: The payment has already been entered in the grid.
Invalid customer: The BP entered is not a customer.
Due date not managed for this type of payment: The DACDUDDAT field is set to 3 in the TABPAYTYP file for the entered settlement type.
You have no rights for this site: You do not have access to the payments carried out for this site.
Hence by performing all the above steps and prerequisites we can process the customer due date extension function.
About Us
Greytrix – a globally recognized and one of the oldest Sage Development Partner is a one-stop solution provider for Sage ERP and Sage CRM organizational needs. Being acknowledged and rewarded for multi-man years of experience, we bring complete end-to-end assistance for your technical consultations, product customizations, data migration, system integrations, third-party add-on development and implementation competence.
Greytrix caters to a wide range of Sage X3, a Sage Business Cloud Solution, offerings. Our unique GUMU™ integrations include Sage X3 for Sage CRM, Salesforce.com, Dynamics 365 CRM and Magento eCommerce along with Implementation and Technical Support worldwide for Sage X3. Currently we are Sage X3 Implementation Partner in East Africa, Middle East, Australia, Asia, US, UK. We also offer best-in-class Sage X3 customization and development services, integrated applications such as POS | WMS | Payment Gateway | Shipping System | Business Intelligence | eCommerce and have developed add-ons such as Catch – Weight and Letter of Credit and India Legislation for Sage X3 to Sage business partners, end users and Sage PSG worldwide. Greytrix Sales Commission App for Sage X3 simplifies commission calculations and postings on sales transactions.
The GUMU™ Cloud framework by Greytrix forms the backbone of cloud integrations that are managed in real-time for processing and execution of application programs at the click of a button.
Greytrix is a recognized Sage champion ISV Partner for GUMU™ Sage X3 – Sage CRM integration also listed on Sage Marketplace; GUMU™ integration for Sage X3 – Salesforce is a 5-star rated app listed on Salesforce AppExchange and GUMU™ integration for Dynamics 365 CRM – Sage ERP listed on Microsoft AppSource.
For more information on Sage X3 Integration and Services, please contact us at x3@greytrix.com, We would like to hear from you.