Sage 300 ERP provides with AR Document Inquiry screen which consolidates document information from all different core modules within Sage 300 ERP. This feature helps in getting all available information in Accounts Receivable for a specific posted document including Batch details, applied document details.
Basic information like transaction type, customer no, name, national a/c code (if customer belongs to a national a/c group) for the transaction document are available from any tab on the Document Inquiry form.
If your company is using the multi-currency module, you can also choose to view the amounts in customer currency or functional currency.
New Stuff: Knowing Customer Credit Status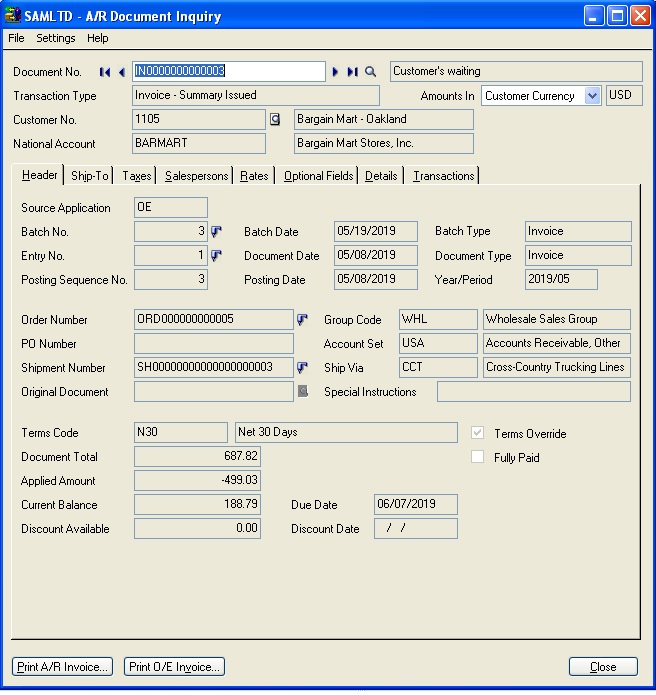 Go to Account Receivable –> A/R Transaction–> Document Inquiry->Enter the Document No or select it using finder.
Below is the list of tabs using which you can view all information about the document.
1.Header: It provides information about Source Application, Batch Number, Entry Number, Posting sequence number, Batch Type, Batch date, Document Date, Document Type, Posting date, year /period, Order Number, Shipment number ,Applied amount, Current Balance etc.
2.Ship To: It provides information about Customer and 'Ship To' Address.
3.Taxes: It provides the information about Tax Group, Tax authority and Tax amount.
4.Sales persons: It provides the information about the sales person and his percentage of sales.
5.Rate: It provides you the exchange rate details. This tab will be shown only when your company is using the multi-currency module.
6.Optional Fields: It provides the information about optional fields used in the document.
7.Details: It provides the information about the detail amount, adjustment amount, total amount, Gl account etc.
8.Transactions: It provides all valuable information such as Transaction type, amount, bank, check receipt number, deposit number etc. regarding the selected document.
A User can also drill down to view Customer Inquiry, Batch No, Entry no, Order No and Shipment No etc. in AR Document inquiry screen by selecting its corresponding drill down button.
Just to summarize, the document Inquiry form provides a ready reference to all the information that exists for a document in the Sage ERP 300 system.
Also Read:
1.Account Receivable Transaction Reports in Sage 300 ERP
2.AR Customer Receipt Enquiry
3.AR Customer Ledger Transaction
4.Reverse Receipt and Payment in Sage 300 ERP
5. Print Customer Statements in Sage 300 ERP