Well, you are hardly able to contain your excitement about What's inside the Greytrix Box at Sage Summit '16? Good to see you again!
If you had ever been a visitor to our Greytrix booth in any of the Sage Summits you might be well aware of the "Greytrix Box". But don't you worry if you are planning to visit us at Booth No: 1203 and you will eventually know about it.
Greytrix has been a part of Sage Summit for years now – the largest conference for SME's worldwide. It's an event where knowledge meets experience and attendees like yourself, serious about business join every year to network, learn and discover how new technologies will boost success.
Better yet, each year the gifts inside the Greytrix Box is a total surprise and we take immense love and pleasure in gifting you.
Visit us at Booth #1203 – Sage Summit 2016 at Chicago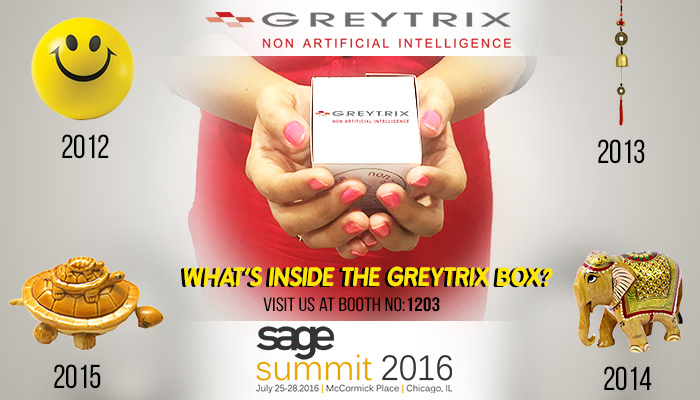 In 2012, we had come up with an innovative "Stress Ball" as the element of the Greytrix Box. We understand the complexities of your business environment as you plan to flourish and offer business management solutions for Sage ERP and CRM that will efficiently relieve you just as the Stress ball relieves you from the stress.
A year after, in Sage Summit 2013, we brought to you a talisman for your business – "Wind Chimes". A novel idea about the Wind Chimes is the positive impact that will bring happiness and luck to your business. Concurrently, we at Greytrix remain stalwart with our Sage ERP and CRM needs according to your business requirements.
Growing larger and prodigious year on year in our line of business, in 2014, we presented an "Elephant", a national heritage animal of India. The elephant invoked the vastness that we as a software solutions provider have developed for your business. We are the largest Sage ERP and CRM Gold Development Partner and our offerings limit not only to integrations but also to consulting and development services.
In 2015 signified our decade long experience in Sage CRM and ERP offerings. It was a year of experience, great learnings and we wanted to express longevity for your business. "Tortoise" an ancient wisdom seeker brings knowledge, longevity, and prosperity at home. Similarly, Greytrix aspired to bring to your organization its decade-long experience for your business growth, stability, and profitability.
So what's special this year in the Greytrix Box at Sage Summit? This year we have for you another artistic marvel for its perfection with an explicit relevance for your organization.
Well, turn the wheel of fortune to explore What's inside the Greytrix Box by visiting our Booth No: 1203 at Sage Summit – 2016 between 25th & 28th July 2016 in McCormick Place at Chicago, Illinois.
To introduce ourselves, we are Greytrix – Sage Gold Development Partner since 2008. We offer best-in-class Sage X3 Services to Sage X3 business partners worldwide. With an award winning GUMU™ framework, we provide integration solutions with your ERP, CRM and eCommerce systems. We bag expertise in the following solutions all with our GUMU™ framework:
– Salesforce integration with Sage X3 / Sage 300 / Sage 100
– eCommerce Magento integration with Sage X3 / Sage 300
– Sage CRM integration with Sage X3 / Sage 100 / Sage 300 / Sage 500
– Development Services for Sage X3 / Salesforce / Sage CRM / Sage 300/ Migrations
Greytrix is the one-stop-solution provider for all your Sage X3 needs. With integrated solutions, we make sure that business investments are not squandered allowing you to focus on core operations. With our services we deliver trust and our support as and when you require.
Think Greytrix, Grow Big!